Search London wiki and Pub wiki history sites
All public house, restaurants, bars etc closed for the forseeable future from 20th March 2020, but this is a history site.
Rugby Tavern, 1 Rugby street & 19 Great James street, Holborn WC1
Holborn index
The Rugby Tavern was built in 1867. The early address of 1 Chapel street becomes 1 Rugby street by 1927 **
A listing of historical public houses, Taverns, Inns, Beer Houses and Hotels in Holborn - St Andrew, London.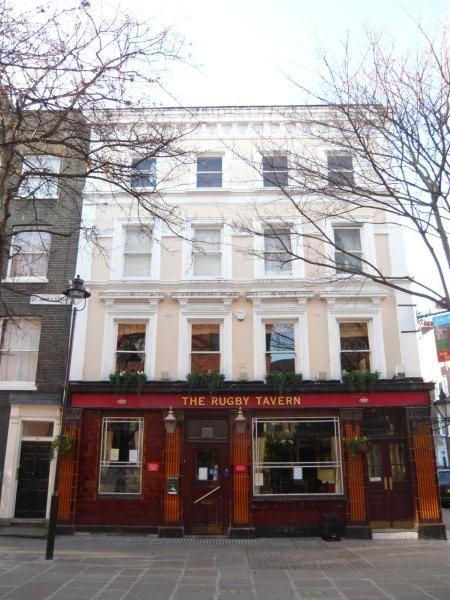 Rugby Tavern, 19 Great James Street, WC1 - in January 2009
Kindly provided by Stephen Harris
Residents at this address
1869/William & George Cooper/../../../Post Office Directory

1871/Eliza Cooper/Head, Widow/64/Bridgeworth, Shropshire/Census
1871/William Cooper/Son, Licensed Victualler/26/../Census
1871/James Gardner/Waiter/42/Abingdon, Berkshire/Census
1871/Amy Gardner/Cook/39/Tonbridge Wells, Kent/Census
1871/Arthur Gardner/Servant/8/Paddington, Middlesex/Census
1871/Edgar Gardner/Servant/6/Paddington, Middlesex/Census
1871/James Lilly/Waiter, Widow/42/Chester, Cheshire/Census
1871/Elizabeth Chapman/Housemaid/18/Scarborough, Yorkshire/Census
1871/William Baker/Nephew to Head, Carpenter/36/Bridgeworth, Shropshire/Census
1871/George Laurel ?/Barman/24/Gussidge, Dorset/Census
1871/Elizabeth Holsgrove/Domestic Servant/20/Crediton, Devon/Census

1873/Frederick Goodacre/../../../Holborn Petty Sessions

1874/Frederick Goodacre/../../../Holborn Petty Sessions

1875/Frederick Goodacre/../../../Holborn Petty Sessions

1876/Thomas Bell/../../../Holborn Petty Sessions

1877/Edwin Thomas Edwards/../../../Holborn Petty Sessions

1878/John Ellery/../../../Holborn Petty Sessions

1879/John Ellery/../../../Holborn Petty Sessions

1880/Edward John Pond/../../../Holborn Petty Sessions

1881/Edward John Pond/Licensed Victualler/42/Kings Lynn, Norfolk/Census
1881/Harriet Pond/Wife/49/Clerkenwell, Middlesex/Census
1881/Herbert Ruscoe Atkins/Nephew/8/Hackney, Middlesex/Census
1881/Annie Downing/Barmaid/23/Gravesend, Kent/Census
1881/Mary Goddard/Cook/41/Ashbury, Berkshire/Census
1881/Henrietta Rapsey/Housemaid/26/Exeter, Devon/Census

1881/Edward John Pond/../../../Holborn Petty Sessions

1882/Edward John Pond/../../../Holborn Petty Sessions

1884/Edward J Pond/../../../Post Office Directory

1891/Ruben Clarke Parish/../../../Post Office Directory

1895/Albert Hudson/../../../Post Office Directory

1899/William Schulz/../../../Post Office Directory

1921/Charles Winslett/../../../Post Office Directory

1927/Alexander Jacobs/../../../Post Office Directory

1938/Alexander Jacobs/../../../Post Office Directory

1940/Alexander Jacobs/../../../Post Office Directory

1944/Stanley Salter & Joseph E Gallo/../../../Post Office Directory



** Provided By Stephen Harris

*** Provided By Karen Hodges