Search my Pub history, pubwiki and London
Swan & Sugarloaf, 53 Fetter Lane, Holborn EC4
Holborn index
Competely destroyed by enemy action in May 1941
A listing of historical public houses, Taverns, Inns, Beer Houses and Hotels in Holborn - St Andrew, London. The Holborn , London listing uses information from census, Trade Directories and History to add licensees, bar staff, Lodgers and Visitors.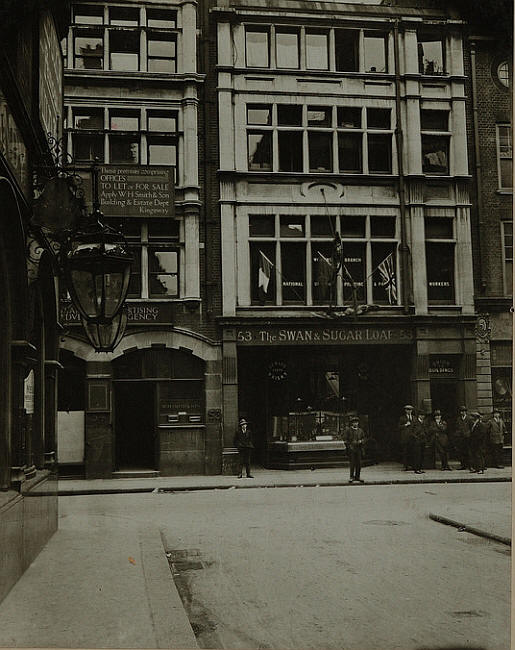 Swan & Sugarloaf, 53 Fetter Lane, Holborn EC4 - in 1919
Year/Publican or other Resident/Relationship to Head and or Occupation/Age/Where Born/Source.
1800/Samuel Lacey/../../../Proceedings of the Old Bailey **

1825/Benjamin Gabriel Lockyer / Victualler /../../Sun Fire Office records held at Guildhall Library **

1825/Mr Hirst, Old Swan and Sugar Loaf, Fetter lane/../../Licensed Victuallers Association

1839/William Partoon/../../../Pigotís Directory **

1841/Wm. Partoon/../../../P.O. Directory **

1844/Wm Goodfellow/../../../Thompsons Directory **

1851/Wm. Younger Laing/../../../Kellyís Directory **

1851/William Y Laing/Victualler/32/Scotland/Census
1851/Elizabeth Laing/Wife/26/Ratcliff, Middlesex/Census
1851/Elizabeth Laing/Daughter/36 months/Liberty of Rolls/Census
1851/Michael Laing/Son/17/Islington/Census
1851/Mary Ann Janes/Daughter, Barmaid/18//Census
1851/George Lear/Potman/23//Census
1851/Bridget Butler/General Servant/18/Ireland/Census

July 1853/William Younger Laing/Outgoing Licensee/../../Era

July 1853/John Rowlings/Incoming Licensee/../../Era

January 1854/John Rawlings/Outgoing Licensee/../../Era

January 1854/Nicholas Pearce Pethick/Incoming Licensee/../../Era

1856/Nicholas Pearce Pethick/../../../Post Office Directory

October 1861/Thomas Gould/Outgoing Licensee/../../Era

October 1861/William Perraton/Incoming Licensee/../../Era

October 1862/William Perraton/Outgoing Licensee/../../Morning Post

October 1862/John Ingram/Incoming Licensee/../../Morning Post

1869/W C Curry/../../../Post Office Directory

May 1870/W C Curry/Outgoing Licensee/../../London City Press

May 1870/W Hatfield/Incoming Licensee/../../London City Press

1871/William Hatfield/Licensed Victualler/25/Hoxton, Middlesex/Census
1871/Margaret Hatfield/Wife/22/Bethnal Green, Middlesex/Census
1871/Emily Abbott/Visitor/13/Hackney, Middlesex/Census
1871/Caroline Barrow/Barmaid/18/Waterloo Road, Surrey/Census
1871/Henry Barton/Pot man/32/Hertfordshire/Census
1871/Sarah J Garrod/Domestic Servant/23/Devonshire/Census
1871/Emma Jacobs/Visitor/30/Huntingdon St Johns/Census

1881/Joseph Howitt/Licensed Victualler/50/Eynesbury, Huntingdon/Census
1881/Elizabeth A Howitt/Wife/29/Maidstone, Kent/Census
1881/Joseph Howitt/Son/30/St Neots, Huntingdon/Census
1881/Beatrice Howitt/Daughter/17/Langstoe, Cambridge/Census
1881/Florence A Howitt/Daughter/9 months/London, Middlesex/Census
1881/Susan Ballard/General Servant/24/Deptford, Kent/Census

1882/Joseph Howitt/../../../Post Office Directory

1883/Joseph Howitt/../../../Post Office Directory **

1899/Fredk. Jn. Farlow Wilson/../../../P.O. Directory **

1902/Frederick John Farlow Wilson/../../../Post Office Directory **

1904/Frederick John Farlow Wilson/../../../Post Office Directory **

1910/Ernest G Scott/../../../Post Office Directory **

1911/John Raymond Colegrave/Licensed Victualler/52/Deddington, Oxfordshire/Census
1911/Julia Hannah Colegrave/Wife/47/Marylebone, London/Census
1911/Ellen West/Visitor, Widow/59/Worcester/Census
1911/Alice Adams/Barmaid/31/Brockley, Kent/Census
1911/Mary Anderton/Barmaid/22/Leicester/Census
1911/Kate Eliuzabeth West/Barmaid/33/Barnes, Surrey/Census

1921/Mrs A D Cooper/../../../Hughes Directory

1923/Mrs Caroline Macdonald/../../../Post Office Directory **

1927/Mrs Catherine Macdonald/../../../Post Office Directory

1934/Mrs Catherine Macdonald/../../../Post Office Directory

1938/Mrs Catherine Macdonald/../../../Post Office Directory



** Provided By Stephen Harris