Search my Pub history, pubwiki and London
Three Cups, 22 Sandland Street, Bedford Row, Holborn WC1
Holborn index
Sandland Row was formerly Sandland Street, previously 22 Bedford Street (e.g. 1856, 1869 and 1871 census) and before that Princes Street. This pub has been recently renamed the Old Nick. It was present by 1766. **
A listing of historical public houses, Taverns, Inns, Beer Houses and Hotels in Holborn - St Andrew, London. The Holborn , London listing uses information from census, Trade Directories and History to add licensees, bar staff, Lodgers and Visitors.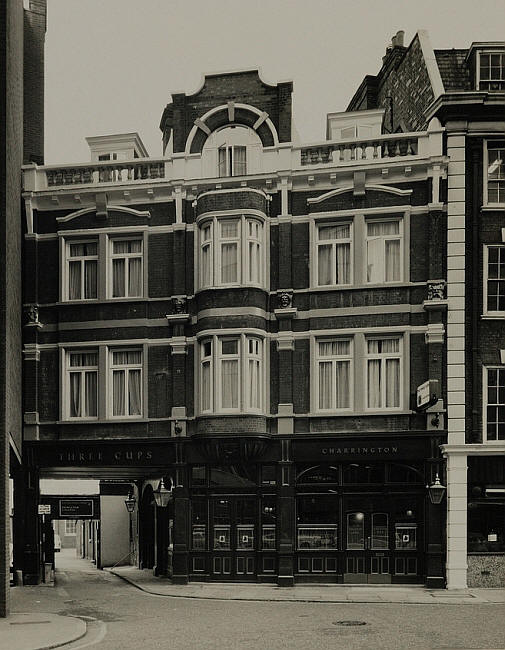 Three Cups, 22 Sandland Street, Bedford Row, Holborn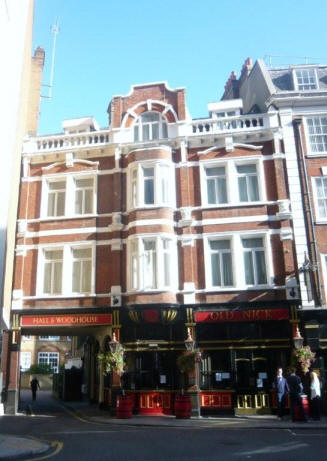 Three Cups, 20-22 Sandland Row, WC1 - in September 2009
Kindly provided by Stephen Harris
Year/Publican or other Resident/Relationship to Head and or Occupation/Age/Where Born/Source.
1832/Henry Capewell/Three Cups, 22 Bedford street/../../Robsons Directory

1839/John Laws/../../../Pigots Directory

1843/Cornelius Clive/../../../Post Office Directory

1848/James Sowerby/../../../Post Office Directory

1851/James Sowerby/../../../Kellys Directory

1851/James Sowerby/Licensed Victualler/34/Paddington, Middlesex/Census
1851/Ann Sowerby/Sister/39/Paddington, Middlesex/Census
1851/Caroline Sowerby/Sister/27/Paddington, Middlesex/Census
1851/Mary Duggin/House Servant/26/Kerry, Ireland/Census
1851/John Drew/Visitor, Tailor/56/Chedburgh, Suffolk/Census

1856/Francis Quin/../../../Post Office Directory

April 1862/Caroline Jane Quin/Outgoing Licensee/../../Era

April 1862/Henry Chown/Incoming Licensee/../../Era

1869/Frederick Hill/../../../Post Office Directory

1871/Thomas Rushton/Publican/29/Woodford, Essex/Census
1871/Eliza M Rushton/Wife/27/Southwark, Surrey/Census
1871/Arthur Corbett Rushton/Son/2/Shepherds Bush, Middlesex/Census
1871/Elizabeth Rushton/Daughter/9 months/St Andrews, Holborn, Middlesex/Census
1871/Margaret Hill/Visitor, Monthly Nurse, Widow/60/Sedgefield, Durham/Census
1871/William Barrett/Pot Boy/17/Southwark, Surrey/Census
1871/James Roll/General Servant/17/Southwark, Surrey/Census

1873/Thomas Rushton/../../../Holborn Petty Sessions

1874/Thomas Rushton/../../../Holborn Petty Sessions

1875/Thomas Rushton/../../../Holborn Petty Sessions

1876/Thomas Rushton/../../../Holborn Petty Sessions

1877/Thomas Rushton/../../../Holborn Petty Sessions

1878/Thomas Rushton/../../../Holborn Petty Sessions

1879/Thomas Rushton/../../../Holborn Petty Sessions

1880/Thomas Rushton/../../../Holborn Petty Sessions

1881/Thomas Rushton/Licensed Victualler, Widow/39/Woodford, Essex/Census
1881/Arthur C Rushton/Son/12/St Andrews, Middlesex/Census
1881/Elizabeth Rushton/Daughter/10/St Andrews, Middlesex/Census
1881/Emily Rushton/Daughter/8/St Andrews, Middlesex/Census
1881/Alfred Rushton/Son/6/St Andrews, Middlesex/Census
1881/John H Rushton/Son/4/St Andrews, Middlesex/Census
1881/Maria Bowman/Housekeeper/29/Blackfriars, Surrey/Census

1881/Thomas Rushton/../../../Holborn Petty Sessions

1882/Thomas Rushton/../../../Post Office Directory

1882/Thomas Rushton/../../../Holborn Petty Sessions

1891/Frank Eliaerts/../../../Post Office Directory

1899/Frank Eliaerts/../../../Post Office Directory

1910/William Winn/../../../Post Office Directory

1915/Albert Edward Harrison/../../../Post Office Directory

1938/Albert E Portch/../../../Post Office Directory

1944/Albert E Portch/../../../Post Office Directory



** Provided By Stephen Harris