Search my Pub history, pubwiki and London
Two Brewers, 74 Shoe Lane, Holborn EC4
Holborn index
This pub was rebuilt in its present form in 1971 and is now called the City Retreat (2010). **
A listing of historical public houses, Taverns, Inns, Beer Houses and Hotels in Holborn - St Andrew, London. The Holborn , London listing uses information from census, Trade Directories and History to add licensees, bar staff, Lodgers and Visitors.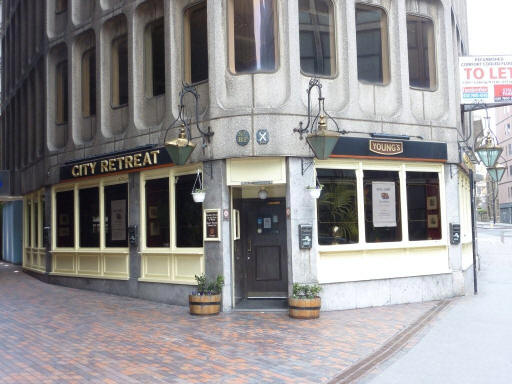 Two Brewers, 74 Shoe Lane, EC4 - in February 2010
Kindly provided by Stephen Harris
Year/Publican or other Resident/Relationship to Head and or Occupation/Age/Where Born/Source.
1781/John Edgerly / Publican /../../Proceedings of the Old Bailey **

1781/Mary Hallett / Servant /../../Proceedings of the Old Bailey **

1805/A Heditch, Two Brewers, 33 Shoe lane, Holborn/../../Holdens Directory

1809/Michael Millivard / Victualler /../../Sun Fire Office records held at Guildhall Library **

1810/Michael Milward / Victualler /../../Sun Fire Office records held at Guildhall Library **

1811/_ Williams, the Two Brewers, Shoe lane/../../Holdens Directory

1818/Thomas Newman / Victualler /../../Sun Fire Office records held at Guildhall Library **

1824/Thomas Newman / Victualler /../../Sun Fire Office records held at Guildhall Library **

1825/Thomas Newman / Victualler /../../Sun Fire Office records held at Guildhall Library **

1827/Thomas Newman / Victualler /../../Sun Fire Office records held at Guildhall Library **

1833-34/Thomas Hayward/../../../Pigots Directory

1837/Thomas Hayward / Victualler /../../Sun Fire Office records held at Guildhall Library **

1839/Thomas Hayward/../../../Pigots Directory

1848/Thomas Hayward/../../../Post Office Directory

1851/Thomas Hayward/../../../Kellys Directory

1851/Thos Hayward/Publican/65/Amesbury, Wiltshire/Census
1851/Elizth Hayward/Daughter/30/St Sepulchre, London/Census
1851/Wm Hayward/Son, Clerk in General Warehouse/27/St Sepulchre, London/Census
1851/Geo Hayward/Son, Clerk/25/St Sepulchre, London/Census
1851/Sophia Hayward/Daughter/23/St Sepulchre, London/Census
1851/Emma Hayward/Grandchild/7/St Andrew, London/Census
1851/Alice Bird/Visitor/5/St Pancras, London/Census
1851/Mary A Ball/House Servant/25/Andover, Hampshire/Census

1856/Thomas Hayward/../../../Post Office Directory

October 1859/Thomas Hayward/Outgoing Licensee/../../Era

October 1859/James Fuller/Incoming Licensee/../../Era

1869/Samuel Simpson/../../../Post Office Directory

1871/Samuel Simpson/Licensed Victualler/45/Colgrave, Notts/Census
1871/Mary A Simpson/Wife/40/Fairham, Yorks/Census
1871/George Barker/Lodger, Compositor printer/60/Essex/Census
1871/Emily Lepa ?/Domestic Servant/18/Gravesend, Kent/Census

1872/Samuel Simpson/../../../P.O. Directory **

1881/William Lewis/Licensed Victualler/44/Seven Oaks, Kent/Census
1881/Sophia Lewis/Wife/41/Seven Oaks, Kent/Census
1881/Samuel Lewis/Brother, Licensed Victualler/40/Seven Oaks, Kent/Census
1881/Elizabeth Lewis/Daughter/18/Seven Oaks, Kent/Census
1881/Annie Lewis/Daughter/13/Seven Oaks, Kent/Census
1881/Ellen Sears/Niece/15/Seven Oaks, Kent/Census
1881/Horace Bennett/Nephew/5/Seven Oaks, Kent/Census

1882/Joseph R Nocern/../../../Post Office Directory

1891/Charles Padley/../../../Post Office Directory

1891/Charles Padley/Publican/33/Great Welnetham, Suffolk/Census
1891/Elizabeth Padley/Wife/36/Good Easter, Essex/Census
1891/Thomas Burton/Barman/24/Ireland/Census

1899/Edward Little/../../../Post Office Directory

1905/Edward Little/../../../P.O. Directory **

1910/Mrs Louisa Maud Wheatley/../../../Post Office Directory

1911/Thomas Charles Wheatley/Assistant/34/Notting Hill, London/Census
1911/Louisa Maud Wheatley/Wife, Licensee/36/Bayswater/Census
1911/Lilian Wheatley/Daughter/10/Deptford, Kent/Census
1911/Louise May Wheatley/Daughter/9/Deptford, Kent/Census
1911/Nellie Doris Wheatley/Daughter/7/Deptford, Kent/Census
1911/Violet Elvina Wheatley/Daughter/7 weeks/Shoe lane, City/Census
1911/Emily Charlotte Johnson/Cook, widow/45/Lambeth/Census

1921/Louisa M Wheatley/../../../Hughes Directory

1934/Mrs Freda Barsen/../../../Post Office Directory

1944/Ushers Wiltshire Brewery Ltd/../../../Post Office Directory

1983/../Dizzy's: 74 Shoe Lane EC4 : Bass Charrington. Was 'Two Brewers'/../../Pub Directory

1991/../City Retreat: 74 Shoe Lane. Bass Charrington. Was Dizzys and Two Brewers. Nice light airy /../../Pub Directory



** Provided By Stephen Harris