Search London wiki and Pub wiki history sites
All public house, restaurants, bars etc closed for the forseeable future from 20th March 2020, but this is a history site.
Two Brewers, 74 Shoe Lane, Holborn EC4
Holborn index
This pub was rebuilt in its present form in 1971 and is now called the City Retreat (2010). **
A listing of historical public houses, Taverns, Inns, Beer Houses and Hotels in Holborn - St Andrew, London.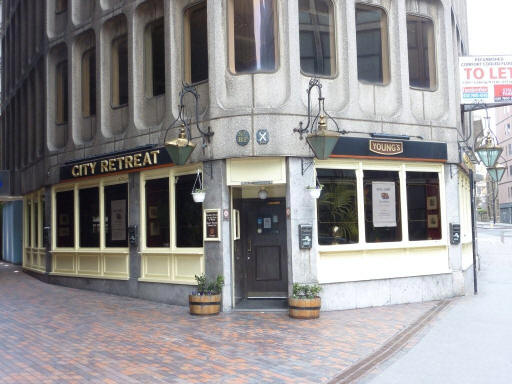 Two Brewers, 74 Shoe Lane, EC4 - in February 2010
Kindly provided by Stephen Harris
Residents at this address
1781/John Edgerly / Publican /../../Proceedings of the Old Bailey **

1781/Mary Hallett / Servant /../../Proceedings of the Old Bailey **

1805/A Heditch, Two Brewers, 33 Shoe lane, Holborn/../../Holdens Directory

1809/Michael Millivard / Victualler /../../Sun Fire Office records held at Guildhall Library **

1810/Michael Milward / Victualler /../../Sun Fire Office records held at Guildhall Library **

1811/_ Williams, the Two Brewers, Shoe lane/../../Holdens Directory

1818/Thomas Newman / Victualler /../../Sun Fire Office records held at Guildhall Library **

1824/Thomas Newman / Victualler /../../Sun Fire Office records held at Guildhall Library **

1825/Thomas Newman / Victualler /../../Sun Fire Office records held at Guildhall Library **

1827/Thomas Newman / Victualler /../../Sun Fire Office records held at Guildhall Library **

1833-34/Thomas Hayward/../../../Pigots Directory

1837/Thomas Hayward / Victualler /../../Sun Fire Office records held at Guildhall Library **

1839/Thomas Hayward/../../../Pigots Directory

1848/Thomas Hayward/../../../Post Office Directory

1851/Thomas Hayward/../../../Kellys Directory

1851/Thos Hayward/Publican/65/Amesbury, Wiltshire/Census
1851/Elizth Hayward/Daughter/30/St Sepulchre, London/Census
1851/Wm Hayward/Son, Clerk in General Warehouse/27/St Sepulchre, London/Census
1851/Geo Hayward/Son, Clerk/25/St Sepulchre, London/Census
1851/Sophia Hayward/Daughter/23/St Sepulchre, London/Census
1851/Emma Hayward/Grandchild/7/St Andrew, London/Census
1851/Alice Bird/Visitor/5/St Pancras, London/Census
1851/Mary A Ball/House Servant/25/Andover, Hampshire/Census

1856/Thomas Hayward/../../../Post Office Directory

October 1859/Thomas Hayward/Outgoing Licensee/../../Era

October 1859/James Fuller/Incoming Licensee/../../Era

1869/Samuel Simpson/../../../Post Office Directory

1871/Samuel Simpson/Licensed Victualler/45/Colgrave, Notts/Census
1871/Mary A Simpson/Wife/40/Fairham, Yorks/Census
1871/George Barker/Lodger, Compositor printer/60/Essex/Census
1871/Emily Lepa ?/Domestic Servant/18/Gravesend, Kent/Census

1872/Samuel Simpson/../../../P.O. Directory **

1881/William Lewis/Licensed Victualler/44/Seven Oaks, Kent/Census
1881/Sophia Lewis/Wife/41/Seven Oaks, Kent/Census
1881/Samuel Lewis/Brother, Licensed Victualler/40/Seven Oaks, Kent/Census
1881/Elizabeth Lewis/Daughter/18/Seven Oaks, Kent/Census
1881/Annie Lewis/Daughter/13/Seven Oaks, Kent/Census
1881/Ellen Sears/Niece/15/Seven Oaks, Kent/Census
1881/Horace Bennett/Nephew/5/Seven Oaks, Kent/Census

1882/Joseph R Nocern/../../../Post Office Directory

1891/Charles Padley/../../../Post Office Directory

1891/Charles Padley/Publican/33/Great Welnetham, Suffolk/Census
1891/Elizabeth Padley/Wife/36/Good Easter, Essex/Census
1891/Thomas Burton/Barman/24/Ireland/Census

1899/Edward Little/../../../Post Office Directory

1905/Edward Little/../../../P.O. Directory **

1910/Mrs Louisa Maud Wheatley/../../../Post Office Directory

1911/Thomas Charles Wheatley/Assistant/34/Notting Hill, London/Census
1911/Louisa Maud Wheatley/Wife, Licensee/36/Bayswater/Census
1911/Lilian Wheatley/Daughter/10/Deptford, Kent/Census
1911/Louise May Wheatley/Daughter/9/Deptford, Kent/Census
1911/Nellie Doris Wheatley/Daughter/7/Deptford, Kent/Census
1911/Violet Elvina Wheatley/Daughter/7 weeks/Shoe lane, City/Census
1911/Emily Charlotte Johnson/Cook, widow/45/Lambeth/Census

1921/Louisa M Wheatley/../../../Hughes Directory

1934/Mrs Freda Barsen/../../../Post Office Directory

1944/Ushers Wiltshire Brewery Ltd/../../../Post Office Directory

1983/../Dizzy's: 74 Shoe Lane EC4 : Bass Charrington. Was 'Two Brewers'/../../Pub Directory

1991/../City Retreat: 74 Shoe Lane. Bass Charrington. Was Dizzys and Two Brewers. Nice light airy /../../Pub Directory



** Provided By Stephen Harris