Search my Pub history, pubwiki and London
Holborn Tavern / Viaduct Hotel, 4 & 5 High Holborn, Holborn WC1
Holborn index
The Holborn in 1869 , then the Viaduct in 1874 and before 1884, then the Holborn again. In St Sepulchre census in 1901. The 1899 photo of The Holborn Tavern/Viaduct Hotel is at the corner of High Holborn (left) and Grays Inn road (right). In the 1920s this became Ward's Irish House. **
A listing of historical public houses, Taverns, Inns, Beer Houses and Hotels in Holborn - St Andrew, London. The Holborn , London listing uses information from census, Trade Directories and History to add licensees, bar staff, Lodgers and Visitors.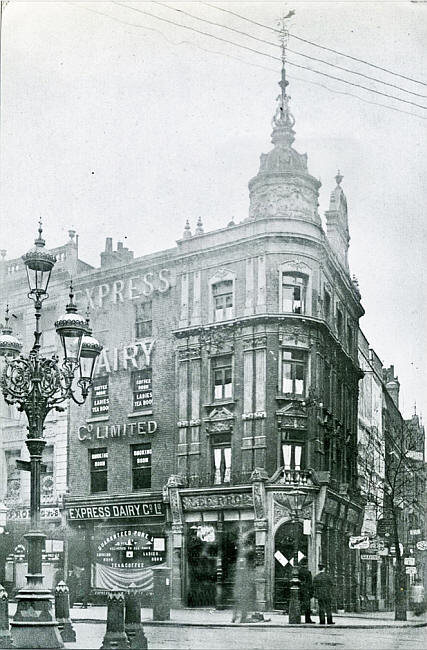 Holborn Tavern, 4 & 5 High Holborn, Holborn - Landlords are Lee Brothers in 1899
Kindly provided by Vincent O'Loughlin
Year/Publican or other Resident/Relationship to Head and or Occupation/Age/Where Born/Source.
1869/Hy Finch/../../../Post Office Directory

1871/Frederick John Simpkins/Licensed Victualler/35/St Pancras, Middlesex/Census
1871/Henrietta Simpkins/Wife/31/Newport, Isle of Wight/Census
1871/Henrietta Simpkins/Daughter/7/Marylebone, Middlesex/Census
1871/Mary Simpkins/Daughter/5/Marylebone, Middlesex/Census
1871/Rosina Graver/Cousin, Housekeeper/29/St Helliers, Jersey/Census
1871/Elizabeth Goodier/Nurse, widow/56/Marylebone, Middlesex/Census
1871/Ellen Rosina Rivers/Barmaid/28/Marylebone, Middlesex/Census
1871/Elizth Jones/Cook/54/Barmouth, Wales/Census
1871/Celia Quintan/Kitchenmaid/21/Mile End, Middlesex/Census
1871/Eliza Fisher/Housemaid/22/Marylebone, Middlesex/Census
1871/Owen Hester/Barman/28/Putney, Surrey/Census
1871/Chas Hen Vizzard/Barman/23/St Pancras, Middlesex/Census
1871/James Golding/Barman/21/Rochford, Essex/Census
1871/William Selley/Potman/25/Stowmarket, Suffolk/Census
1871/James Richard Smith/Kitchen Porter/20/Southwark, Middlesex/Census

1873/Frederick John Simpkins/../../../Holborn Petty Sessions

1874/Robert Henry Barnes/../../../Holborn Petty Sessions

1875/Robert Henry Barnes/../../../Holborn Petty Sessions

1876/Robert Henry Barnes/../../../Holborn Petty Sessions

1877/Robert Rhodes/../../../Holborn Petty Sessions

1878/Robert Rhodes/../../../Holborn Petty Sessions

1879/Robert Rhodes/../../../Holborn Petty Sessions

1880/Robert Rhodes/../../../Holborn Petty Sessions

1881/Robert Rhodes/../../../Holborn Petty Sessions

1881/Robert Rhodes/Licensed Victuallar/40/London, Middlesex/Census
1881/Susan E Rhodes/Wife/39/London, Middlesex/Census
1881/Robert M Rhodes/Son/16/London, Middlesex/Census
1881/Ernest A Rhodes/Son/14/London, Middlesex/Census
1881/Susan E Rhodes/Daughter/12/London, Middlesex/Census
1881/Ellen L Rhodes/Daughter/11/London, Middlesex/Census
1881/Catherine A Rhodes/Daughter/10/London, Middlesex/Census
1881/Frank A Rhodes/Son/7/London, Middlesex/Census
1881/Jessie A Rhodes/Daughter/5/London, Middlesex/Census
1881/Roda A Rhodes/Daughter/2/St Andrews, Middlesex/Census
1881/Edward Crent/Barman/22/Essex/Census
1881/Frannk Clarke/Barman/19/London, Middlesex/Census
1881/William Willis/Barman/22/Kent/Census
1881/Agnes Mullins/Cook/36/London, Middlesex/Census
1881/Harriet A Wyatt/Nurse/42/Windsor/Census

1882/Robert Rhodes/../../../Holborn Petty Sessions

Now renamed Holborn again :

1882/Rt Rhodes/../../../Post Office Directory

1884/Robert Rhodes/../../../Holborn Petty Sessions

1891/Jas Guillan/../../../Holborn Petty Sessions

1891/James Cromwell Guillan/Publican/24/Great Tarling, Essex/Census
1891/Clara Guillan/Wife/22/Amersham, Buckinghamshire/Census
1891/Allen Jno Guillan/Son/1/Holborn, London/Census
1891/Mary Ann Hart/Barmaid/20/Reading, Berkshire/Census
1891/Alice Dodd/Nurse/19/Canning Town, London/Census
1891/Louisa Birdsell/Domestic Servant/17/Leds, Yorkshire/Census
1891/Clara May Fitch/Barmaid/20/Holborn, London/Census
1891/John Henderson/Potman/20/Holborn, London/Census

1895/James Cromwell Guillan/../../../Holborn Petty Sessions

December 1895/Marriage of James Cromwell Guillan, Licensed Victualler, Widow, aged 29 to Louisa Margaret Bishop, spinster, aged 18 - both parents are deceased Licensed Victuallers/Marriage

1897/James Cromwell Guillan/../../../Electoral Register

By the 1901 census, James Cromwell Guillan is a publican at 41 Carlingford Road, Tottenham, and by 1911 at the Carved Red Lion, Islington

1899/Lee Bros./../../../Holborn Petty Sessions

1901/F Riedl-Janetsky/Hotel Manager/38/Bucharest, Roumania/Census
1901/Emma ARiedl-Janetsky/Wife/32/Bow, London/Census
1901/Margaret D Riedl-Janetsky/Daughter/6/St Sepulchre. London/Census
+ Visitors & Servant

1921/Owen Ward/../../../Post Office Directory

1927/Owen Ward/Holborn Tavern, 4 High Holborn/../../Holborn Petty Sessions

1938/Owen Ward/Holborn Tavern, 4 High Holborn/../../Holborn Petty Sessions

1940/Owen Ward/Holborn Tavern, 4 High Holborn/../../Holborn Petty Sessions

1944/Owen Ward/Holborn Tavern, 4 High Holborn/../../Holborn Petty Sessions



** Provided By Vincent O'Loughlin