Search my Pub history, pubwiki and London
Vintners Arms, 101 Fetter Lane, Holborn EC4
Holborn index
This pub was present by 1820 and was rebuilt in 1955 following war damage to the earlier pub.
It was renamed Printerís Devil by 1957 and closed in mid-2008 - it is now awaiting demolition. ** Demolished by May 2015.
A listing of historical public houses, Taverns, Inns, Beer Houses and Hotels in Holborn - St Andrew, London. The Holborn , London listing uses information from census, Trade Directories and History to add licensees, bar staff, Lodgers and Visitors.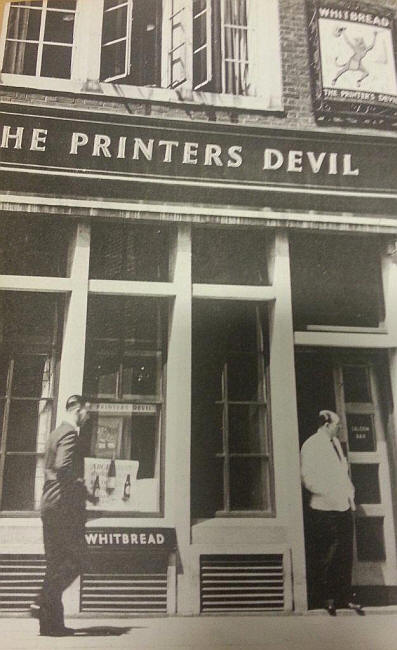 Printers Devil, 98 Fetter Lane - in 1957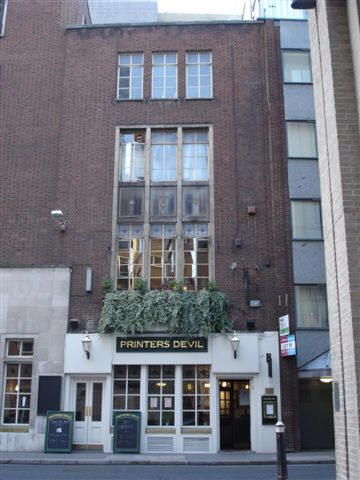 Printers Devil, 98 Fetter Lane - in January 2007
Both kindly provided by Stephen Harris
Year/Publican or other Resident/Relationship to Head and or Occupation/Age/Where Born/Source.
1839/Thomas Grayson/../../../Pigotís Directory **

1841/Thomas Grayson/../../../P.O. Directory **

1842/Grason & Mayland/../../../Robsonís Directory **

1843/Grason & Mayland/../../../Kellys Directory

1844/Thomas Grayson/../../../Thompsons Directory **

1851/Thomas Adams/../../../Kellys Directory

1851/Thomas F Adams/../../../Kellys Directory

1851/Thomas F Adams/Licensed Victualler/54/Rotherham, Yorkshire/Census
1851/Frances Adams/Wife/49/Wellingore, Lincolnshire/Census
1851/Elizabeth Adams/Daughter/19/St Pancras/Census
1851/Sarah A Adams/Niece, Barmaid/31/Rotherham, Yorkshire/Census
1851/Sarah Guarmby/House Servant/26/East of London/Census
1851/John Capps/Errand Boy/17/Woolwich, Kent/Census

1856/Thomas F Adams/../../../Post Office Directory

1869/George Howard/../../../Post Office Directory

1871/John Howard/../../../P.O. Directory **

1871/George S Howard/Licensed Victualler/61/Plymouth, Devon/Census
1871/Emma Hooper/Barmaid/21/Tiverton, Devon/Census
1871/John J Spurgeon/Barman/20/London City, Middlesex/Census
1871/Julia Barclay/General Servant/19/London City, Middlesex/Census

1874/J Howard/../../../H.D. Miles London & Suburban Licensed Victuallers' Directory **

1881/Edward Lambert/Licensed Victualler/48/Ware, Hertford/Census
1881/Sarah Mouncey/Sister, House Keeper/56/Ware, Hertford/Census
1881/William Mouncey/Brother In Law, Tea Dealer/58/Southend/Census
1881/Edward W Mouncey/Nephew, Barman/16/Whitechapel, Middlesex/Census
1881/Fredk Reese/Visitor/48/Bow, Middlesex/Census

1882/Edward Lambert/../../../Post Office Directory

1884/Frederick R Clay/../../../Post Office Directory

1891/William Buxton/../../../Post Office Directory

1899/William Buxton/../../../Post Office Directory

1902/Mrs Amelia Buxton/../../../Post Office Directory **

1904/Mrs Amelia Buxton/../../../Post Office Directory **

1906/Mrs Louisa Buxton/../../../Post Office Directory

1910/Mrs Amelia Buxton/../../../Post Office Directory ***

1911/Louisa Mary Ann Buxton/Licensed Victualler, Widow/43/St Brides, City of London/Census
1911/Walter Albert Buxton/Son, Cold Storage Contractors clerk/20/St Andrews, City of London/Census
1911/Ida Emily Carlotta Melhuish/Visitor/31/Sholing, Hampshire/Census
1911/Eliza Sortwell/Servant/27/Epping, Essex/Census
1911/Frances Uden/Servant/39/Whitstable, Kent/Census
1911/Esther Lambourn/Servant, Widow/59/Rotherhithe Greenwich/Census

1921/Harry Church/../../../Hughes Directory

1923/Harry Church/../../../Post Office Directory ***

1934/Mrs Alice Ison/../../../Post Office Directory

1938/Ernest Graham/../../../Post Office Directory

1940/Alfred Fergusson/../../../Post Office Directory



** Provided By Stephen Harris