Search London and Pub history
White Horse, 90 Fetter lane, Holborn EC4
Holborn index
This pub was present by 1766 and was in its early years also known as the Oxford House as it was a starting point for stage coaches to Oxford. In 1856 and 1869 it is listed as the White Horse General Railway Receiving House. It was rebuilt in the form shown in your photograph in 1899 and demolished in around 1989. **
A listing of historical public houses, Taverns, Inns, Beer Houses and Hotels in Holborn - St Andrew, London. The Holborn , London listing uses information from census, Trade Directories and History to add licensees, bar staff, Lodgers and Visitors.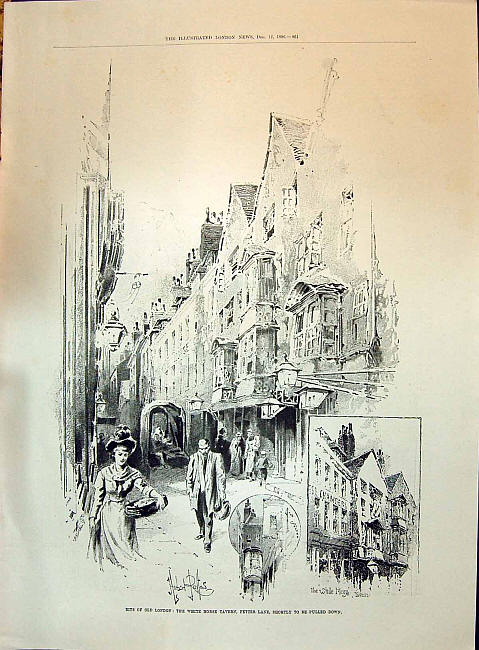 White Horse, Fetter Lane - in 1896
Kindly provided by Colleen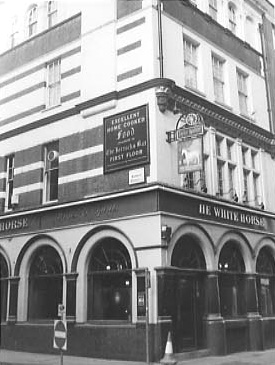 White Horse, 90 Fetter Lane - in 1986
From the Archives of East London & City CAMRA
Year/Publican or other Resident/Relationship to Head and or Occupation/Age/Where Born/Source.
1805/Thompson Roberts and Co, White Horse, Fetter lane/../../Holdens Directory

1807/Samuel Holmes/../../../Proceedings of the Old Bailey **

1811/Samuel Holmes, White Horse Inn, Hotel and Coffee House, Fetter lane/../../Holdens Directory

1819/John Lomas/../../../Proceedings of the Old Bailey **

1819/William Horne / Innkeeper /../../Sun Fire Office records held at Guildhall Library **

1821/Sarah Owen, wife of John Owen / Tavern Keeper /../../Sun Fire Office records held at Guildhall Library **

1822/John Owen/../../../Pigotís Directory **

1825/Thomas Jones/../../../Pigotís Directory **

1827/Jones/../../../Licensed Victuallers Association

1828/Jane Cross / Innkeeper /../../Sun Fire Office records held at Guildhall Library **

1831/Jane Cross / Innkeeper /../../Sun Fire Office records held at Guildhall Library **

1833/William Chaplin / Innholder & Stagemaster /../../Sun Fire Office records held at Guildhall Library **

1834/William Chaplin / Innholder /../../Sun Fire Office records held at Guildhall Library **

1841/William Chaplin/../../../P.O. Directory **

1843/William Chaplin/../../../Post Office Directory

1844/William Chaplin/../../../Thompsons Directory **

1846/John Austin/../../../P.O. Directory **

1851/Wm J Chaplin/../../../Kellys Directory

1851/Mary A Waterman/Housekeeper Hotel/43/Margaretting, Essex/Census
1851/Amelia Morgan/Barmaid/28/Westminster/Census
1851/Charlotte Bright/Cook/40/Lambeth, Surrey/Census
1851/Rebecca Steer/Housemaid/36/Drury Lane, London/Census
1851/Alathen Davies/Chambermaid/28/../Census
1851/James Hughes/Waiter/33/Cobham, Surrey/Census
1851/George Nation/Porter/30/Canterbury, Kent/Census
1851/Henry Mason/Porter/31/Colchester, Essex/Census
1851/David Johnson/Visitor, Retired Draper/29/Dumfries, Scotland/Census
1851/Henry Woodward/Visitor, Carpet Manufacturer/53/Kidderminster/Census

October 1859/Henry Frederick Boynton/Outgoing Licensee/../../Era

October 1859/William Hawkins/Incoming Licensee/../../Era

September 1861/Georgiana Adcock/Outgoing Licensee/../../Morning Post

September 1861/John Crane/Incoming Licensee/../../Morning Post

February 1862/John Crane/Outgoing Licensee/../../Era

February 1862/William Smeed/Incoming Licensee/../../Era

May 1862/William Jones and Charles Pyne/Outgoing Licensee/../../Era

May 1862/Charles Pyne/Incoming Licensee/../../Era

1869/Charles Pyne (exors of)/../../../Post Office Directory

1871/William T Pyne/Licensed Victualler/26/London City, Middlesex/Census
1871/Jane Pyne/Wife/28/London City, Middlesex/Census
1871/William C Pyne/Son/4/London City, Middlesex/Census
1871/Ernest A Pyne/Son/7 months/London City, Middlesex/Census
1871/Amelia Partridge/General Servant/19/St Pancras, Middlesex/Census
1871/George C Pyne/Brother, Surgical Instrument Mkaer/18/London City, Middlesex/Census
& Many Lodgers

1881/William T Pyne/Licensed Victualler/36/City of London, Middlesex/Census
1881/Jane Pyne/Wife/38/City of London, Middlesex/Census
1881/N C Pyne/Son, Photographer/14/City of London, Middlesex/Census
1881/H A Pyne/Son/11/City of London, Middlesex/Census
1881/E A Pyne/Son/10/City of London, Middlesex/Census
1881/L A Pyne/Daughter/8/City of London, Middlesex/Census
1881/F C Pyne/Son/4/City of London, Middlesex/Census
1881/E B Pyne/Daughter/3 months/City of London, Middlesex/Census
1881/M A Shepherd/Nurse, Widow/64/St Leonards, Middlesex/Census

1882/Wm Thomas Pyne/../../../Post Office Directory

1883/Mrs Jane Pyne/../../../Post Office Directory **

1886/Henry J Bouchette/../../../Business Directory of London **

1902/Richard Buckler/../../../Post Office Directory **

1904/Walter Sage/../../../Post Office Directory **

1910/Mrs Alice Louisa Hervey/../../../Post Office Directory **

1911/Sidney Tilbury/Licensed Victualler/48/Holloway/Census
1911/Alice Tilbury/Wife/36/Holborn/Census
1911/Sidney Tilbury/Son/17/Bloomsbury/Census
1911/Henry Young/Manager/39/Bradford/Census
1911/Alfred Hooker/Billiard Marker/28/Lambeth/Census
1911/Harry Canston/Potman/27/Bow/Census
1911/Kitty Churchman/Housemaid/27/Kings Cross/Census
1911/Emily Villiers/Barmaid/23/Homerton/Census
1911/Amy Bowden/Barmaid/27/Brixton/Census
1911/Annie Hammond/Cook, widow/26/London/Census

1923/Pioneer Catering Co Ltd/../../../Post Office Directory **

1944/Pioneer Catering Co Ltd/../../../Post Office Directory



** Provided By Stephen Harris