Search London wiki and Pub wiki history sites
All public house, restaurants, bars etc closed for the forseeable future from 20th March 2020, but this is a history site.
Old Cheshire Cheese, 145 Fleet street EC4A
Holy Trinity Less Index
This pub was first established in 1538 and rebuilt in 1667. It is one of the oldest surviving taverns in London. Listed as 'the Johnson Chop House' in 1910. ** The later address by 1910 is listed as 145 Fleet street & 25 Wine Office court. View of the front from Fleet Street which has no entrance; entry is gained from Wine Office Court. *
A listing of historical London public houses, Taverns, Inns, Beer Houses and Hotels in Holy Trinity Less parish, City of London.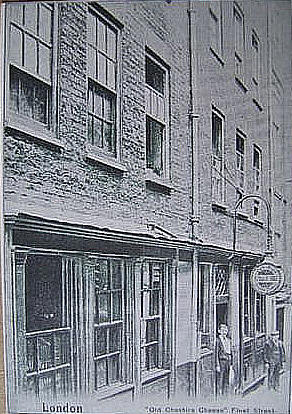 Old Cheshire Cheese, Fleet Street
Kindly provided by Colleen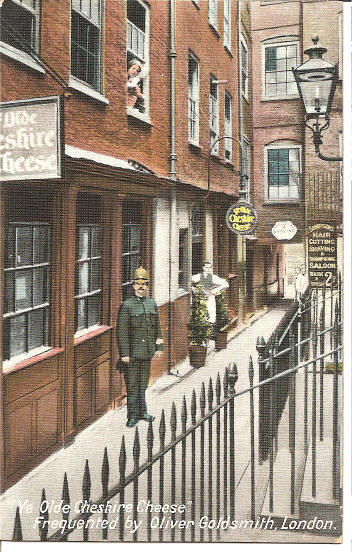 (Ye) Olde Cheshire Cheese, 16 Wine Office Court, EC4 circa 1910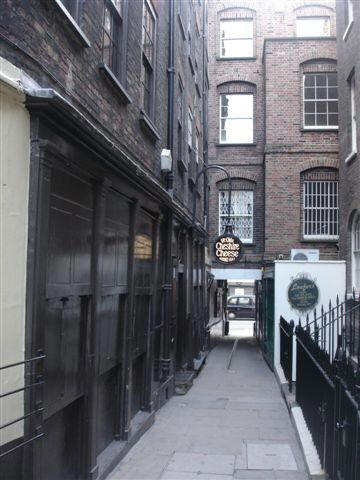 (Ye) Olde Cheshire Cheese, 16 Wine Office Court, EC4 - in February 2008
Both Kindly provided by Stephen Harris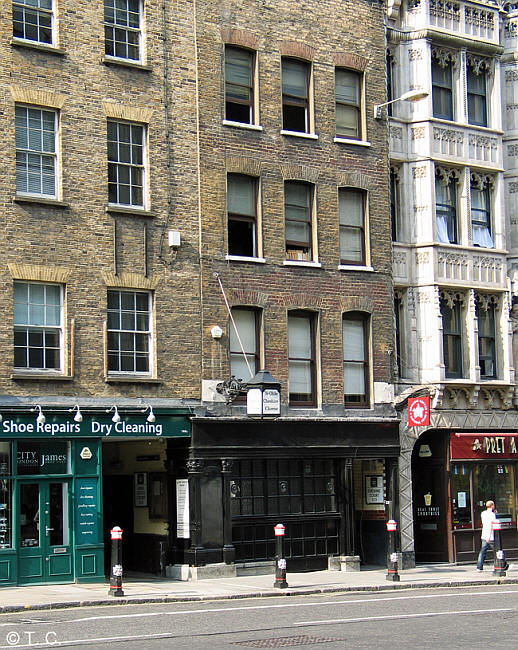 Old Cheshire Cheese, 145 Fleet Street EC4 - in July 2014
Kindly provided by Tris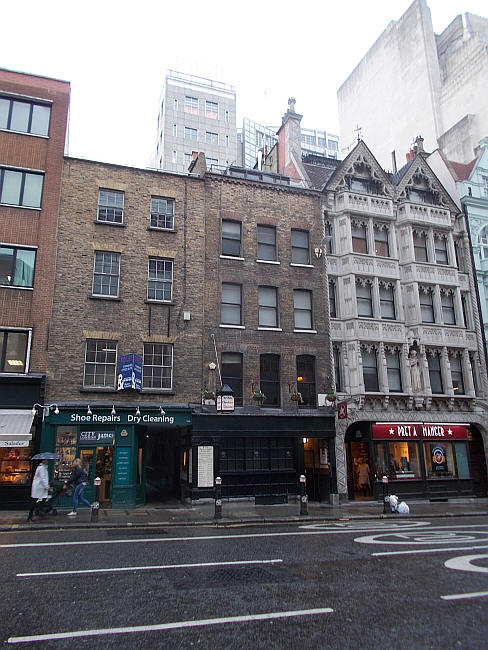 Old Cheshire Cheese, 145 Fleet Street EC4 - in February 2019
Residents at this address
1811/John Calton, Old Cheshire Cheese, 16 Wine Office court, Fleet street/../../Holdens Directory

1825/Mr & Mrs. Calton, 2 Cheshire Cheese, Wine Office court, Fleet street /../../Licensed Victuallers Association

1839/Henry Dolamore/../../../Pigots Directory **

1841/Harriet Dolamore/Victualler/20/Middlesex/Census
1841/Benjamin Dolamore/../9 months/Middlesex/Census
1841/Amy Payne/../15/Middlesex/Census
1841/Mary Deverell/Female Servant/15/Middlesex/Census
1841/Sarah Folly/Female Servant/35/Middlesex/Census
1841/Caroline Williams/Female Servant/17/../Census
1841/Henry Cameron/Male Servant/21/Middlesex/Census
1841/Thomas Evans/Male Servant/21/Middlesex/Census

1842/Benj. Dolamore/../../../Robsonís Directory **

1848/Ben Delamore/../../../Post Office Directory **

1851/Ben. Dolamore/../../../Kellyís Directory **

1869/Beaufoy A Moore/../../../Post Office Directory **

1870/Beaufoy A Moore/../../../Post Office Directory **

1871/Charles G W Moore/Son, Proprietor of Dining Rooms/21/London, Middlesex/Census
1871/Beaufort A H D P Moore/Son/14/London, Middlesex/Census
1871/Mary Kilby/Barmaid/28/Cheltenham, Gloucester/Census
1871/Kate M Cooper/Under Barmaid/21/Hampshire/Census
1871/Kate Manning/Cook/21/Rotherhithe, Surrey/Census
1871/Mary A Grosvenor/Head Kitchen Maid/17/London, Middlesex/Census
1871/Mary A Smith/Under Kitchen Maid/23/Kent/Census
1871/John Ryan/Waiter/22/Tipperary/Census
1871/Walter Andrews/Waiter/20/Abingdon, Cambridge/Census
1871/William Arthur/Stair Boy/17/Birmingham, Warwick/Census

1874/Beaufoy A Moore/../../../H.D. Miles London & Suburban Licensed Victuallers' Directory **

1878/Beaufoy A Moore/../../../Post Office Directory **

1880/Beaufoy A Moore/../../../Post Office Directory **

1881/Eliza Rudkin/Barmaid/23/London, Middlesex/Census
1881/Charles Butcher/Waiter/18/Wallingford, Berkshire/Census
1881/James Curley/Waiter/14/London, Middlesex/Census
1881/Martha Joyce/Servant/27/Wapping, Middlesex/Census
1881/Annie Whitwell/Servant/26/Hertford/Census
1881/Mary Philpot/Barmaid/23/London, Middlesex/Census
1881/John Batteridge/Waiter/18/Cheltenham, Gloucester/Census

1882/Beaufoy A Moore/../../../Post Office Directory

1884/Beaufoy A Moore/../../../Post Office Directory

1896/Mrs Sarah Moore/../../../Post Office Directory **

1900/B A Moore & Son/../../../Post Office Directory **

1903/Sarah Moore / Licensed Victualler, Deceased / Died 6 January 1903 /../../London Gazette 17 March 1903 **

1903/George Charles Wood Moore / Executor /../../London Gazette 17 March 1903 **

25 Wine Office Court :

1910/Old Cheshire Cheese/Johnson Chop House, 25 Wine Office court/../../Post Office Directory

1911/Cecelia Chambers/Restaurant Cook/28/Exeter/Census
1911/Elizabeth Hill/Scullerymaid/19/Plaistow/Census
1911/Winifred Rowledge/Linenmaid, Widow/28/Salisbury/Census
1911/Alice Ironside/Housemaid/25/King Edward, Aberdeenshire/Census
1911/Moira Laver/Kitchen Clerk/21/Paris (Mother French, Father, Irish)/Census
1911/Winifred Stallwood/Barmaid/24/High Wycombe, Buckinghamshire/Census
1911/Alice Stansfield/Barmaid/22/Barcelona, Spain (Mother Spanish, Father English)/Census
1911/Florence Danford/Barmaid/29/Worcester/Census
1911/James Maywood Campion/Pantryman/20/Bournemouth/Census
1911/George Whitfield/Pantryman/21/Manchester/Census
1911/William John Blowey/Wine Merchant & Restaurant Manager/30/Tywardreath, Cornwall/Census

1921/Cheshire Cheese Ltd/Old Cheshire Cheese, 145 Fleet street & 25 Wine Office court/../../Post Office Directory

1921/George Fox/25 Wine Office court/../../Post Office Directory

1938/Old Cheshire Cheese (Ye) Ltd/Chop house/../../Post Office Directory




* Provided By Tris

** Provided By Stephen Harris