Search London wiki and Pub wiki history sites
All public house, restaurants, bars etc closed for the forseeable future from 20th March 2020, but this is a pub history site.
Three Tuns, 9 Great New street, Fetter lane EC4A
Holy Trinity Less Index
In the St Brides census in 1871. Earlier 22 and then 9 Great New Street. Address also given as 3 and as 19-21 Fetter Lane. **
A listing of historical London public houses, Taverns, Inns, Beer Houses and Hotels in Holy Trinity Less parish, City of London.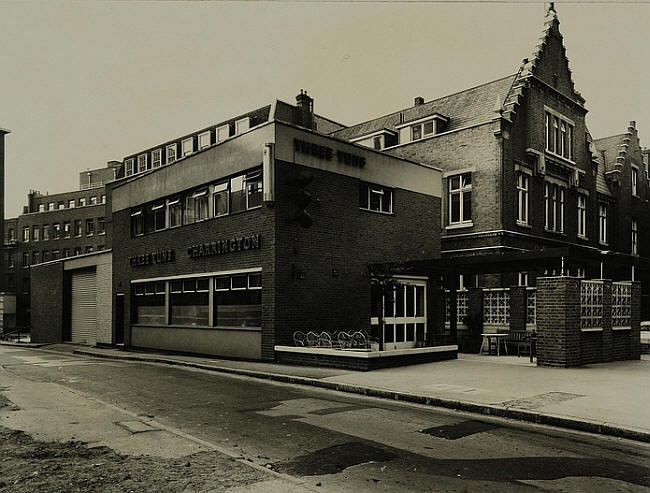 Three Tuns, 1 West Harding street, Fetter lane, Holy Trinity Less, EC4
Residents at this address
1768/John Davis/../../../Proceedings of the Old Bailey **

1805/James Cumming, the Three Tuns, 22 Great New street, Fetter lane/../../Holdens Directory

1810/William Cordy Nelson / Tavern Keeper, Wine and Brandy Dealer & Chapman /../../London Gazette, 8 December 1810 **

1811/W C Nelson, the Three Tuns tavern, Fetter lane/../../Holdens Directory

1813/Thomas Laver/../../../Proceedings of the Old Bailey **

1827/William Partoon, Three Tuns, Great New street, Fetter lane/../../Licensed Victuallers Association

1833-34/Joseph Ruddy/../../../Pigotís Directory

1839/Joseph Ruddy/../../../Pigotís Directory **

1841/Alfred England/Victualler/35/../Census
1841/Sarah England/../30/../Census
1841/Alfred England/../5/../Census
1841/Frederick England/../3/Middlesex/Census
1841/Joseph England/../1/Middlesex/Census
1841/Betsy Berl/Female Servant/15/../Census
1841/Mary Osborne/Female Servant/14/../Census
1841/George Franklin/Male Servant/15/../Census

1842/John Farrow/../../../Robsonís Directory **

1843/William Lewis Farnell/../../../Post Office Directory

1844/William Newby/../../../Thompsonís Directory **

October 1847/Thomas Parker/Outgoing Licensee/../../Era

October 1847/John Cruttenden/Incoming Licensee/../../Era

1851/John Cruttenden/../../../Kellys Directory

1851/John Cruttenden/Licensed Victualler/54/Bermondsey, Surrey/Census
1851/Mary Cruttenden/Wife/42/Bloomsbury, Middlesex/Census
1851/Emma E Matthews/Daughter in Law/17/St Pancras, Middlesex/Census
1851/Peter Constable/Lodger, Civil Engineer/45/Stoke, Worcestershire/Census
1851/Mary Duffey/House Servant, widow/40/Mayo, Ireland/Census
1851/Geo Wm Heagin/Waiter/45/St Brides, London/Census

1856/George Jones/../../../Post Office Directory

1861/John Strong / publican/ 49/ Hampshire, Broughton/ census *
1861/Keturah S Strong/ wife/ 42/ Wilts, Bradford/ census
1861/Arthur Strong/ son/ 10/ London, Middx/ census
1861/Martha M Strong/ dau/ 8/ London, Middx/ census
1861/John E Strong/ son/ 6/ London, Middx/ census
1861/Thomas V Strong/ son/ 3/ London, Middx/ census
1861/Henry Baker/ serv, potman/ unmarried/ 22/ Thorpe, Essex/ census
1861/James Henderson/ lodger/ printer compositer/ unmarried/ 39/ London, Middx/ census

1868/William Mather Nobbs / Licensed Victualler /../../London Gazette, 6 March 1868 **

1869/Harman Jell/../../../Post Office Directory

1871/Harman G Jell/Licensed Victualler/20/Lydd, Kent/Census
1871/Mary A Jell/Wife/31/Godmanchester, Hunts/Census
1871/Sabina White/Visitor/15/Godmanchester, Hunts/Census
1871/Ada Burgess/Barmaid/22/Middlesex/Census

1880/Joseph Mountain/../../../Post Office Directory **

1881/James Reid/Publican/50/Fulham, Middlesex/Census
1881/Mary A Reid/Wife/49/Fulham, Middlesex/Census
1881/Alice Rose M Reid/Niece, Barmaid/27/Knightsbridge, Middlesex/Census
1881/Charles W Kimber/Boarder, Printer Compositor/22/Dorset/Census
1881/John Dick/Boarder, Printer Compositor/24/Edinburgh, Scotland/Census
1881/Frederick Shepherd/Boarder, Printer Compositor/26/Oxford/Census
1881/George Allen/Boarder, Printer Compositor/27/Newcastle N Tyne/Census
1881/John Lowden/Potman/20/Weybridge, Surrey/Census
1881/Charles B Smith/Boarder, Printer Compositor/39/Stepney, Middlesex/Census

1882/James Reid/../../../Post Office Directory

1884/John Meade/../../../Post Office Directory

1891/Hirst & Co/../../../Post Office Directory

1910/Arthur Ernest Saunders/../../../Post Office Directory
1911/John Lawrence/Licensed Victualler/50/Deptford/Census
1911/Sarah Lawrence/Wife/50/Bethnal Green/Census
1911/Louisa Maybank/Daughter/25/Peckham/Census
1911/Doris Louisa Maybank/Daughter of above/2/Deptford/Census
1911/Matilda/Daughter, Barmaid/23/Deptford/Census
1911/Charles William Lawrence/Son, Sorter in Post Office/21/Peckham/Census
1911/Katherine Elizabeth Lawrence/Daughter, Ironer/20/Peckham/Census
1911/Albert Robert Lawrence/Son, Commercial clerk/18/Peckham/Census
1911/Alice Maria Lawrence/Daughter/14/Peckham/Census
1911/Frederick William Walden/Boarder, Gas Fitter/20/Deptford/Census
1911/Arthur Purdie/Boarder, Butcher/22/Deptford/Census

H & F Frost had their offices at 16 Token House Yard, EC2 (St Margaret Lothbury) ***

1915/H & F Frost Ltd/../../../Post Office Directory

1921/H & F Frost Ltd/../../../Post Office Directory ***

1928/P E Kirby/../../BT Telephone Directory [CITy 7740]

1930/P E Kirby/../../BT Telephone Directory [CITy 7740]

1932/A M Flanagan/../../../Post Office Telephone Directory [Tel : CENtral 1540]

1934/H W Edwards/../../../Kellys Directory

1938/H H Britten/../../../Post Office Directory

1940/Mrs Eliza A Britten/../../../Post Office Directory



* Provided By Annabel Brown

** Provided By Stephen Harris