Barley Mow, 31 Popham Road, Islington N1
Islington index
The address is 12 Frog Lane in 1869 and earlier, prior to street renaming. It is also given as 12 South Place in the 1856 Directory *.
Historical London public houses, Taverns, Inns, Beer Houses and Hotels.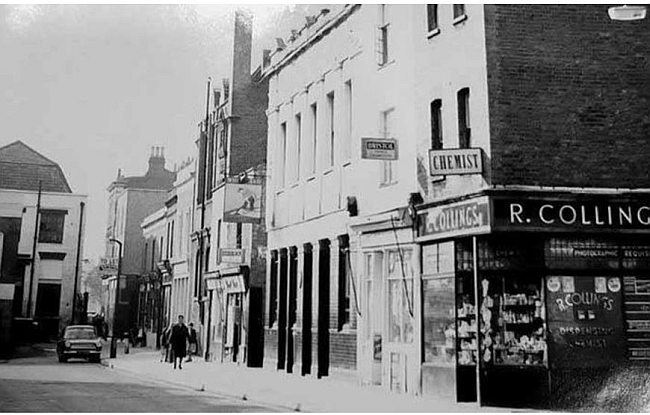 Barley Mow, 31 Popham Road, Islington
Kindly provided by Charlie Goodwin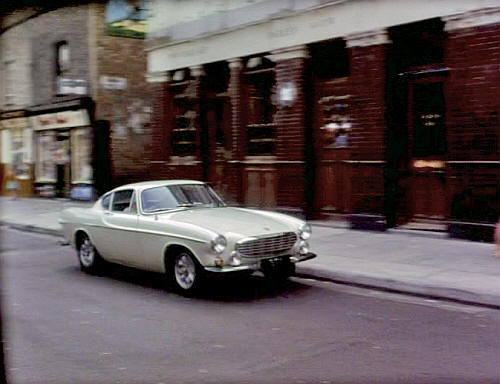 Barley Mow, Popham road N1 from The Saint TV series episode, When Spring Is Sprung 1967.
Kindly provided by Vincent O'Loughlin
Residents at this address.
1808/Mary Hale/victualler/../../Sun Fire Office records held at the London Metropolitan Archives *

1808/Joseph Tate, Barley Mow, Frog lane, Islington/../../Holdens Directory

1819/John Britten/victualler/../../Sun Fire Office records held at the London Metropolitan Archives *

1824/William Hutchinson/victualler/../../Sun Fire Office records held at the London Metropolitan Archives *

1833-34/William Hutchinson, Barley Mow, 12 Long Lane, Islington/../../Pigots Directory

1834/William Hutchinson/../../../Licensed Victuallers Association

1842/William Hutchinson, Barley Mow, 12 south Row, Lower Road, Islingto/../../Robsons Directory *

1856/Patrick John Connelly/../../../Post Office Directory *

1861/Patrick John Connelly/Licensed Victualler/43/Ireland/Census *
1861/Martha Connelly/Wife/43/Minories, Middlesex/Census
1861/Phillis Hutchinson/Daughter-in-Law/13/Islington, Middlesex/Census
1861/Jane Hutchinson/Daughter-in-Law/11/Islington, Middlesex/Census
1861/Alice M. Connelly/Daughter/6/Islington, Middlesex/Census
1861/John James Connelly/Son/3/Islington, Middlesex/Census
1861/Mary A. Connelly/Daughter/11 months/Great Marlow, Buckinghamshire/Census
1861/Eliza Gunnell/Servant/50/Great Marlow, Buckinghamshire/Census

1862/Patrick John Connelly/../../../Post Office Directory

March 1866/Henry Johns/License renewal/../Clerkenwell News

1869/Henry Johns/../../../Post Office Directory

1871/Henry Johns/Licensed Victualler/42/St Luke, Middlesex/Census *
1871/Eliza Johns/Wife/29/Romford, Essex/Census
1871/Mary Ann Johns/Daughter/18/St Georges, Middlesex/Census
1871/Henry William Johns/Son/13/Friern Barnet, Middlesex/Census
1871/Charles E. Johns/Son/11/Friern Barnet, Middlesex/Census
1871/Agnes T. Johns/Daughter/9/Friern Barnet, Middlesex/Census
1871/Minnie A. Johns/Daughter/7/Friern Barnet, Middlesex/Census
1871/Jessie L. Johns/Daughter/1/Islington, Middlesex/Census
1871/John Brown/Barman/26/South Mimms, Hertfordshire/Census
1871/Sarah Fletcher/Domestic Servant/22/Richmond, Surrey/Census

1881/Daniel Harvey/Licensed Victualler/49/Suffolk/Census
1881/Susan Harvey/Wife/50/Suffolk/Census
1881/Jessey Wheaton/Barmaid/24/Regents Park, Middlesex/Census
1881/G W Croft/Manager/34/Newington, Middlesex/Census
1881/Bertha Harvey/House Maid/19/Greenwich, Kent/Census

1882/Daniel Harvey/../../../Post Office Directory *

1891/William Finch/../../../Post Office Directory

1895/Frederick William Beales/../../../Post Office Directory

1899/Edward Hugh Thomas/../../../Post Office Directory

1901/Edwin Anderson/Licensed Victualler/36/Stepney, London/Census
1901/Sarah Anderson/Wife/37/Hoxton, London/Census
1901/Maud Anderson/Daughter/8/Poplar, London/Census
1901/Rose Curtland/Niece/9/Hoxton, London/Census
1901/Leigh Newey/Barman/32/Leicester, Leicestershire/Census
1901/James Tabernacle/Visitor, Leather Worker/52/St Lukes, London/Census
1901/Elizabeth Tabernacle/Visitor, Housekeeper/49/Rigdnell, Essex/Census
1901/Ellen Norton/Visitor/11/Hackney, London/Census

1910/Reginald James Crouch/../../../Post Office Directory

1915/Reginald James Crouch/../../../Post Office Directory

1921/Mrs Jessie M Farey/../../../Hughes Directory

1934/Harry Frederick Farey/../../../Kellys Directory

1938/Harry Frederick Farey/../../../Post Office Directory

1944/Harry Frederick Farey/../../../Post Office Directory



* Provided by Ewan