Mitre, 183 Copenhagen Street, Islington N1
Islington index
Ex-Charringtons and rebuilt in 1937, this pub had closed by October 2009. As of mid-2011 it is being converted to residential use.
Historical London public houses, Taverns, Inns, Beer Houses and Hotels.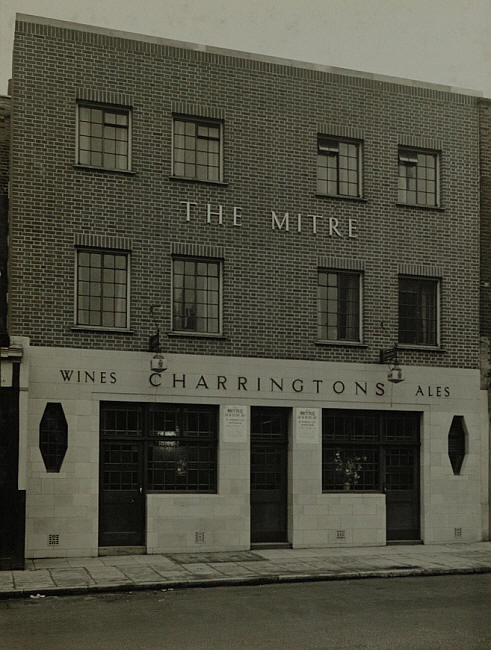 Mitre, 183 Copenhagen Street, Islington N1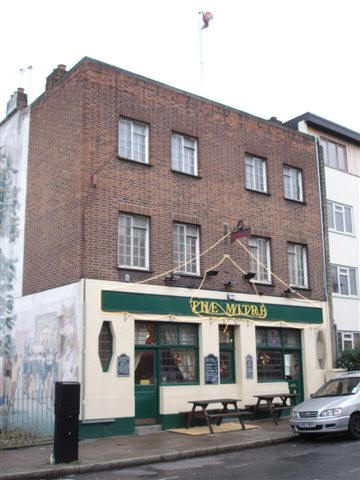 Mitre, 181 - 183 Copenhagen Street - in December 2006
Kindly provided by Stephen Harris
The following entries are in this format:
Residents at this address.
1869/William Masters/Beer Retailer/../../Post Office Directory

1881/William Parker/Beer House Keeper/45/../Census
1881/Mary Parker/Wife/39/Jersey, Channel Islands/Census
1881/William Parker/Son/12/London, Middlesex/Census
1881/Herbert Parker/Son/3/London, Middlesex/Census

1882/William Parker/Beer Retailer/../../Post Office Directory

1895/Alfred Capes/Beer Retailer/../../Post Office Directory

1899/William Furner/Beer Retailer/../../Post Office Directory

1901/William Furner/Beer Retailer/31/Greenwich, Kent/Census
1901/Florence Furner/Wife/29/Croydon, Surrey/Census
1901/Willie Furner/Son/5/Walworth/Census
1901/Matilda Furner/Daughter/3/Islington, London/Census
1901/Fred Furner/Son/1/Islington, London/Census
1901/Alice Garland/General Servant/31/Borough, London/Census
1901/Ethel Thatcher/Nurse/17/Islington, London/Census

1910/Edward Howey/Beer Retailer/../../Post Office Directory

1914/Thomas Glover/Beer Retailer/../../Post Office Directory

1933 - 1939/Short/../../../Freehold

1940/E Brown/../../../Freehold

1941 - 1945/Mr & Mrs E Brown/../../../Freehold

1944/Ernest & Mrs Rose E Brown/Beer Retailer/../../Post Office Directory

1946 - 1947/S Kyte/../../../Freehold

1948/W Aldridge/../../../Freehold

1949/Mrs E L Aldridge/../../../Freehold

1950/A S Connell/../../../Freehold

1951/C J Matthews/../../../Freehold

1952 - 1953/F G Elliott/../../../Freehold

1954 - 1959/R D R Salter/../../../Freehold

1960 - 1965/W G Abery/../../../Freehold



** Provided By Stephen Harris