Fortune of War, 184 York road, Islington N7
Islington index
The address is also given as 33 Maiden Lane in the 1851 census, and earlier name for the street. Listed as Belle Isle N, in 1843 and 1869, at 184 York way by 1944. **
Trading by at least the early 1970s but since demolished. *+
Historical London public houses, Taverns, Inns, Beer Houses and Hotels.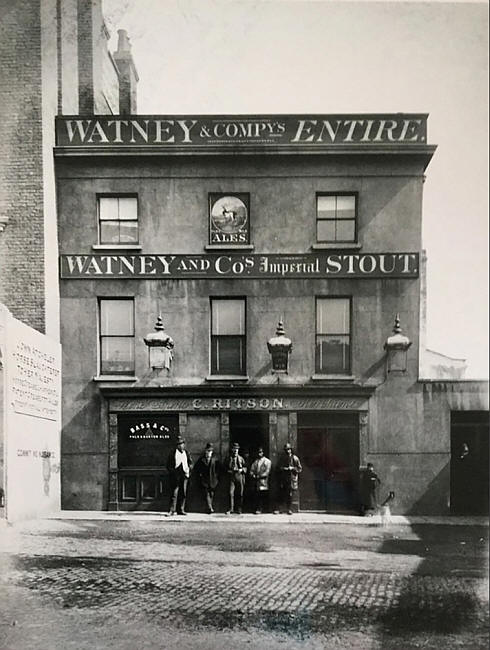 Fortune of War, 184 York road N7 - in 1880 with landlord Charles Ritson
On the left, just visible, is the sign of John Atcheler, Horse Slaughterer To Her Majesty, whose business was next door at 186 York road.
Kindly provided by Vincent O'Loughlin
Residents at this address.
1838/Isaac Adams/victualler/../../Sun Fire Office records held at the London Metropolitan Archives **

1842/Isaac Adams/../../../Robson's Directory **

1843/Isaac Adams/Fortune of War P. H. Belle isle, Kings cross/../../Post Office Directory

1848/John Rogers/../../../Post Office Directory **

1851/Thomas Owen/../../../Post Office Directory **

1851/Thomas Owen/Victualler/37/Mitcham, Surrey/Census **
1851/Mary Owen/Wife/31/Durham/Census
1851/Bridget Mullins/House Servant/23/Ireland/Census
1851/Alfred Cleary/Lodger, Blood Boiler/25/../Census
1851/William Jackson/Lodger, Excavator/37/Northamptonshire/Census
1851/William Foster/Lodger, Excavator/53/Yorkshire/Census
1851/William Carter/Lodger, Excavator/22/Buckinghamshire/Census
1851/William Paget/Lodger, Excavator/41/West Drayton/Census
1851/Charles Fisher/Lodger, Excavator/18/../Census

1856/Arthur Jones/../../../Post Office Directory **

1861/Thomas E. Davis/Victualler/37/Kent Road, Surrey/Census **
1861/Charlotte Davis/Wife/28/Wells, Somerset/Census
1861/Hannah Davis/Daughter/3/Islington, Middlesex/Census
1861/Edward Davis/Son/1/Islington, Middlesex/Census
1861/J. Haning/Potman/37/Marylebone, Middlesex/Census
1861/Charles Wilkinson/Potman/40/St Andrews, Middlesex/Census
1861/Mercey Burford/Bar Maid/20/Stoke, Suffolk/Census
1861/Hannah Gosling/Cook/29/Mosley, Essex/Census
1861/Ester Alderton/Nurse/17/Suffolk/Census

March 1866/Joseph Nicholls/License renewal/../Clerkenwell News

April 1866/Nichols/../../Islington Gazette

April 1866/William Rushton/Incoming Licensee/../../Islington Gazette

1867/William Rushton jun./../../../Licensed Victuallers Association records **

1869/Chas Ristow/../../../Post Office Directory

1881/Charles Ritson/Publican/56/London, Middlesex/Census
1881/Elizabeth Ritson/Wife/61/Norfolk/Census
1881/Charles Ritson/Son/22/London/Census
1881/Isiah Ritson/Son/18/London, Middlesex/Census
1881/Albert Ritson/Son/16/London, Middlesex/Census
1881/Lydia Ritson/Daughter/26/London, Middlesex/Census
1881/Kate Harrison/Gen Servant/51/Islington, Middlesex/Census
1881/John Simmons/Boarder, Carpenter/50/Bristol/Census

1882/Charles Ritson/../../../Post Office Directory

1884/Walter Jarvis/../../../Post Office Directory

1891/Walter Rd Jarvis/../../../Post Office Directory

At the 1891 census (5 April 1891) the landlord is now David Henry Jarvis (Walter Richard's younger brother). *

1891/David H Jarvis/Licensed Victualler/32/Islington, London/Census *
1891/Lydia Jarvis/Wife/31/Bungay, Suffolk/Census
1891/Alice E Jarvis/Daughter/6/Kentish Town, London/Census
1891/William H Jarvis/Son/4/Islington, London/Census
1891/David Jarvis/Son/4/Camden Town, London/Census
1891/Emma Mouncer/Niece, Barmaid/17/Bungay, Suffolk/Census

1895/Joseph Lancaster/../../../Post Office Directory

1899/Joseph Lancaster/../../../Post Office Directory

1910/Mrs Harriet Payne/../../../Post Office Directory

1915/Mrs Emma Sarah Stratton/../../../Post Office Directory

1921/Mrs Emma Sarah Stratton/../../../Post Office Directory **

1934/Jas Tew/../../../Kellys Directory

1938/Jn H Eardley/../../../Post Office Directory

1940/John H. Hardley/../../../Post Office Directory **

1942/Mrs Ida E. Gauder/../../../Post Office Directory **

1944/Cyril Arthur F & Mrs Ethel Turner/../../../Post Office Directory

My father, Terence Paul Driscoll, ran this pub for a few years in the late 1960's.(1968 ish) I used to help out behind the bar and make sausage sarnies for the Darts team. ***



* Provided By Paul White

** Provided by Ewan

*+ Provided By Tris

*** Provided By Cath Beeson