George Fourth, 319 New North Road, Islington
Islington pub history index
The address is 34 King Street Terrace, New North Road in 1856 and earlier, prior to street renumbering. The name is most often given as The George IV. * The George the Fourth, King street in 1867 license transfer.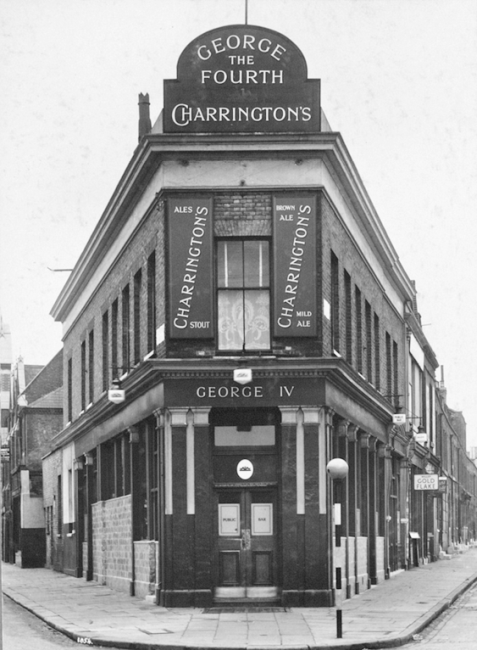 George the Fourth, New North Road and Shepperton road, Islington - in 1950
Kindly provided by Vincent O'Loughlin
Historical London public houses, Taverns, Inns, Beer Houses and Hotels.
Residents at this address.
1824/John Britten/victualler/../../Sun Fire Office records held at the London Metropolitan Archives *

1833-34/Robert Clarke, George IV, 34 King street Terrace, New North road/../../Pigots Directory

1839/Robert Clarke/../../../Pigot's Directory *

1841/Robert Clarke/../../../Post Office Directory *

1848/Charles Willis/../../../Post Office Directory *

1851/John Morgan/../../../Post Office Directory *

1856/John Morgan/../../../Post Office Directory *

May 1862/John Bentley/LV Association, Governor/../../Era

April 1864/Thomas Williams/Outgoing Licensee/../../Era Newspaper

April 1864/William Henry Clarke/Incoming Licensee/../../Era Newspaper

March 1866/William Henry Clarke/License renewal/../Clerkenwell News

July 1867 /W R Clarke/Outgoing Licensee/../../Era

July 1867 /James King Haworth/Incoming Licensee/../../Era

1869/James King Haworth/../../../Post Office Directory

1881/Henry Evesham/Licensed Victualler/35/Finsbury, Middlesex/Census
1881/Martha A Evesham/Wife/31/Sandgate, Kent/Census
1881/Henry R Evesham/Son/3/Islington, Middlesex/Census
1881/Pattie Evesham/Daughter/1/Islington, Middlesex/Census
1881/Robert Evesham/Brother, Barman/25/Finsbury, Middlesex/Census
1881/Frederick Evesham/Brother, Barman/19/Finsbury, Middlesex/Census
1881/Charles Roberts/Barman/33/Clerkenwell, Middlesex/Census
1881/Charlotte Batchelor/General Servant/38/St George, Middlesex/Census
1881/Sophia Coulter/Nurse Maid/18/Maidstone, Kent/Census

1882/Henry Everson/../../../Post Office Directory *

1884/Henry Everson/../../../Post Office Directory

1891/David Martin Davis/../../../Post Office Directory

1895/Charles Guilford/../../../Post Office Directory

1899/Reuben Wm Goodman/../../../Post Office Directory

1910/John Levy/../../../Post Office Directory

1915/Frank Charles Allsop/../../../Post Office Directory

1921/Frank C. Allsop/../../../Post Office Directory *

1934/William Henry Allsop/../../../Kellys Directory

1938/William Henry Allsop/../../../Post Office Directory

1944/William Henry & Mrs B Allsop/../../../Post Office Directory


* Provided by Ewan