Kings Arms / Edward VII, 64 Barnsbury Road, Islington
Islington index
The address is 1 Claremont Row, Barnsbury Road in 1866 and earlier, prior to street renumbering. * This pub is closed and the premises have been converted for use as a church - an interesting reversal of the usual situation. **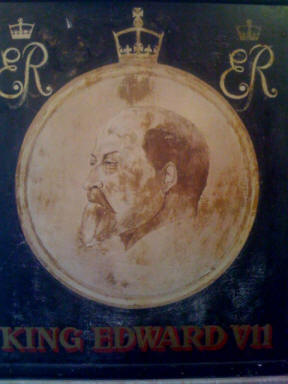 King Edward VII Pub sign - circa 1952 to 1994 ?
Kindly provided by Mark Fletcher
This Pub was called the Edward VII sometime after 1944, and later converted to the Church on The Corner . ***
Historical London public houses, Taverns, Inns, Beer Houses and Hotels.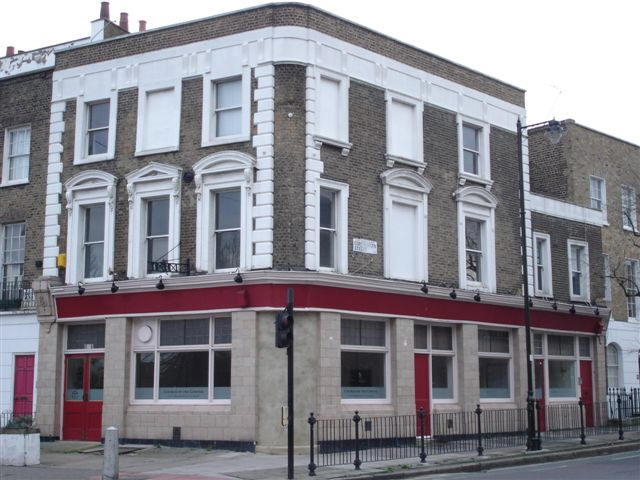 Kings Arms, 64 Barnsbury Road - in January 2007
Kindly provided by Stephen Harris
Residents at this address.
1839/George Hattersley/../../../Pigot's Directory *

1841/George Hattersley/../../../Post Office Directory *

1848/Robert Thornton/../../../Post Office Directory *

1851/William Palmer/../../../Post Office Directory *

June 1850/William Palmer/Outgoing Licensee/../../Era

June 1850/William Smith/Incoming Licensee/../../Era

1856/William Smith/../../../Post Office Directory *

March 1866/William Smith/License renewal/../Clerkenwell News

1869/William Smith/../../../Post Office Directory

1881/William Smith/Licensed Victualler/67/Surrey/Census
1881/Ann Raper/Niece, Visitor/51/Middlesex/Census
1881/Laura Raper/Grand Niece, Visitor/12/Middlesex/Census
1881/Isabella Smith/Niece, Visitor/26/Middlesex/Census
1881/George Grumby/Barman/20/Middlesex/Census
1881/Ann Leedom/Cook/40/Middlesex/Census

1882/William Smith/../../../Post Office Directory *

1891/John Christian Ficken/../../../Post Office

1895/John Christian Ficken/../../../Post Office Directory *

1899/John Christian Ficken/../../../Post Office

1910/Alfred Charles Fort/../../../Post Office Directory

1915/Alfred Charles Fort/../../../Post Office Directory

1934/Wm Barr/../../../Kellys Directory

1938/Jn Alfred Lock/../../../Post Office Directory

1944/Leonard Beecheno/../../../Post Office Directory



* Provided by Ewan

** Provided By Stephen Harris

** Provided By Mark Fletcher