White Horse Hotel, 36 Market Road, Islington N7
Islington index
Previous address is at Metropolitan Cattle Market, south east gate. This address disappear for a while, and must be a modern rebuild.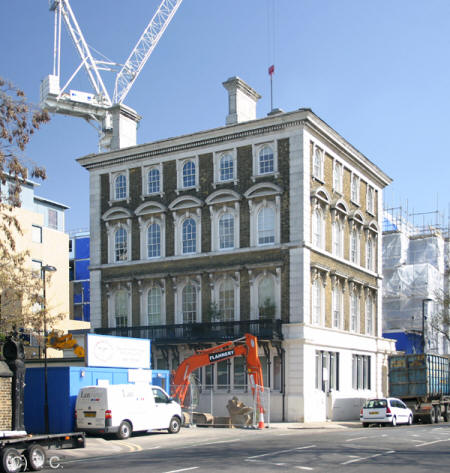 White Horse Hotel, 36 Market Road, N7 - 2oth April 2010
Kindly provided by Tris
Historical London public houses, Taverns, Inns, Beer Houses and Hotels.
Residents at this address.
April 1855/T Baker/Outgoing Licensee/../../Era Newspaper

April 1855/Charles John Parkman, of the Vine, Bishopsgate/Incoming Licensee/../../Era Newspaper

Charles John Packman is previously at the Vine Hotel, Bishopsgate Street within *

1856/Charles John Packman/../../../Post Office Directory

1861/Charles Jno Packman/Inn Keeper/57/London/Census *
1861/Sarah Packman/Wife/55/Boreham, Essex/Census
1861/Sarah J March/Daughter, Assistant, Widow/27/Bow/Census
1861/E M Packman/Daughter, Assistant/25/Brentwood, Essex/Census
1861/W E Packman/Son, Assistant/22/Warley, Essex/Census
1861/S J March/Grand Daughter/4/Southgate/Census
1861/H M March/Grand Daughter/3/Kensington/Census
1861/Sarah Hook/Barmaid/28/Soho/Census
1861/John Gunner/Waiter/32/Westminster/Census
1861/John Hopkins/Waiter/22/Dartford, Kent/Census
1861/Fanny Carter/Housemaid/30/Eastbourne, Sussex/Census
1861/Ellen Lyons/Housemaid/21/Islington/Census
1861/Elizth Gale/Cook/37/St Peters, Jersey/Census
1861/Chas Barford/Ostler/33/Mile End/Census
1861/Ann Barford/Wife/33/Paris, France/Census
1861/Walter Barford/Son/4/Islington/Census
1861/Sara Deighton/Nursemaid/13/Pinner, Middlesex/Census
1861/James Moon/Waiter/41/Mitcham, Surrey/Census
1861/William Wilson/Porter/24/Islington/Census
+ Lodgers

April 1865/J Packman/ Outgoing Licensee /../../North London News

April 1865/William Tiike/ Incoming Licensee /../../North London News

March 1866/William Tilks/License renewal/../Clerkenwell News

1869/Thomas Hedges/../../../Post Office Directory

1881/Thomas Hedges/Tavern Keeper/51/Stewkley, Buckingham/Census
1881/Mary Hedges/Wife/41/Stewkley, Buckingham/Census
1881/Richard Hedges/Son, Assistant/21/Stewkley, Buckingham/Census
1881/Charles Hedges/Son/15/Stewkley, Buckingham/Census
1881/Thomas B Hedges/Son/12/Islington, Middlesex/Census
1881/Caroline A Hedges/Daughter/7/Islington, Middlesex/Census
1881/Fanny McGill/Barmaid/22/Kentish Town, Middlesex/Census
1881/Catherine Harrison/Barmaid/28/Sunderland/Census
1881/Ellen Hyde/Chambermaid/23/Drayton, Buckingham/Census
1881/Sarah Kean/Barmaid/32/Whitchurch, Buckingham/Census
1881/Jane Byrne/Cook/50/../Census
1881/Hannah Taylor/Housemaid/20/Norwich, Norfolk/Census
1881/Annie Read/Nurse/23/Leighton, Bedford/Census
1881/Frederick White/Boots/19/Stewkley, Buckingham/Census
1881/William Hedges/Lodger/5/Islington/Census
1881/William Jounce/Lodger, Farmer 200 Acres/45/Colchester/Census
1881/Robert Howard/Lodger, Cattle Dealer/76/../Census
1881/Peter Greece/Lodger, Cattle Dealer/42/Norwich, Norfolk/Census
1881/William Sal.../Lodger, Cattle Dealer/55/Yarmouth, Norfolk/Census
1881/William Sands/Lodger, Cattle Dealer/36/Norwich, Norfolk/Census
1881/Thomas Cross/Lodger, Cattle Dealer/41/Beccles, Suffolk/Census
1881/James Juby/Lodger, Cattle Dealer/45/Cromer, Suffolk/Census
1881/George Wilson/Lodger, Cattle Dealer/48/Norwich, Norfolk/Census
1881/John Burton/Lodger, Cattle Dealer/39/Hatfield, Hertford/Census
1881/James Walby/Lodger, Cattle Dealer/37/Hatfield, Hertford/Census
1881/Charles Hart/Lodger, Cattle Dealer/59/Holt, Norfolk/Census
1881/Henry ..ane/Lodger, Cattle Dealer/58/Holt, Norfolk/Census
1881/William Copeland/Lodger, Cattle Dealer/52/Lynn, Norfolk/Census
1881/George Sands/Lodger, Cattle Dealer/37/Peterborough, Northampton/Census
1881/John Woodward/Lodger, Cattle Dealer/46/W Loes ?, Huntingdon/Census
1881/James Freeman/Lodger, Cattle Dealer/34/Norwich, Norfolk/Census
1881/George Mitchell/Lodger, Cattle Dealer/49/Lincoln/Census
1881/Jesse W..Ham/Lodger, Cattle Dealer/52/Lincoln/Census
1881/Richard Kingsley/Lodger, Cattle Dealer/51/Hitchin, Hertford/Census
1881/William Oliver/Lodger, Cattle Dealer/37/Chelmsford, Essex/Census
1881/John Dendfield/Lodger, Cattle Dealer/57/Burston, Buckingham/Census
1881/John Mullins/Lodger, Cattle Dealer/42/Dublin/Census
1881/John Fitzgerald/Lodger, Cattle Dealer/35/Bristol, Somerset/Census
1881/John Coome/Lodger, Cattle Dealer/36/Norwich, Norfolk/Census
1881/William Sampson/Lodger, Cattle Dealer/42/Yarmouth, Norfolk/Census
1881/George George/Lodger, Cattle Dealer/61/Norwich, Norfolk/Census
1881/John Dragon/Lodger, Cattle Dealer/54/Norwich, Norfolk/Census
1881/James Deacon/Lodger, Cattle Dealer/19/Norwich, Norfolk/Census
1881/William Cross/Lodger, Cattle Dealer/48/Cromer, Norfolk/Census
1881/Charles Derbey/Lodger, Cattle Dealer/45/Cambridge, Cambridge/Census
1881/Alexander Mullins/Lodger, Cattle Dealer/54/Dublin/Census
1881/William Hallibrass/Lodger, Cattle Dealer/31/Hatfield, Hertford/Census
1881/William Fisher/Lodger, Butcher/32/Aylesbury, Buckingham/Census
1881/John Tait/Lodger, Cattle Dealer/35/Cambridge/Census
1881/Nauceif Camp/Lodger, Cattle Dealer/29/Derby/Census

1882/Thomas Hedges/../../../Post Office Directory **

1884/Thomas Hedges/../../../Post Office Directory **

1891/Thomas Hedges/../../../Post Office Directory

1895/Thomas Foster/../../../Post Office Directory **

1899/Thomas Foster/../../../Post Office Directory

1910/Thomas Foster/../../../Post Office Directory

1911/Thomas Foster/Hotel Proprietor, Widow/66/Stewkley, Buckinghamshire/Census
1911/Mary Anne Foster/Daughter/38/Abargavenny, Monmouthshire/Census
1911/Annie Martha Foster/Daughter/32/Abargavenny, Monmouthshire/Census
1911/Lillian Gilbert/Barmaid/24/Clapham, Middlesex/Census
1911/Ellen Gilbert/Barmaid/19/Clapham, Middlesex/Census
1911/Pat Reily/Waiter/27/Ireland/Census
1911/William Dickson/Potman/29/The Cape, South Africa/Census
1911/Louie Chester/Housemaid/42/Little Hill, Berkshire/Census
1911/Florence Polley/Housemaid/22/Harkstead, Suffolk/Census
1911/Annie Emery/Cook/46/Warsash, Hampshire/Census
1911/Gertrude Hughes/Kitchenmaid/20/Islington, London/Census
+ Boarders & Visitors

1915/Thomas Foster/../../../Post Office Directory **

1919/Thomas Foster of the White Horse Hotel Metropolitan Cattle Market Islington Middlesex died 6 May 1919 Probate London 21 June to Joseph Henry Foster and Alfred Thomas Foster licensed victuallers and Ernest George Foster lieutenant H M Army. Effects £16870 7s 4d.

1921/Thomas Foster/../../../Post Office Directory **

1927/J. H. Foster & A. T. Foster/../../../Post Office Directory **

1934/J. H. Foster & A. T. Foster/../../../Post Office Directory **

1938/J H & A T Foster/../../../Post Office Directory

1940/William George Messenger/../../../Post Office Directory **

1944/Ernest Sidney Cornish/../../../Post Office Directory



* Provided By Roger Packman

** Provided By Ewan