Earl of Lonsdale, 16 Archer Street, Kensington Park, Notting Hill W10
The address of this pub is now given as 227-281 Westbourne Grove (2013). The address changes between 1938 and 1944.
Kensington pub index
A listing of historical London public houses, Taverns, Inns, Beer Houses and Hotels in Kensington, London.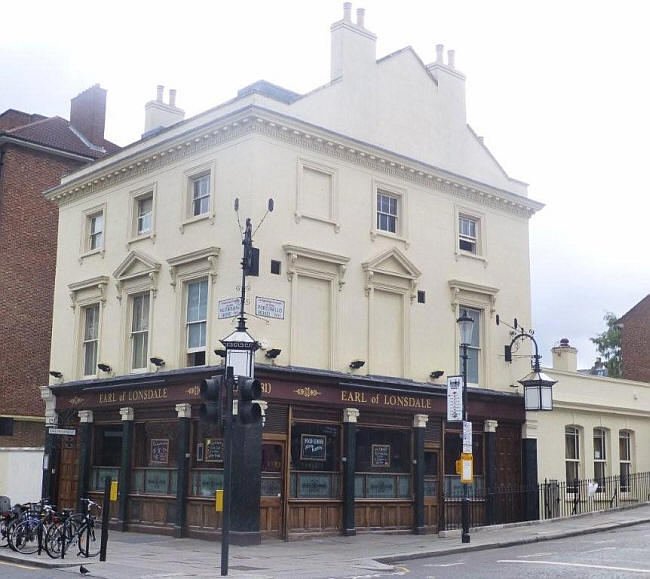 Earl of Lonsdale, 16 Archer Street, W10 - in August 2013
Kindly provided by Stephen Harris
Residents at this address
1856/Henry Heard/../../../Post Office Directory

1861/Henry Heard/Publican/45/Windsor, Berkshire/Census
1861/Jane M Heard/Wife/34/Broadlest, Berkshire/Census
1861/Henry Heard/Son/8/London/Census
1861/James G Heard/Son/8/London/Census
1861/Alice E Heard/Daughter/7/London/Census
1861/Julia S Heard/Daughter/5/London/Census
1861/Walter Heard/Son/3/London/Census
1861/Edith Ann Heard/Daughter/1/London//Census
1861/Emma Prettyman/Barmaid/25/Horne, Buckinghamshire/Census
1861/Charlotte May/Barmaid/21Shiplake, Oxfordshire/Census
1861/Phoebe French/Servant/25/Leicester/Census
1861/Sarah Ann Guttridge/Servant/19/Essex/Census
1861/Henry Pickett/Servant/22/Broughton, Wiltshire/Census
1861/Ann Stone/Wifes Sister, Governess/34/Bridle, Devon/Census

1869/Frederick Collingwood/../../../Post Office Directory

1876/Thomas Albert Lee/../../../Post Office Directory

1879/William Deverell Miller/../../../Post Office Directory

1881/Richard E Hollyman/Licensed Victualler/48/Finsbury/Census
1881/Jane Hollyman/Wife/47/Harrow/Census
1881/Emma Hollyman/Daughter/20/Marylebone, Middlesex/Census
1881/Thomas Hollyman/Son/19/Islington, Middlesex/Census
1881/Fred Hollyman/Son/16/Islington, Middlesex/Census
1881/Annie Hollyman/Daughter/15/Islington, Middlesex/Census
1881/Chrisie Hollyman/Daughter/14/Islington, Middlesex/Census
1881/Milley Hollyman/Daughter/8/Islington, Middlesex/Census
1881/Jessey Hill/Housemaid/18/Islington, Middlesex/Census
1881/Emma Wright/Cook/23/Mile End/Census
1881/John Grestney/Barman/23/Islington, Middlesex/Census
1881/Edward Raydon/Barman/17/Kensington, Middlesex/Census

1882/Richard Hollyman/../../../Post Office Directory

1883/Richard Hollyman/../../../Post Office Directory

3 Jan 1884/Richard Hollyman/../../../Death - reported in London Gazette
3 Jan 1884/Jane Hollyman/Widow/../../..

1886/William Henry Osborne/../../../Post Office Directory

1891/Henry Hobson Finch/../../../Post Office Directory

1895/Henry Hobson Finch/../../../Post Office Directory

1899/Henry Hobson Finch/../../../Post Office Directory

1910/Henry Hobson Finch/../../../Post Office Directory

1915/Henry Hobson Finch/../../../Post Office Directory

1921/H H Finch Ltd/../../../Post Office Directory

1938/H H Finch Ltd/../../../Post Office Directory

1944/H H Finch Ltd/../../../Post Office Directory



** Provided By Stephen Harris