Search London wiki and Pub wiki history sites
All public house, restaurants, bars etc closed for the forseeable future from 20th March 2020, but this is a history site.
Mitre, 40 Holland Park Avenue W11
Kensington pub index
This pub was established in 1845 and rebuilt in its present form in 1930. The address is today given as 40 Holland Park Avenue. It was at 20 Notting Hill Terrace in 1895 and earlier. ** Rebuilt between the wars, and for a time in the 1980s the pub was renamed The Raj, then The Rat & Parrot; before reverting to The Mitre. ***
A listing of historical London public houses, Taverns, Inns, Beer Houses and Hotels in Kensington, London.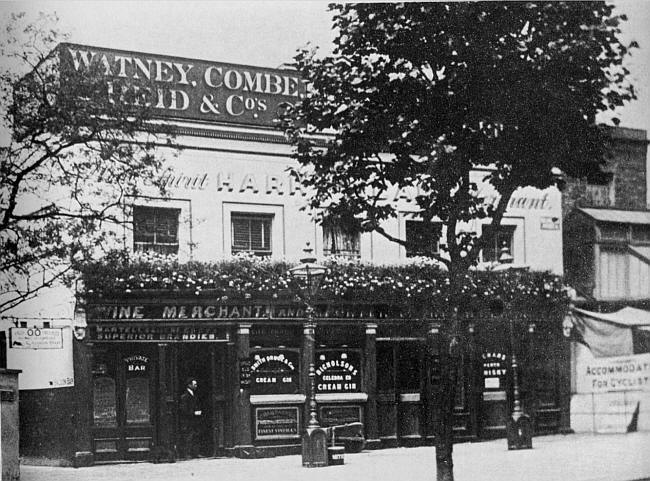 Mitre, 40 Holland Park Avenue W11 - circa 1920 with landlord Harry Hearn
Kindly provided by Vincent O'Loughlin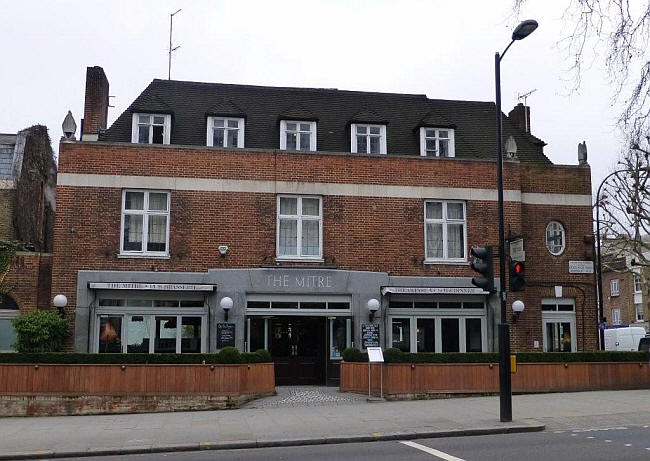 Mitre, 40 Holland Park Avenue, W11 - In March 2013
Kindly provided by Stephen Harris
Residents at this address
1851/Frederick Clark/../../../Kellys Directory

May 1853/Frederick Clark/Outgoing Licensee/../../Era

May 1853/Henry Adams/Incoming Licensee/../../Era

1856/Adams Brothers/../../../Post Office Directory

1861/Henry Adams/Licensed Victualler/41/Northleigh, Oxfordshire/Census
1861/George B Swan/Barman/23/Berkhampstead, Hertfordshire/Census
1861/William Woods/Barman/19/Hammersmith, Middlesex/Census
1861/George Moulder/Carman/22/Woodstock, Oxfordshire/Census
1861/John Long/Potboy/14/Hayes, Middlesex/Census
1861/Mary Nash/General Servant/28/Essex/Census

1869/Adams Brothers/../../../Post Office Directory

1871/John Owen/Wine Merchant, Widow/54/Llanbadam, Cardiganshire/Census
1871/John W Owen/Son, Grainer/21/London, Middlesex/Census
1871/Owen Owen/Son, Barman/18/London, Middlesex/Census
1871/James Parfitt/Barman/23/Farmborough, Somerset/Census
1871/Harry Harding/Barman/20//London, MiddlesexCensus
1871/George Hunt/Potman/23/Brentford, Middlesex/Census
1871/Emily Butter/General Servant/23/Pitchcombe, Gloucester/Census

1881/William Chamberlain/Licensed Victualler/51/Exeter, Devon/Census
1881/Sarah A Chamberlain/Wife/42/Hambridge, Wiltshire/Census
1881/Frank Tamlyn/Barman/21/Handkey, Devon/Census
1881/Isabella Gilby/Barmaid/25/Stanstead, Essex/Census
1881/Elizabeth E Aldridge/Barmaid/22/Paddington/Census
1881/Elizabeth Cans/Barmaid/21/Stanstead, Essex/Census

1882/William Chamberlain/../../../Post Office Directory

1891/George Miller Harnor/../../../Post Office Directory

1895/William Edward Griffiths/../../../Post Office Directory

1921/Harry Hearn/40 Holland Park Avenue/../../Post Office Directory **

1944/Edmund Fredk. York/40 Holland Park Avenue/../../Post Office Directory **



** Provided By Stephen Harris

*** Provided By Vincent O'Loughlin