Pub history and pub wiki
Prince Albert Hotel, 11, Pembridge Road, Notting Hill W11
The very early address of this pub was at 4 Portobello Terrace, High Street, at 11 Pembridge Road W11 by 1899. ** The 1861 census entry specifically names this as the Portobello Tavern, I think this is wrong, and am attributing this entry to the Price Alfred, Portobello terrace!
Kensington pub history index
A listing of historical London public houses, Taverns, Inns, Beer Houses and Hotels in Kensington, London. This includes a massive area of London, including Brompton, Ladbroke Grove, Notting Hill, Kensal Town, parts of Fulham Road , Portobello Road etc. The Kensington Public House Trade Directory uses information from census, Trade Directories and History to add licensees, bar staff, Lodgers and Visitors.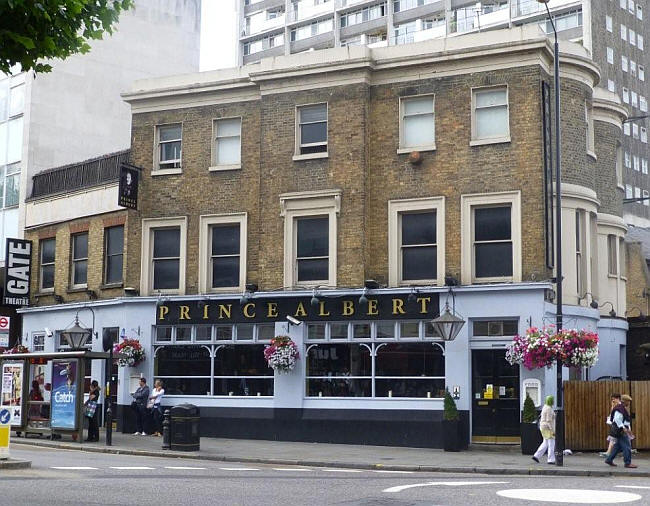 Prince Albert, 11 Pembridge Road, W11 - in August 2013
Kindly provided by Stephen Harris
The following entries are in this format:
Year/Publican or other Resident/Relationship to Head and or Occupation/Age/Where Born/Source.
1848/John Chapman/../../../Post Office Directory ****

February 1852/John Chapman/Outgoing Licensee/../../Era ****

February 1852/James Henry Layell/Incoming Licensee/../../Era ****

September 1855/T H Layel/ Outgoing Licensee /../../The Era ****

September 1855/Thomas Wood/ Incoming Licensee /../../The Era ****

1856/Thomas Wood/../../../Post Office Directory ****

May 1856/Thomas Wood/Outgoing Licensee/../../Era ****

May 1856/Joseph Farnes/Incoming Licensee/../../Era ****

November 1856/Catharine Elizabeth Furnes/Outgoing Licensee/../../Era Newspaper ****

November 1856/John Wilton/Incoming Licensee/../../Era Newspaper ****

September 1860/Michael Walker/Outgoing Licensee/../../Era ****

September 1860/Henry Hart/Incoming Licensee/../../Era ****

1861/George Gill/Victualler/39/Shoreditch, Middlesex/Census ****
1861/Hannah Gill/Wife/41/Southwark/Census
1861/Edward Gill/Son/5/St Georges, Middlesex/Census
1861/Emily Gill/Daughter/7/Chelsea, Middlesex/Census
1861/Margaret Hamilton/Niece/24/Bermondsey, Surrey/Census
1861/Constantine Craker/Waiter/26/Winslow, Buckinghamshire/Census
1861/Emma Todd/Barmaid/30/Linslade, Nottinghamshire/Census
1861/Ann Sheppard/Cook/20/Limerick, Ireland/Census
1861/Catherine Walsh/Housemaid/17/Southwark/Census

1869/G Gill/../../../Post Office Directory ****

1871/George Gill/Licensed Victualler/48/Middlesex/Census ****
1871/Hannah Gill/Wife/51/Middlesex/Census
1871/Emily Gill/Daughter/17/Middlesex/Census
1871/Edward Gill/Son/15/Middlesex/Census
1871/Ada Gill/Daughter/9/Middlesex/Census
1871/Charles Gill/Son/7/Middlesex/Census
1871/Mary Ann Birch/Barmaid/24/Margate, Kent/Census
1871/Emily Wheeler/Barmaid/21/Kennington, Surrey/Census
1871/Marther Bessy/Housemaid/19/Oxfordshire/Census
1871/Caroline Gositer/Cook, Widow/46/Stradbrooke, Suffolk/Census
1871/George Butt/Waiter/23/Notting Hill, Middlesex/Census

1881/S M Oliver/Licensed Victualler/44/Whitechapel/Census ****
1881/Ann M Oliver/Wife/38/Bethnal Green/Census
1881/Jessie E Oliver/Daughter/18/Whitechapel/Census
1881/Ida A Oliver/Daughter/15/Bow/Census
1881/Emma Dickie/Barmaid/26/Borough ?/Census
1881/R Ann Thomas/Barmaid/23/St Mary Cray, Kent/Census
1881/Fanny T Deer/Barmaid/21/Pinner, Middlesex/Census

1882/John Wm Oliver/../../../Post Office Directory ****

1899/Walter Buxton/../../../Post Office Directory ****

1910/Henry Scott/../../../Post Office Directory ****

1921/J Wels/../../../Hughes Directory ****

1938/Rupert T C Owen/../../../Post Office Directory ****

1944/Whites Catering Inns Ltd/../../../Post Office Directory ****

1971/../Prince Albert/../../Pub Directory ****



** Provided By Stephen Harris

**** Provided By Kevan
Search for a pub, an address or person
And Last updated on: Wednesday, 03-Jul-2019 01:09:30 BST