Search London wiki and Pub wiki history sites
All public house, restaurants, bars etc closed for the forseeable future from 20th March 2020, but this is a history site.
Prince Arthur, 10 Golborne Road, London W10
Kensington pub index
Now known as Number 10 (2013). Closed 2014 to be converted to residential use. *
A listing of historical London public houses, Taverns, Inns, Beer Houses and Hotels in Kensington, London.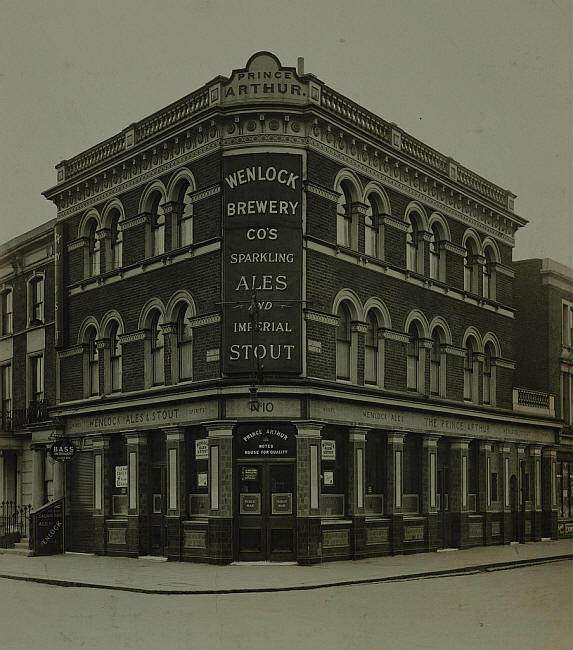 Prince Arthur, 10 Golborne Road, London W10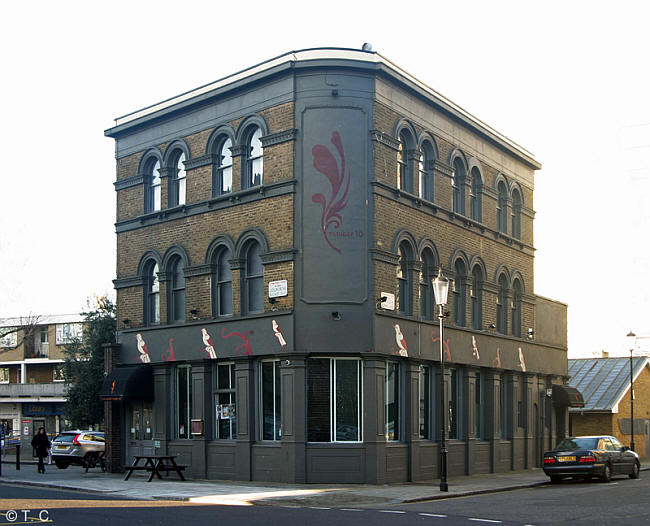 Prince Arthur, 10 Golborne Road, W10 - in January 2012
Kindly provided by Tris
Residents at this address
1871/Henry Morrey/Licensed Victualler/27/Bloxham, Oxfordshire/Census
1871/Harriett Penn/Aunt/27/Radway, Warwickshire/Census
1871/John Morrey/Brother/17/Bloxham, Oxfordshire/Census

1878/Ferguson Edwards/../../../Post Office Directory

1881/Ferguson H Edwards/Licensed Victualler/31/Mersham, Kent/Census
1881/Clara Edwards/Wife/27/London, Middlesex,/Census
1881/Edith M Edwards/Daughter/5/London, Middlesex,/Census
1881/Sydney F Edwards/Son/3/London, Middlesex,/Census
1881/Caroline G Edwards/Daughter/1/London, Middlesex,/Census
1881/Catherine J Edwards/Mother, Widow/62/Thame, Oxford/Census
1881/Charles J Cockram/Barman/23/Paddington, Middlesex/Census
1881/James Wallace/Barman/17/London, Middlesex,/Census
1881/Emma Allen/Domestic Servant/22/Godmanchester, Huntingdon/Census
1881/Jane Hoad/Domestic Servant/18/London, Middlesex,/Census

1882/Ferguson Edwards/../../../Post Office Directory

1891/William Richard Walton/../../../Post Office Directory

1895/William Richard Walton/../../../Post Office Directory

1899/Harry Richard Willans/../../../Post Office Directory

1901/Charles Newman/Publican/39/Great Yarmouth, Norfolk/Census
1901/Eliza M Newman/Wife/27/Kensington, London/Census
1901/Stanley R Newman/Son/5 months/Kensington, London/Census
1901/Isabella Finch/Cook/27/Sevenoaks, Kent/Census
1901/Bert S Clarke/Visitor, Carpenter/20/Paddington, London/Census
1901/Horace C Newman/Barman/26/Hackney, London/Census
1901/Ernest S Leggett/Barman/20/Ipswich, Suffolk/Census
1901/Albert C Stockwell/Barman/20/Brighton, Sussex/Census

Charles Newman is licensee of the Railway Hotel, 60 Wightman Road, Haringey by 1911.

1901/Harry Richard Willans/../../../Post Office Directory

1903/Harry Richard Willans/../../../Post Office Directory

1906/William George Newman/../../../Post Office Directory

1910/William George Newman/../../../Post Office Directory

William H Drury and family are at the Albert Edward, 75 Albert road, Kilburn in the 1901 census

1911/William Henry Drury/Licensed Victualler/47/Sussex/Census
1911/Elizabeth Esther Drury/Wife/48/Buckinghamshire/Census
1911/Albert Henry Drury/Son, Electrician/25/London/Census
1911/Edith Mary Drury/Daughter/18/London/Census
1911/Albert Edward Pellow/Barman/27/Essex/Census
1911/Frederick Brooks/Barman/23/London/Census

1915/Richard Norden/../../../Post Office Directory

1938/Fred William Frost/../../../Post Office Directory

1944/Jn Jas McCaul/../../../Post Office Directory

1977 - 1983/Martin J Kennedy/../../../BT Telephone Directory

The last owner of "The Prince Arthur" Pub (while it was a proper *Pub*) on the Golborne Road, W10, London was called Martin Kennedy. I think he owned the Pub for approximately 30 Years. Unfortunately he died about 5 years ago in retirement (Heart Attack). He was my Mothers late partner. **



* Provided By Tris

** Provided By Kevin Ryan