Pub history, pubwiki and London
Somerset Arms, 214 Fulham Road, West Brompton SW10
This pub was first licensed in 1792 and was rebuilt in 1881. At Seymour Terrace, West Brompton (north side) in 1856 and 1861; and the Somerset Arms, Little Chelsea in the 1859 license transfer. It recently closed and has been converted to restaurant use (2007). **
Kensington pub index
A listing of historical London public houses, Taverns, Inns, Beer Houses and Hotels in Kensington, London. This includes a massive area of London, including Brompton, Ladbroke Grove, Notting Hill, Kensal Town, parts of Fulham Road , Portobello Road etc. The Kensington Public House Trade Directory uses information from census, Trade Directories and History to add licensees, bar staff, Lodgers and Visitors.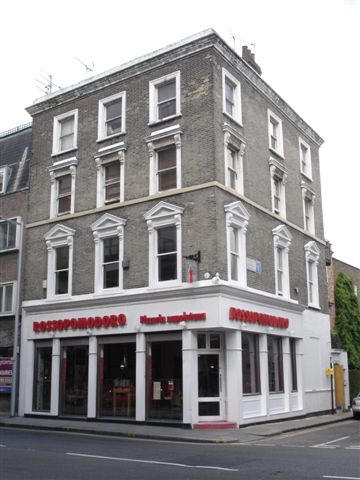 Somerset Arms, 214 Fulham Road, SW10 - in July 2007
Kindly provided by Stephen Harris
The following entries are in this format:
Year/Publican or other Resident/Relationship to Head and or Occupation/Age/Where Born/Source.
1805/Mrs De Luce, Somerset Arms, Little Chelsea/../../Holdens Directory ****

1826/James Edwards/../../../London Directory ****

1827/James Edwards/../../../Licensed Victuallers Association ****

1843/James Edwards/../../../Post Office Directory ****

1856/James Edwards/../../../Post Office Directory ****

November 1859/Charles James Edwards/Outgoing Licensee/../../Era ****

November 1859/John Edward Hudson/Incoming Licensee/../../Era ****

1861/James Robertson/Victualler/46/London, Middlesex/Census ****
1861/Elizabeth Robertson/Wife/44/London, Middlesex/Census
1861/Elizabeth Robertson/Daughter/19/London, Middlesex/Census
1861/James Robertson/Son/15/London, Middlesex/Census
1861/Sophia Robertson/Daughter/10/London, Middlesex/Census
1861/George Robertson/Son/4/London, Middlesex/Census
1861/Frances Bradley/Visitor/19/Camberwell/Census
1861/Rose Dulin/House Servant/21/Birmingham/Census

September 1864/James Robertson/Outgoing Licensee/../../Era ****

September 1864/William Waghorn/Incoming Licensee/../../Era ****

1869/George Plumb/../../../Post Office Directory ****

1874/Jane Plumb/../../../Licensed Victualler & Hoteliers Directory ****

1877/Mrs Jane Plumb/../../../Post Office Directory **

1881/Jane Plumb/Licensed Victualler, Widow/52/Southfleet, Kent/Census ****
1881/Jane Plumb/Daughter/24/Norton Kirby, Kent/Census
1881/Florence Plumb/Daughter/18/Norton Kirby (Ex), Kent/Census
1881/Florence Plumb/Grand Daughter/4/Kennington, Surrey/Census
1881/Percy Plumb/Grand Son/2/Kennington, Surrey/Census
1881/Louisa M Plumb/Grand Daughter/1/Kennington, Surrey/Census
1881/Fanny Kilby/General Servant/19/Gloucester/Census
1881/Henry Skegg/Barman/25/Streatham, Surrey/Census
1881/William Ashton/Barman/25/Pickney, Somerset/Census

1882/Mrs Jane Plumb/../../../Post Office Directory ****

1884/Jane Plumb/../../../Post Office Directory ****

1891/Harry Hammond/../../../Post Office Directory ****

1891/Harry Hammond/Licensed Victualler/31/Parham, Sussex/Census ****
1891/Clara Maude Hammond/Wife/29/Shireoaks, Nottinghamshire/Census
1891/Hugh Clarke Hammond/Son/2/St James, London/Census
1891/Mary Helen Evans/Sister in Law/25/Shireoaks, Nottinghamshire/Census
1891/Bertha Brooks/Nursery Governess/34/Alcester, Warwickshire/Census
1891/Heken Harriet Dodswell/Barmaid/24/Eastbourne, Sussex/Census
1891/Richard Butler/Potman/37/Fulham, London/Census
1891/Keziah Collins/General Servant/19/Blockley, Worcestershire/Census

1895/Henry Alexander Savage/../../../Post Office Directory ****

1899/Alfred Elden/../../../Post Office Directory ****

1910/Everson Edward Smith & Ernest Charles Cottis/../../../Post Office Directory ****

1915/Ernest Stanley Howard & Louis Henry Golding/../../../Post Office Directory ****

1921/Victuallers Ltd/../../../Post Office Directory ****

1938/Albert Victor Marsh/../../../Post Office Directory ****

1944/Chas Geo Simmonds/../../../Post Office Directory ****



** Provided By Stephen Harris

**** Provided By Kevan