Pub history and pub wiki
Walmer Castle, 58 Ledbury Road, Bayswater W11
Kensington pub index
A listing of historical London public houses, Taverns, Inns, Beer Houses and Hotels in Kensington, London. This includes a massive area of London, including Brompton, Ladbroke Grove, Notting Hill, Kensal Town, parts of Fulham Road , Portobello Road etc. The Kensington Public House Trade Directory uses information from census, Trade Directories and History to add licensees, bar staff, Lodgers and Visitors.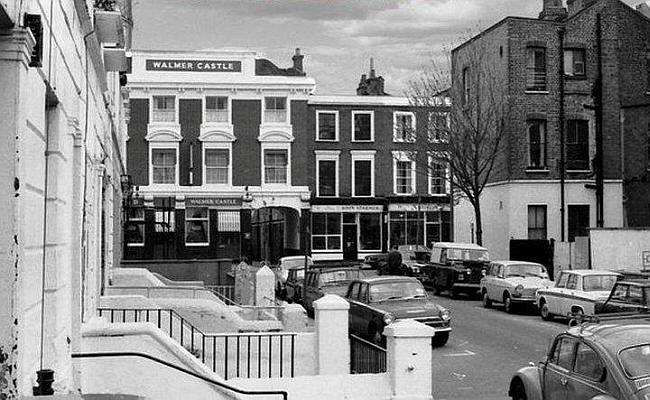 Walmer Castle, 58 Ledbury Road, Bayswater W11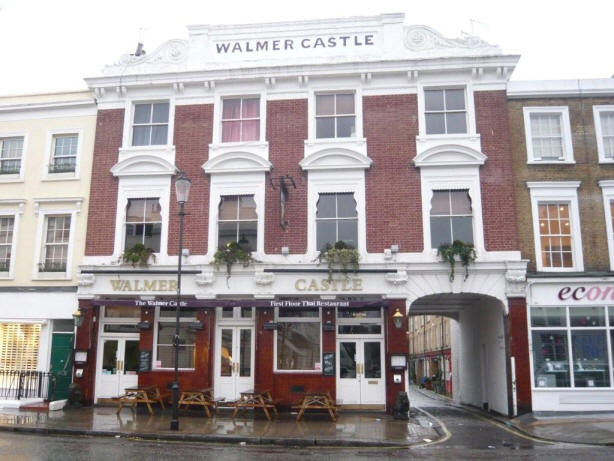 Walmer Castle, 58 Ledbury Road, W11 - in January 2009
Kindly provided by Stephen Harris
The following entries are in this format:
Year/Publican or other Resident/Relationship to Head and or Occupation/Age/Where Born/Source.
January 1854/William King/Outgoing Licensee/../../Era ****

January 1854/Henry Gore/Incoming Licensee/../../Era ****

1856/David Gurney/../../../Post Office Directory ****

September 1863/Joseph Gurney, executor of Daniel Gurney/Outgoing Licensee/../../Morning Advertiser ****

September 1863/John Sutton/Incoming Licensee/../../Morning Advertiser ****

September 1864/John Sutton/Outgoing Licensee/../../Era ****

September 1864/John Lashbrook/Incoming Licensee/../../Era ****

1869/George Seaton/../../../Post Office Directory ****

1871/George Seaton/Licensed Victualler/46/Middlesex/Census ****
1871/Martha Seaton/Wife/30/Norfolk/Census
1871/Robert Seaton/Nephew, Barman/23/Kent/Census
1871/Eliza Braillard/Servant/33/Middlesex/Census
1871/Ann Stanbury/Servant/33/Middlesex/Census
1871/Henry Lingard/Servant/23/Middlesex/Census

1881/Thomas Crane/Licensed Victualler/51/Bedford/Census ****
1881/Emily Crane/Wife/29/Hertford/Census
1881/Harry V Crane/Son/7/London, Middlesex/Census
1881/Herbert Crane/Son/5/London, Middlesex/Census
1881/Alice Crane/Daughter/4/London, Middlesex/Census
1881/Maud Crane/Daughter/2/London, Middlesex/Census
1881/Louise Crane/Daughter/1/London, Middlesex/Census
1881/Ellen Jackson/Sister/25/Hertford/Census
1881/Tom Crane/Nephew/22/Buckingham/Census
1881/Emma Giltes/Nurse/27/Devon/Census
1881/Elizabeth Corles/Domestic Servant/19/Bedford/Census
1881/Sarah Rogers/Nurse/14/Middlesex/Census
1881/Robert Rosser/Potman/50/Middlesex/Census
1881/Mary Rosser/Potmans Wife/51/Surrey/Census
1881/Thomas Howard/Lodger, Painter/22/Middlesex/Census

1882/Thomas Crane/../../../Post Office Directory ****

1884/Thomas Crane/../../../Post Office Directory ****

1891/James Denham/../../../Post Office Directory ****

1899/George Charles Warde/../../../Post Office Directory ****

1910/Henry James Hooton/../../../Post Office Directory ****

1915/Henry James Hooton/../../../Post Office Directory ****

1921/Henry James Hooton/../../../Post Office Directory ****

1944/Albert Arthur Cornish/../../../Post Office Directory ****



** Provided By Stephen Harris

**** Provided By Kevan
Search for a pub, an address or person
And Last updated on: Wednesday, 03-Jul-2019 01:09:38 BST