Pub history
Warwick Castle, 225 Portobello Road, Kensington
Kensington pub index
This pub was built in 1853 and the name was abbreviated to Castle in 2002. **
A listing of historical London public houses, Taverns, Inns, Beer Houses and Hotels in Kensington, London. This includes a massive area of London, including Brompton, Ladbroke Grove, Notting Hill, Kensal Town, parts of Fulham Road , Portobello Road etc. The Kensington Public House Trade Directory uses information from census, Trade Directories and History to add licensees, bar staff, Lodgers and Visitors.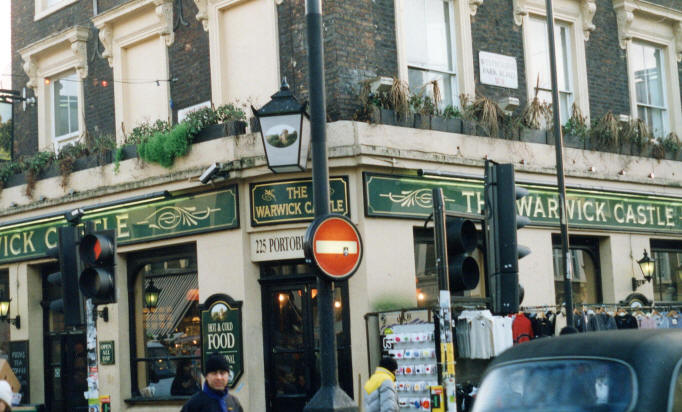 Warwick Castle, 225 Portobello Road, Kensington
Kindly provided by Philip Carter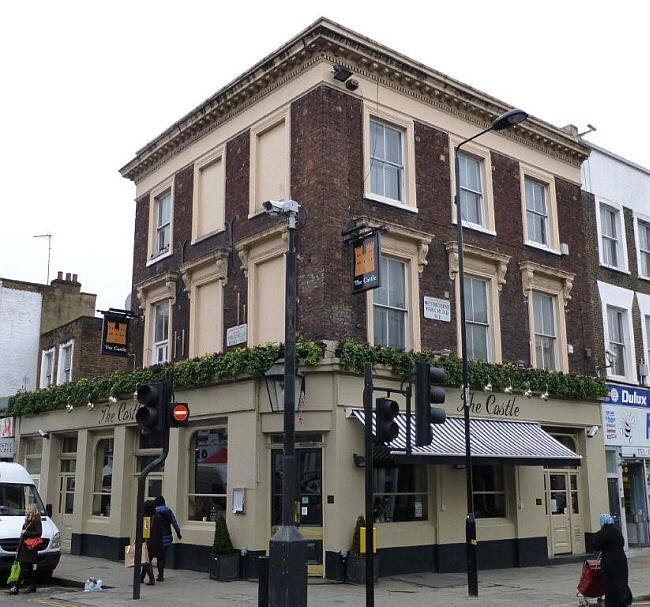 Warwick Castle, 225 Portobello Road, W11 - In March 2013
Kindly provided by Stephen Harris
The following entries are in this format:
Year/Publican or other Resident/Relationship to Head and or Occupation/Age/Where Born/Source.
January 1856/Edward Miller/Outgoing Licensee/../../Era ****

January 1856/Edward Killham/Incoming Licensee/../../Era ****

November 1856/Edward Killham/Outgoing Licensee/../../Era Newspaper ****

November 1856/Hugh Johnson/Incoming Licensee/../../Era Newspaper ****

1861/Hugh Johnson/Victualler/63/Scotland/Census ****
1861/Mary Johnson/Wife/52/Beadle, Yorkshire/Census
1861/Annie Wright/Niece, Dressmaker/16/Ware, Hertfordshire/Census
1861/George Hoare/Potman/33/Overton, Hampshire/Census

1869/William Hy Cheek/../../../Post Office Directory ****

1871/Henry Reuben Cheek / Innkeeper, deceased / Died 10 May 1871 //../../../London Gazette, 27 June 1873 **

1871/Charles W Challis/Licensed Victualler/30/Black Notley, Essex/Census ****
1871/Emily Challis/Wife/30/Mousehill, Surrey/Census
1871/Charles Challis/Son/8/Pimlico, Middlesex/Census
1871/Ada Sarah Challis/Daughter/2/Pimlico, Middlesex/Census
1871/Kate Thorogood/Niece/14/Black Notley, Essex/Census
1871/Ellen Johnstone/Domestic Servant/15/Woolwich, Kent/Census
1871/JohnDenorol/Potman/19/Fordham, Suffolk/Census

May 1872/James Ferguson/Outgoing Licensee/../../Era ****

May 1872/Robert Ferguson/Incoming Licensee/../../Era ****

1881/George Rolls/Licensed Victualler/24/Kingsland/Census ****
1881/Louisa Rolls/Wife/24/Wandsworth, Surrey/Census
1881/Charlotte Rolls/Daughter/2/Kensington, Middlesex/Census
1881/Theresa Rolls/Daughter/2 months/Kensington, Middlesex/Census
1881/Emma Saunders/Nurse/20/Newington, Surrey/Census
1881/Elizabeth Castle/Domestic Servant/20/Old Milton, Oxford/Census
1881/Wallace Priford/Potman/24/Exeter, Devon/Census
1881/Robert Everett/Barman/21/Northampton, Northampton/Census
1881/John King/Barman/23/Bury St Edmunds, Suffolk/Census

1882/George Rolls/../../../Post Office Directory ****

1891/John Murrell/../../../Post Office Directory ****

1899/William George Newman/../../../Post Office Directory ****

1910/John Richard Hunt/../../../Post Office Directory ****

1915/Ernest Benjamin/../../../Post Office Directory ****

1921/Langley & Benjamin/../../../Post Office Directory ****

1938/Geo J Brooks/../../../Post Office Directory ****

1944/C W Todd/../../../Post Office Directory ****



** Provided By Stephen Harris

**** Provided By Kevan