Pub history and pub wiki
Windsor Castle, 4 Campden Hill west, Campden Hill Road, Kensington W8
The Windsor Castle, Peel street in the 1854 and 1864 license transfers. At 114 Campden Hill Road by 1915
Kensington pub index
A listing of historical London public houses, Taverns, Inns, Beer Houses and Hotels in Kensington, London. This includes a massive area of London, including Brompton, Ladbroke Grove, Notting Hill, Kensal Town, parts of Fulham Road , Portobello Road etc. The Kensington Public House Trade Directory uses information from census, Trade Directories and History to add licensees, bar staff, Lodgers and Visitors.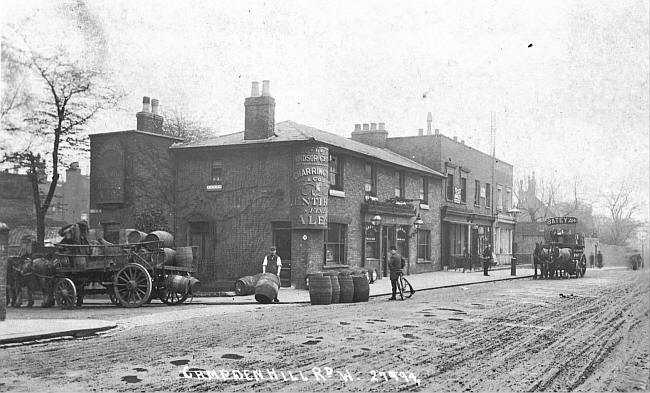 Windsor Castle, Campden Hill Road, Kensington - circa 1900
Kindly provided by Vincent O'Loughlin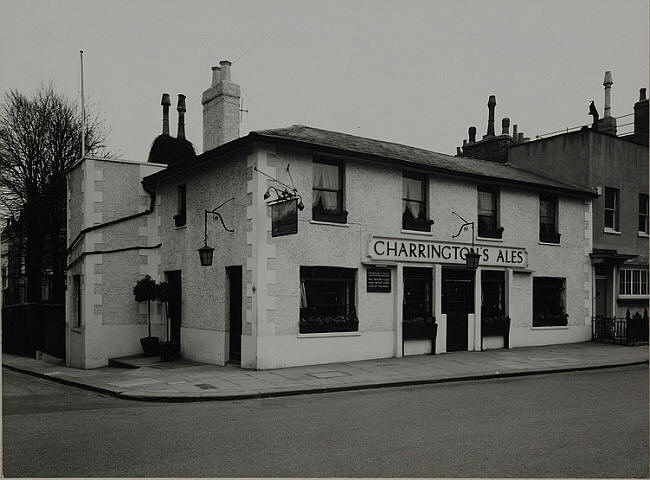 Windsor Castle, 114 Campden Hill Road, Kensington W8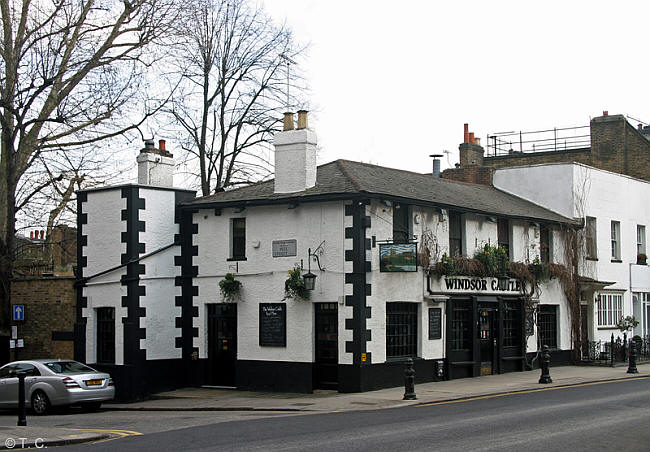 Windsor Castle, 4 Campden Hill West, W8 - in March 2012
Kindly provided by Tris
The following entries are in this format:
Year/Publican or other Resident/Relationship to Head and or Occupation/Age/Where Born/Source.
1848/Joseph Hughes/../../../Post Office Directory ****

September 1854/John Thomas/Outgoing Licensee/../../Era ****

September 1854/John Palmer/Incoming Licensee/../../Era ****

1856/J Palmer/../../../Post Office Directory ****

July 1864/Charles Augustus Mackness/Outgoing Licensee/../../Era ****

July 1864/Henry Denman/Incoming Licensee/../../Era ****

1869/Henry Denman/../../../Post Office Directory ****

1871/Henry Denman/Licensed Victualler, Widow/48/Borrow, Worcestershire/Census ****
1871/Martha Denman/Sister in Law, Housekeeper/50/Rotherham, Yorkshire/Census

1874/H Denman/../../../Licensed Victualler & Hoteliers Directory ****

1881/Jane Byrne/Publican, Widow/60/Parley, Dorset/Census ****
1881/George Byrne/Son, Barman/20/Parley, Dorset/Census
1881/Alice Byrne/Daughter, Barmaid/24/Sandford, Hampshire/Census
1881/Mary Ann Barker/General Servant/21/Nottinghill, Middlesex/Census

1882/Mrs Jane Byrne/../../../Post Office Directory ****

1891/Mrs Jane Byrne/../../../Post Office Directory ****

1899/Mrs Jane Byrne/../../../Post Office Directory ****

1910/William Scotney/../../../Post Office Directory ****

1915/Henry Howlett/../../../Post Office Directory ****

1921/Laura Sayers/../../../Hughes Directory ****

1934/Mrs Ethel Caroline J Day/../../../Post Office Directory ****

1938/Mrs Ivy Ethel C Joseph/../../../Post Office Directory ****

1944/Mrs Ivy Ethel C Joseph/../../../Post Office Directory ****

2017/../Windsor Castle, 114 Campden Hill Road, Kensington, London, Greater London, W8 7AR : Castle (Mitchell & Butlers)/../../Pub Directory ****



* Provided By Ewan

**** Provided By Kevan
Search for a pub, an address or person
And Last updated on: Wednesday, 03-Jul-2019 01:09:39 BST