Bricklayers Arms, 65 Narrow Street, Limehouse E14
Limehouse index
Narrow street was earlier called Fore street.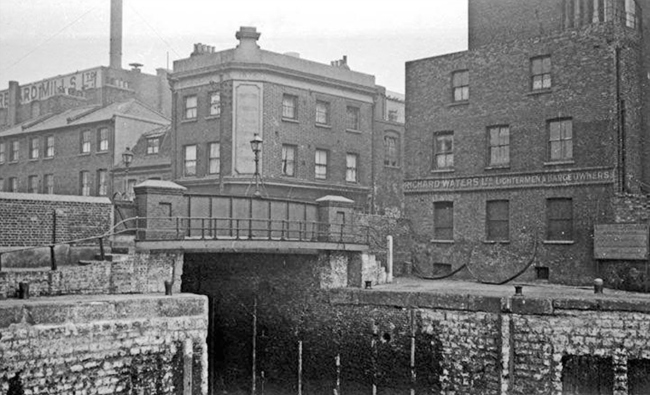 Bricklayers Arms, 65 Narrow Street, E14 - in 1969 at the corner of Lockside..
The photo was taken from Victoria Wharf looking across the entrance to the Limehouse Cut. The building on the right, (Richard Waters Ltd Lightermen and Barge Owners) is 48 Narrow St, the former Sir John Franklin.
Kindly provided by Vincent O'Loughlin
Historical London public houses, Taverns, Inns, Beer Houses and Hotels.
Residents at this address.
1805/Elizabeth Edridge, Bricklayers Arms, Narrow street, Limehouse/../../Holdens Directory

1822/William Bath / Gent /../../records of Sun Fire Office � held at Guildhall Library **

1827/Jno Groom, Bricklayers Arms, Fore street, Limehouse/../../Pigot's Directory

1833-34/John Groom, Bricklayers Arms, Fore street, Limehouse/../../Pigots Directory

1839/Mary Groom/../../../Pigots Directory

1841/Mrs Mary Groom/../../../Post Office Directory

1842/Mary Groom/../../../Robson�s Directory **

1843/Mrs Mary Groom/../../../Kelly's

1851/Thomas Want/../../../Kelly's

1856/Thomas Tomkins/../../../Post Office Directory

March 1860/Sarah Tomkins/Outgoing Licensee/../../Era

March 1860/William Styles/Incoming Licensee/../../Era

September 1860/William Styles/Outgoing Licensee/../../Era

September 1860/William Davies, the younger/Incoming Licensee/../../Era

July 1863/William Davies/Outgoing Licensee/../../Era

July 1863/William Powell/Incoming Licensee/../../Era

October 1872/Thomas Davies/Outgoing Licensee/../../East London Observer

October 1872/George Hurlock/Incoming Licensee/../../East London Observer

1874/G Hamlock/../../../H.D. Miles London & Suburban Licensed Victuallers' Directory **

July 1875/George Hurlock/Outgoing Licensee/../../East London Observer

July 1875/John Primus Moore/Incoming Licensee/../../East London Observer

July 1879/J P Moore/Outgoing Licensee/../../East London Observer

July 1879/George Coltar/Incoming Licensee/../../East London Observer

1881/John Moore/Master Mariner/40/Lambeth, Surrey/Census
1881/Thos P Moore/Son, Manager/21/Kensington, Surrey/Census
1881/E Moore/Wife/42/Lewisham, Kent/Census
1881/John P Moore/Son, Lighterman/19/Deptford, Surrey/Census
1881/S Moore/Grandmother/84/Greenwich, Kent/Census
1881/E Hubert/Barmaid/19/Bermondsey, Surrey/Census
1881/George Butcher/Potboy/16/Poplar, Middlesex/Census

1882/John William Moore/../../../Post Office Directory

1884/John Moore/../../../Post Office Directory

1886/Fred. G Thomas/../../../Business Directory of London **

1895/William Watson/../../../Post Office Directory

1899/Henry Avis/../../../Post Office Directory

1901/Solomon Sadokiorski/Publican/46/Yger/Census
1901/Leah Sadokiorski/Wife/50/Swale/Census
1901/Ester Sadokiorski/Daughter/18/Old Ford/Census
1901/Joel Sadokiorski/Son/16/Old Ford/Census
1901/Beagemis Sadokiorski/Son/14/Old Ford/Census
1901/Hyman Sadokiorski/Son/12/Southwark/Census
1901/Edward Sadokiorski/Son/10/Southwark/Census
1901/Goirsbed Sadokiorski/Son/8/Southwark/Census
1901/Fanny Sadokiorski/Daughter/6/Southwark/Census
1901/Emily Kelly/Servant/16/Whitechapel/Census

1910/Francis William Lane/../../../Post Office Directory

1915/Harry Clyde Scott/../../../Post Office Directory



** Provided by Stephen Harris