Search London wiki and Pub wiki history sites
All public house, restaurants, bars etc closed for the forseeable future from 20th March 2020, but this is a pub history site.
Colet Arms, 94 Whitehorse road, Limehouse E1
Limehouse index
Closed in 2003 and is currently awaiting redevelopment **
Historical London public houses, Taverns, Inns, Beer Houses and Hotels.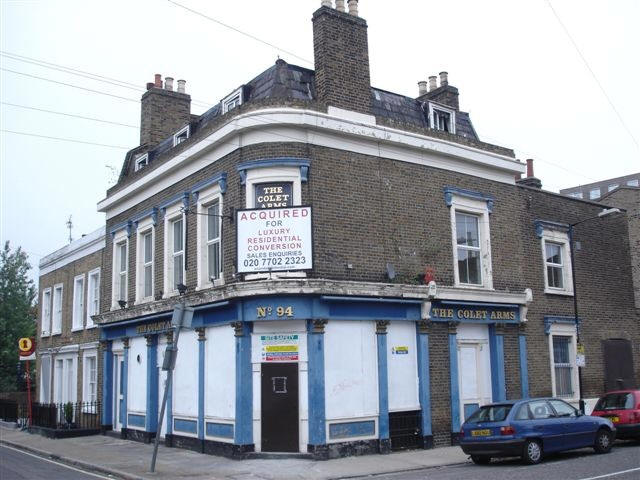 Colet Arms, 94 Whitehorse Road - in September 2006
Kindly Provided by Stephen Harris
Residents at this address.
1851/Henry Willson/../../../Post Office Directory *

1851/Henry Willson/Licensed Victualler/38/St Lukes, Middlesex/Census *
1851/Mary Ann Willson/Wife/41/Surrey/Census
1851/Phillip Willson/Son/9/Middlesex/Census
1851/Jane Willson/Daughter/7/Middlesex/Census
1851/James Willson/Son/6/Middlesex/Census
1851/Ellen Willson/Daughter/3/Middlesex/Census
1851/Jane Rugg/Servant/26/Essex/Census
1851/Sarah Barnes/Servant/17/Middlesex/Census
1851/William Coles/Servant/17/Middlesex/Census
1851/Daniel Roberts/Visitor, Mariner/36/Weymouth, Dorset/Census

July 1851/Henry Willson/Outgoing Licensee/../../Era

July 1851/William Cooke/Incoming Licensee/../../Era

1856/George Stewart Sim/../../../Post Office Directory *

January 1856/Geo Stewart Sims/Outgoing Licensee/../../Era

January 1856/John Jarman/Incoming Licensee/../../Era

1861/Thomas Richard Wright/Licensed Victualler/43/Margate, Kent/Census *
1861/Mary Anne Wright/Wife/44/Beaminster, Dorset/Census
1861/Sarah Callon/Niece, Barmaid/16/Dorchester, Dorset/Census
1861/Elizabeth Miller/Visitor, Wife's Sister/46/Beaminster, Dorset/Census
1861/Susan Nooker/House Servant/34/Essex/Census
1861/Henry Jacobs/Potman/24/Stepney, Middlesex/Census

November 1866/Thomas Redwood Wright/Outgoing Licensee/../../Era

November 1866/William Henry Goodwin/Incoming Licensee/../../Era

July 1867/William Henry Goodwin/Outgoing Licensee/../../East London Observer

July 1867/James Philips/Incoming Licensee/../../East London Observer

1869/James Phillips/../../../Post Office Directory

1871/James Phillips/Licensed Victualler/69/Neston, Cheshire/Census
1871/Mary Phillips/Wife/62/Ashton upon Mersey, Cheshire/Census
1871/James Phillips/Son, Assistant/35/Prestbury, Cheshire/Census
1871/Peter William Phillips/Son, Lighterman/24/Rotherhithe, Surrey/Census
1871/Henry Phillips/Son, Assiatant/22/Rotherhithe, Surrey/Census
1871/Alice Phillips/Daughter/20/Rotherhithe, Surrey/Census
1871/Mary McGregor/Domestic Servant/20/Poplar/Census

1874/Elizabeth Absell/../../../H.D. Miles London & Suburban Licensed Victuallers' Directory **

19th July 1873/Elizabeth Absell/Outgoing Licensee/../../East London Observer +

19th July 1873/Henry Miller/Incoming Licensee/../../East London Observer +

July 1875/Henry Miller/Outgoing Licensee/../../East London Observer

July 1875/Frederick William Denny/Incoming Licensee/../../East London Observer

1881/Edward Miller/Publican/40/Finchley, Middlesex/Census
1881/Sophia Miller/Wife/41/Limehouse, Middlesex/Census
1881/Henrietta Miller/Daughter/8/Mile End, Middlesex/Census
1881/Florence Miller/Daughter/7/Poplar, Middlesex/Census
1881/Eva Miller/Daughter/5/Poplar, Middlesex/Census
1881/Harry Miller/Son/4/Poplar, Middlesex/Census
1881/Rose Miller/Daughter/3/Lime House, Middlesex/Census
1881/Alice Rattray/Niece, Barmaid/20/Mile End, Middlesex/Census
1881/Rose Purcill/Niece, Barmaid/19/Scotland/Census
1881/Eliza A Evans/Domestic Servant/19/Limehouse, Middlesex/Census
1881/Emily Floyed/Domestic Servant/15/Stepney, Middlesex/Census
1881/Geo Bennett/Potman/18/Hampshire/Census

1882/Edward Miller/../../../Post Office Directory

Henry Millar was the brother of Edward Millar, the latter having moved on to the Blind Beggar, Whitechapel (listed as Bethnal Green) by 1884.

1884/Henry Miller/../../../Business Directory of London **

1884/Henry Miller / Licensed Victualler, deceased / Died 24 November 1884 /../../London Gazette, 16 January 1885 **

1886/John Chase/../../../Business Directory of London **

1891/Mrs Elizabeth Stokes/../../../Post Office Directory

1891/Elizabeth Stokes/Publican, Widow/58/Stepney, London/Census
1891/Harriet Clark/Grand Daughter, Barmaid/15/Walthamstow, Essex/Census
1891/Emma Bromley/Barmaid/22/Roehampton, Berks/Census
1891/Frederick Baker/Barman/30/Stepney, London/Census
1891/Robert Spencer/Potman/19/Bethnal Green, London/Census
1891/Louisa Collins/Sister, Housekeeper, Widow/63/Reading/Census

1895/Thomas Sidney Clamp/../../../Post Office Directory

1898-1900/Mrs Jane Frances Craighead/../../../Electoral Register ***

1899/Mrs. Jane Frances Craighead/../../../Kelly's

Mrs Jane Frances Craighead is at the Spotted Dog, 108 High Street, Poplar by 1900; her husband died at the Kings Arms, 230 Mile End road by 1892. ***

November 1904/Transfer of licence of the Colet Arms, White Horse street, Mr Travers Humphreys, barrister, applied for the transfer of the license of this house from John Bray to James William Tate/../../East London Observer

1910/Alfred Bennett/../../../Post Office Directory *

1911/Elizabeth Mary Ann Talbot/Licensed Victualler/39/Shoreditch, London/Census
1911/Albert John Talbot/Son/10/Limehouse, London/Census
1911/Gladish Maud Talbot/Daughter/8/Limehouse, London/Census
1911/Caroline Jones/Cook/37/Whitechapel, London/Census
1911/Joe William Carley/Barman/25/Shadwell, London/Census

1915/Joseph Barrell/../../../Kelly's Directory **

1934/William Edward Halsey Gosden/../../../Kelly's

1938/Wallace John Hooper/../../../Post Office Directory

1944/Mrs. Jane Eliza Hurley/../../../Post Office Directory *



+ Provided by Friends of Tower Hamlets Cemetery Park

* Provided by Ewan

** Provided By Stephen Harris

*** Provided By John Carnaby