Eastern Hotel, 2 East India Dock Road, Limehouse E14
Limehouse index
This pub was built in 1860 and was closed and demolished in the mid-1990s. Unexpectedly, a ghostly image of the pub lives on, on the hoardings which still surround the site ** It is named the Londoner in the 1971 pub directory.
Historical London public houses, Taverns, Inns, Beer Houses and Hotels.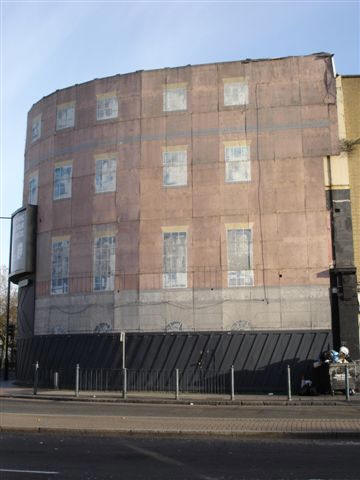 Eastern Hotel, 2 East India Dock Road - in December 2006
Kindly provided by Stephen Harris
Residents at this address.
January 1863/Charles Dunk/Outgoing Licensee/../../Era Newspaper

January 1863/James Robinson/Incoming Licensee/../../Era Newspaper

1869/John George Paterson/../../../Post Office Directory

1871/John G Paterson/Licensed Victualler/31/St Pancras, London/Census
1871/Mary L Paterson/Wife/40/St Martins in the Fields, London/Census
1871/Sarah G Paterson/Daughter/15/Hulme, Manchester/Census
1871/Mary E Paterson/Daughter/4/St Pancras, London/Census
1871/Jane A Smith/Sister in Law, Trade Assistant/25/Bury, Lancashire/Census
1871/George Blackford/Trade Assistant/30/Stratford, Essex/Census
1871/Walter E Riley/Trade Assistant/19/Stepney, Middlesex/Census
1871/Mary Ford/Domestic Servant/19/Whitechapel, Middlesex/Census
1871/William Compton/Trade Assistant/22/Stepney, Middlesex/Census

1874/J G Patterson/../../../H.D. Miles London & Suburban Licensed Victuallers' Directory **

1881/Robert Spragge/Son In Law (Head), Manager Of Hotel In Landlords Absence/28/Limehouse, Middlesex/Census
1881/Sarah J Spragge/Wife Of Manager/25/Manchester, Lancashire/Census
1881/Frances M French/Housekeeper/21/Limehouse, Middlesex/Census
1881/Charlott. L Elliot/Barmaid/19/Buckingham/Census
1881/Henry Worledge/Barman/26/Bow, Middlesex/Census
1881/Donald A Gray/Barman/26/Bromley, Middlesex/Census
1881/Arthur W Robinson/Barman/21/Lincoln/Census
1881/Manne Rob Welsh/Barman/24/Limerick, Ireland/Census
1881/Daniel D Ferguson/Barman/19/Lancashire/Census
1881/W Shrouder/Waiter/21/Hanover, Germany/Census
1881/Ellen Lunell/Cook/45/Glamorgan, Wales/Census
1881/Elizabeth Peters/Kitchen Maid/20/Hampshire/Census
1881/Margaret T Eloyer/House Maid/22/Bermondsey, Surrey/Census

1891/Thomas Keen/Manager of Hotel/41/St Pancras, London/Census
1891/Annie Keen/Wife/38/St Pancras, London/Census
1891/Frederick W Keen/Son/11/St Pancras, London/Census
1891/Annie E Keen/Daughter/9/St Pancras, London/Census
1891/Percy A Keen/Son/2/Hornsey, London/Census
1891/Alice Holcombe/Servant/20/Thames Haven, Essex/Census
1891/Mary A Ward/Servant/21/Poplar, London/Census
1891/Elizabeth Boulam/Servant/31/St Heliers, Jersey/Census
1891/Albert G Jiggins/Barman/26/Barking, Essex/Census
1891/Ada Newman/Barmaid/25/Blackfriars, London/Census
1891/Isabella Stephenson/Barmaid/20/Stepney, London/Census
1891/Ada Cowdrey/Barmaid/21/Stepney, London/Census
1891/Elizabeth M Dent/Barmaid/24/Poplar, London/Census
1891/Herbert J Winslade/Barman/19/Poplar, London/Census
1891/Walter Williams/Potman/30/Limehouse, London/Census
1891/Ann Daly/Kitchenmaid/20/Maidstone, Kent/Census
1891/Harry J Camp/Waiter/19/St Pancras, London/Census
1891/Archibald Grant/Waiter/17/St Johns Hoxton, London/Census
1891/James W H Johnstone/Waiter/28/Dover, Kent/Census
1891/Seth Bull/Cellerman/50/Cambridge, Cambridgeshire/Census
1891/Albert Bensted/Barman/18/Poplar, London/Census
1891/Arthur E Pickard/Barman/16/Brixton, London/Census
1891/Henry Taylor/Barman/18/St Pancras, London/Census

1893/Thomas Keen/../../../Post Office Directory **

1895/Thomas Keen / Licensed Victualler /../../London Gazette, 17 November 1896 **

1900/George King/../../../Post Office Directory **

1901/George King/../../../Post Office Directory **

1901/George Bengley Arnold/Hotel Manager/34/Walworth, London/Census
1901/Clara E Arnold/Wife/28/Noushera, India (British Subject)/Census
1901/Beatrice May Arnold/Daughter/1/Limehouse, London/Census
1901/Lester S Arnold/Son/1 month/Limehouse, London/Census
1901/Marion C Arnold/Sister, Barmaid/18/Walworth, London/Census
1901/George Keen/Barman/25/Camden Town, London/Census
1901/John A Parlott/Billiard Marker/20/London/Census
1901/Annie Marp/Barmaid/25/London/Census
1901/Annie Staines/Barmaid/20/London/Census
1901/Elizabeth Meachins/Barmaid/21/Stantonbury/Census
1901/Thomas Ringe/Potman/27/Colchester, Essex/Census
1901/Alfred Gilbert/Barman/21/London/Census
1901/Stdney Chandler/Barman/22/London/Census
1901/Miriam Gillie/Housemaid/21/Southampton, Hants/Census
1901/Henrietta Willoughby/Housemaid/21/Woolwich, London/Census
1901/Louis White/Pantryman/18/Plaistow, Essex/Census
1901/Sidney Smith/Waiter/24/London/Census
1901/Henry W Holden/Waiter/27/Little Plumstead, Norfolk/Census
1901/Charles Pearl/Waiter/43/Camberwell, London/Census
1901/Louisa Williams/Cook, Widow/28/Canning Town, London/Census
1901/Ellen Regan/Kitchen Maid/28/Tipton, Staffs/Census
1901/Robert Stayte/Kitchen Porter/20/Stepney, London/Census
1901/Adelaide Adcock/Nurse/25/Kensington, London/Census

1907/George King/../../../Post Office Directory **

1911/William Meadmore/Licensed Victualler/44/Romford, Essex/Census
1911/Lilian Meadmore/Wife, Assistant/33/Southwark, London/Census
1911/Constance Meadmore/Daughter/2/Limehouse, London/Census
1911/Leonard Stone/Visitor, Drapers Assistant/19/Forest Gate, Essex/Census
1911/Maud Stone/Visitor,Nurse/28/Rotherhithe, London/Census
1911/mark Gourlay/Head Barman/32/Brentford, Middlesex/Census
1911/George William Miller/Barman/20/South Shields, Durham/Census
1911/Arthur Derrick/Barman/24/Bethnal Green, London/Census
1911/Ernest Payne/Billiard Marker/19/Bexley Heath, Kent/Census
1911/Russell Fiddyment/Barman/21/Norwich, Norfolk/Census
1911/George Kautzner/Pantryman/19/Seeberg, Austrian Germany/Census
1911/George Tidey/Kitchen Porter/20/West Ham, Essex/Census
1911/Emily McGlachan/Cook/50/Bromley, Middlesex/Census
1911/May Victore/Servant/24/Poplar, Middlesex/Census
1911/Sarah Marsh/Housemaid/31/Plaistow, Essex/Census
1911/Sarah Smith/Barmaid/22/New Charlton, Kent/Census
1911/Lilian Turner/Housemaid/22/Hoxton, Middlesex/Census
1911/Phyllis Herbert/Barmaid/26/Walthamstow, Essex/Census
1911/Alice Carter/Nurse/32/Braintree, Essex/Census

1915/William Meadmore/../../../Post Office Directory **

1921/William Meadmore/../../../Post Office Directory

1931/Alfred Rota/../../../Post Office Directory **

1946/Edward C Warburton/../../../Post Office Directory **

A comparative newcomer is Mr H J Hellmers, who has been at the Eastern Hotel, at the junction of West and East India Dock Roads, for the past three years. He, and his wife, formerly Isabella Mercer, have been hard at work transforming the off-licence department into a snack bar - and a very attractive job they've made of it. ***

1949/Mr H J Hellmers/../../../Black Eagle Journal ***

1950/Mrs & Mrs F G Charrosin/../../../Black Eagle Journal ***

1971/../Londoner, 2 East India Dock Road/../../Pub Directory



** Provided By Stephen Harris

*** Provided By Alex Wilkinson