Kings Head, 80 Three Colt Street, Limehouse E14
Limehouse index
At 1 Fore Street in 1839; At 1 Three Colt Street in 1856 on the corner of Fore Street; and the Kings Head, 1 Fore Street in 1869. The 1863 and 1867 license transfers refer to this as the Kings Head, Limehouse corner, which is correct checking the 1861 census where it is referred to as the Old Kings Head. Aka the Spirit Stores in 1871 & aka Old Kings Head in 1891 and 1911; It is long-closed and now in residential use. ** The 1934 and 1938 directories lists the address as a banana merchant, the latter being Bert Andrew Lambert as per the 1930s photographs.
Historical London public houses, Taverns, Inns, Beer Houses and Hotels.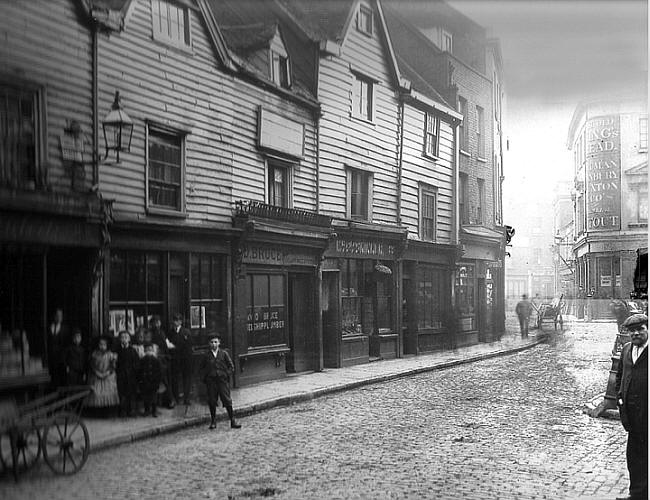 Old Kings Head, Three Colt Street, Limehouse
Kindly provided by John Carnaby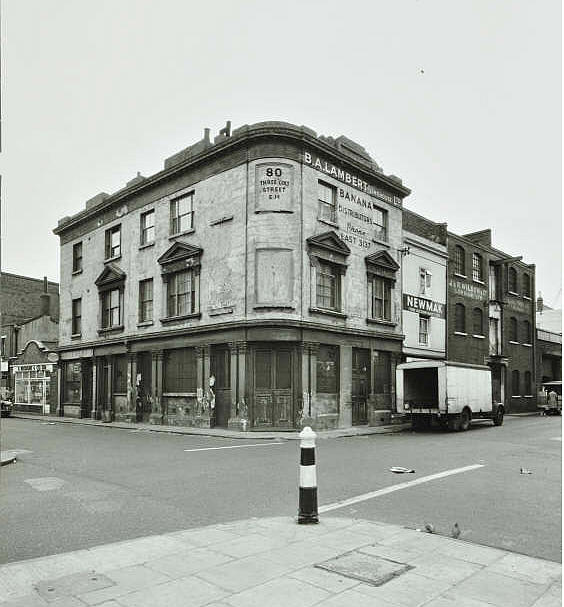 80 Three Colt Street - a Banana distributor B A Lambert sometime after 1938
Kindly provided by John Carnaby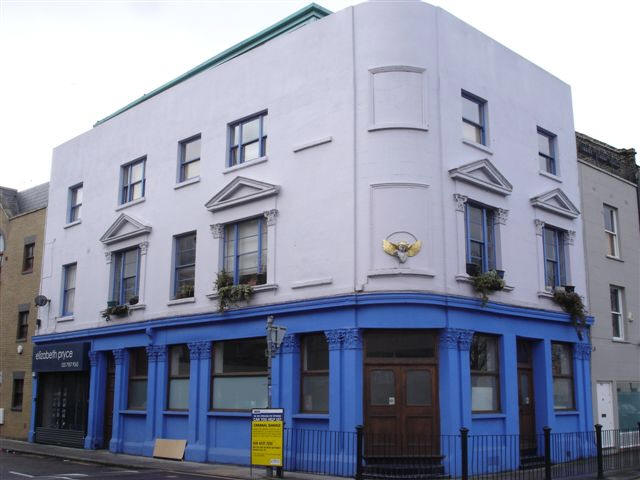 Kings Head, 80 Three Colt Street - in February 2007
Kindly provided by stephen Harris
Residents at this address.
1790/Obadiah Reeves / Victualler /../../Records of Sun Fire Office, Guildhall Library **

1827/William Gandar, Kings Head, Limehouse corner/../../Pigot's Directory

1833-34/George Jones, Kings Head, Three Colt street, Limehouse/../../Pigots Directory

1839/Ambrose Mayes/../../../Pigots Directory

1843/Ambrose Mayes/../../../Kelly's

1850/Ambrose & Richard Mayes/../../../P.O. Directory **

1851/Ambrose & Richard Mayes/../../../Kelly's

1856/Richard Cross Mayes/../../../Post Office Directory

1861/William C Lee/Licensed Victualler/29/Taunton, Somerset/Census
1861/Emma Lee/Wife/29/Taunton, Somerset/Census
1861/James C Lee/Son/3/Limehouse, Middlesex/Census
1861/Ellen C Lee/Daughter/2/Limehouse, Middlesex/Census
1861/Holly C Lee/Daughter/1/Limehouse, Middlesex/Census
1861/Margaret Edbrooke/Sister/25/Limehouse, Middlesex/Census
1861/Frederick Phens/Servant/30/Limehouse, Middlesex/Census
1861/Emma Vinarcombe/Servant/13/Taunton, Somerset/Census

July 1863/Austin Vickers, assignee in bankruptcy of William Chedzoy Lee/Outgoing Licensee/../../Era

July 1863/William Pratt/Incoming Licensee/../../Era

November 1867/William Hunt/Outgoing Licensee/../../Era

November 1867/James Thomas Waller/Incoming Licensee/../../Era

1869/Henry Aley/../../../Post Office Directory

1871/Henry Brambles/Manager in Spirit Stores/24/Yorkshire/Census
1871/William Cann/Barman/29/Devon/Census
1871/Charles Hammond/Barman/22/London/Census
1871/Sarah Hall/House Keeper/52/Yorkshire/Census

January 1873/James Thomas Waller/Outgoing Licensee/../../East London Observer

January 1873/Henry Brambles/Incoming Licensee/../../East London Observer

1874/J W Williams/../../../H.D. Miles London & Suburban Licensed Victuallers' Directory **

March 1874/Henry Brambles/Outgoing Licensee/../../East London Observer

March 1874/Henry Aley/Incoming Licensee/../../East London Observer

22nd January 1876/Henry Aley, latte occupier/Outgoing Licensee/../../East London Observer +

22nd January 1876/Julia Elizabeth Aley, widow/Incoming Licensee/../../East London Observer +

January 1879/Julia Elizabeth Aley/Outgoing Licensee/../../East London Observer

January 1879/Henry Snape/Incoming Licensee/../../East London Observer

1882/Henry Snape/Beer Retailer/../../../Post Office Directory

1883/Henry Snape / Licensed Victualler /../../London Gazette, 3 July 1883 **

1884/Henry Snape/Beer Retailer/../../../Post Office Directory

1891/Miriam Blomfield/House Keeper/40/St James, London/Census
1891/Ernest Johnson/Publicans Assistant/21/Bishops Stortford, Hertfordshire/Census
1891/William Smith/Publicans Assistant/21/Westminster, London/Census
1891/William Virgo/Publicans Assistant/20/Westbourne Park, London/Census
1891/Walter Crook/Publicans Assistant/19/Bayswater, London/Census

1891/William Wright/../../../Post Office Directory

1895/Joseph Thos Blunden/../../../Post Office Directory

1899/Edward Wilson/../../../Post Office

1901/Frank Hills/Publican/30/Canterbury, Kent/Census
1901/Agnes Hills/Wife/35/Northfleet, Kent/Census
1901/Flora Hale/Domestic Servant/19/Waltham Abbey, Essex/Census

1911/John Forrester/Licensed Victualler/49/../Census
1911/Louisa Forrester/Wife/39/Chelsea, London/Census
1911/Violet Forrester/Daughter/14/Battersea, London/Census
1911/John Forrester/Son/11/Battersea, London/Census
1911/Ada Forrester/Daughter/9/Shepherds Bush, London/Census
1911/Ethel Maud Taney/General Servant/19/East Reedham, Norfolk/Census

1921/Mrs Louisa Johanna Forrester/../../../Post Office



+ Provided by Friends of Tower Hamlets Cemetery Park

** Provided by Stephen Harris