Search London wiki and Pub wiki history sites
All public house, restaurants, bars etc closed for the forseeable future from 20th March 2020, but this is a history site.
Little Star, 162 White Horse road, Limehouse E1
Limehouse index
It was rebuilt in its present form in the 1930s and closed in 2010. The road is renamed White Horse Road between 1938 and 1944. The earlier address (eg in 1921) is at 154 Whitehorse Street. **
Historical London public houses, Taverns, Inns, Beer Houses and Hotels.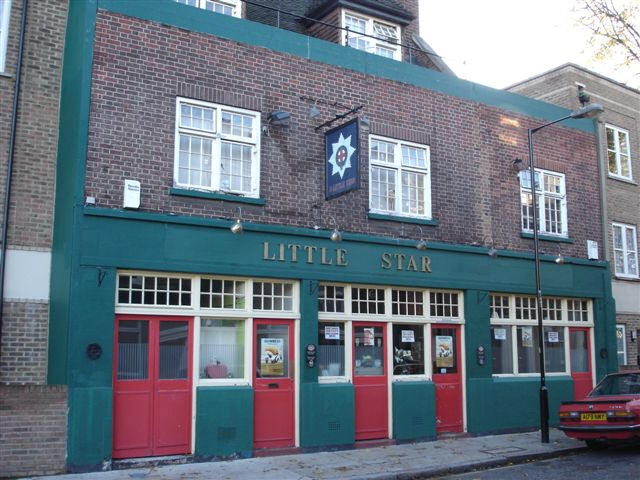 Little Star, 164 White Horse Road - in November 2006
Kindly provided by Stephen Harris
Residents at this address.
1871/Henry Braines/Beer House Keeper/37/Dartford, Kent/Census
1871/Isabella Braines/Wife/29/Aberdeen/Census
1871/Henry John Leith Braines/Son/4/Kingsland/Census
1871/John Braines/Grand Father, Mill Wright/76/Dartford, Kent/Census

1881/Major Burton/Publican/52/Stratford, Essex/Census
1881/Jane Burton/Wife/50/London, Middlesex/Census
1881/Jane Burton/Daughter/23/London, Middlesex/Census

1882/Major Burton/Beer Retailer/../../Post Office Directory

1891/Henry Garton/Beer Retailer/../../Post Office Directory

1899/Henry Garton/Beer Retailer/../../Post Office Directory

1901/Henry Garton/Beer House Keeper/37/London/Census
1901/Emily Garton/Wife/36/London/Census
1901/Archibald Garton/Son/7/London/Census
1901/Gerald Garton/Son/4/London/Census

1910/Henry Garton/Beer Retailer/../../Post Office Directory

1911/Henry Garton/Beer House Keeper/47/Mile End/Census
1911/Emily Garton/Wife/46/Deptford/Census
1911/Archibald Garton/Son, Barman/17/Stepney/Census
1911/Gerald Garton/Son/14/Stepney/Census
1911/Henry Garton/Son/7/Stepney/Census

1921/Henry Garton/Beer Retailer, 154 Whitehorse Street/../../Post Office Directory

1938/Hy & Archibald Hy Garton/Beer Retailer/../../Post Office Directory



** Provided by Stephen Harris