Search London wiki and Pub wiki history sites
All public house, restaurants, bars etc closed for the forseeable future from 20th March 2020, but this is a history site.
Plough, 154 White Horse road, Limehouse E1
Limehouse index
re: Plough, 144 White Horse Street, Limehouse
The address is listed as 1 Old Road in the 1861 census, and as 1 Old Manor Road in the 1856 directory. The address changes to 144 White Horse Road by 1944. *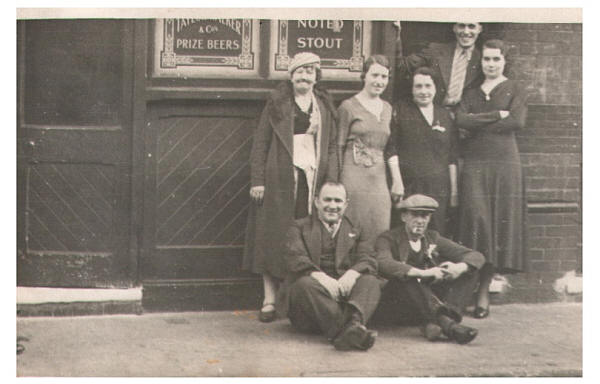 My uncle Arthur Gales his wife, mother and sister outside the Plough, 144 White Horse Road - circa 1940.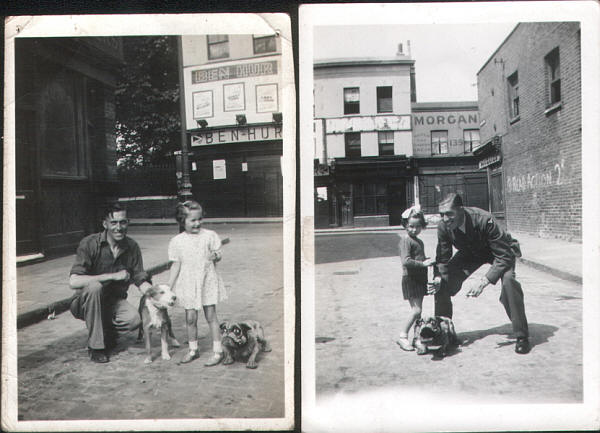 This shows my uncle Arthur and his daughter, the pub is just visible on the left of the picture, with the old Ben-Hur cinema in the rear taken around 1943.
Kindly provided by Sid Sullivan
Historical London public houses, Taverns, Inns, Beer Houses and Hotels.
Residents at this address.
1851/George Barker/Ale House Keeper/46/Cann, Gloucestershire/Census *
1851/Caroline Barker/Wife/34/Middlesex/Census
1851/Samuel Seear/Servant/15/Bermondsey, Surrey/Census

1856/John Monk/beer retailer/../../Post Office Directory *

1861/John Monk/Beer Seller Wine Merchant/53/Marlow, Buckinghamshire/Census *
1861/Mary Monk/Wife/26/Stepney, Middlesex/Census
1861/John Monk/Son, Barman/16/Stepney, Middlesex/Census
1861/Harriett Ann Monk/Daughter/12/Stepney, Middlesex/Census
1861/Mary Ann Monk/Daughter/10/Stepney, Middlesex/Census
1861/Susanah Maria Monk/Daughter/8/Stepney, Middlesex/Census
1861/Chas. James Freeman Monk/Son/1 month/Stepney, Middlesex/Census

1871/Samuel S. Sands/Oilman/26/Riverhead, Kent/Census *
1871/Susannah Sands/Wife, Beer House Keeper/30/Riverhead, Kent/Census
1871/Percy Samuel Sands/Son/1 month/Limehouse, Middlesex/Census

1881/Pierre Dupre/Beer House Keeper/29/France/Census
1881/Elizabeth A Dupre/Wife/27/London, Middlesex/Census

1882/Pierre Dupre/Beer Retailer/../../Post Office Directory

1891/Chas. Herbert Sherer/beer retailer/../../Post Office Directory *

1891/Edward Ross/Beer Retailer/35/London/Census
1891/Mary Jane Ross/Wife/32/Manchester/Census
1891/George Gibbs/Lodger, Labourer/49/St Georges East/Census
1891/Elizabeth Gibbs/Wife/39/Leyton, Essex/Census

1895/James Atkins/Beer Retailer/../../Post Office Directory

1899/Thomas William Davis/beer retailer/../../Post Office Directory *

1901/Thomas W Davis/Beer Retailer/29/Dartmoor/Census
1901/Helena B Davis/Wife/25/Haggerston, London/Census
1901/Thomas W Davis/Son/4/Limehouse, London/Census
1901/Beatrice H Davis/Daughter/2/Limehouse, London/Census
1901/Alice E Davis/Daughter/8 months/Limehouse, London/Census
1901/Arthur W Yates/Brother in Law, Potman/21/Bethnal Green, London/Census

1910/Arthur Wm Gales/Beer Retailer/../../Post Office Directory

1911/Arthur William Gales/Beer Retailer/32/Bethnal Green/Census
1911/Lilian Gales/Wife/29/Bethnal Green/Census
1911/Arthur William Gales/Son/1/Limehouse/Census

1915/Arthur William Gales/beer retailer/../../Post Office Directory *

1934/Arthur Wm Gales/Beer Retailer/../../Kellys Directory

1938/Arthur Wm Gales/Beer Retailer/../../Post Office Directory

1944/Arthur Wm Gales/Beer Retailer/../../Post Office Directory



* Provided by Ewan