Rose & Crown, 79 Salmon Lane, Limehouse E14
Limehouse index
This pub closed in 1999 and was converted to residential use. **
Historical London public houses, Taverns, Inns, Beer Houses and Hotels.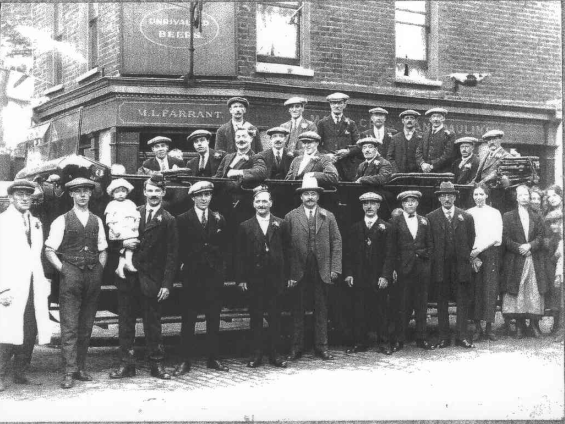 This shows Driver in white coat, my uncle JIM. My dad holding baby brother, Len . Mother ,first lady on right. Note the very modern "Charrabang" open air(air conditioned), locals going to South end for a dart match I assume - Ron Farrant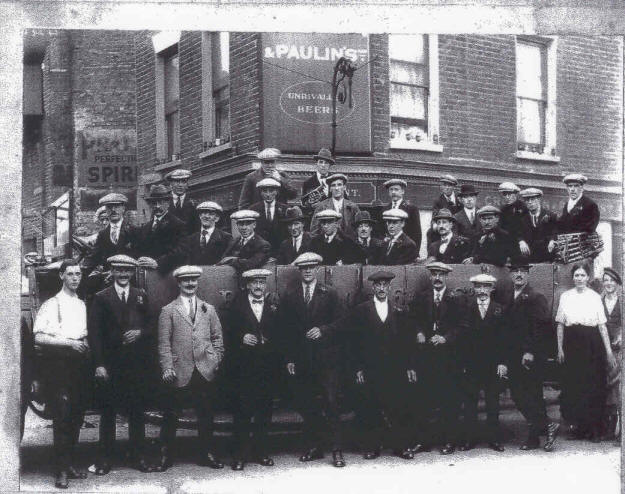 The Rose & Crown , Salmons Lane. Limehouse - circa 1931
Both kindly provided by Ron Farrant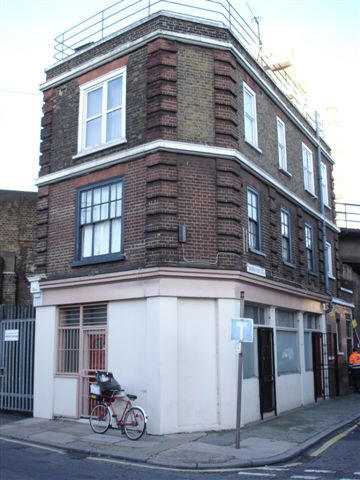 Rose & Crown, 79 Salmon Lane - in November 2006
Kindly provided by Stephen Harris
Residents at this address.
1881/William W Snelling/Beer Retailer/34/Anghering, Sussex/Census
1881/Ann C Snelling/Wife/33/Shoreham, Sussex/Census
1881/Frederick B Snelling/Son/9/Horseham, Sussex/Census
1881/William W Snelling/Son/7/East Grinstead, Sussex/Census
1881/Emma J Bright/General Servant/18/Limehouse, Middlesex/Census

1882/Wm Walter Snelling/Beer Retailer/../../Post Office Directory **

1889/William Walter Snelling/Beer Retailer/../../Post Office Directory **

1892/Percy Garton/../../../Post Office Directory **

1895/William Glynt/Beer Retailer/../../Post Office Directory

1899/Mrs Sophia Martin/Beer Retailer/../../Post Office Directory **

1901/Mrs Sophia Martin/Beer Retailer/../../Post Office Directory **

1901/Charles Martin/Beer House Keeper/47/Gosport, Hants/Census
1901/Sophie Martin/Wife/47/Tiverton, Somerset/Census

1910/Sidney Coe/Beer Retailer/../../Post Office Directory

1911/Sidney O S Coe/Beer House Keeper/35/Pimlico/Census
1911/Elizabth Coe/Wife, Beer House Keeper/27/Walworth/Census
1911/Edward J Gillett/Barman/23/Walworth/Census

1915/Francis Dearman/Beer Retailer/../../Post Office Directory

1931/Malcolm Leonard Farrant/Beer Retailer/../../Post Office Directory **

1934/Alfred Edward Long/Beer Retailer/../../Kellys Directory

1938/Mrs Eliz Barrow/Beer Retailer/../../Kellys Directory

1944/Mrs Margaret Dennison/Beer Retailer/../../Post Office Directory


** Provided by Stephen Harris