Search London wiki and Pub wiki history sites
All public house, restaurants, bars etc closed for the forseeable future from 20th March 2020, but this is a history site.
Angel, 37 Thayer Street, London W1
Marylebone index
This pub is today called the Angel in the Fields (2008). ***
Historical London public houses, Taverns, Inns, Beer Houses and Hotels.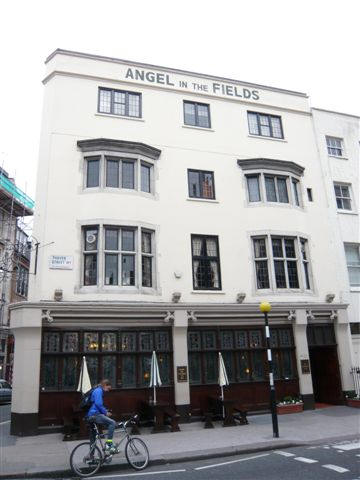 Angel, 37 Thayer Street, W1 - in March 2008
Kindly provided by Stephen Harris
The following entries are in this format:
Residents at this address.
1811/James Arnold, wine & brandy merchant, 37 Thayer street, Manchester square/../../Holdens Directory

1825/Mr Lea/../../../Licensed Victuallers Association

1827/Mrs Eliz Lee/../../../Licensed Victuallers Association

1829/William Lea, Angel, 37 Thayer street, Manchester square/../../Robsons Directory

1833-34/William Hugh Rd Lea, Angel, 37 Thayer street, Manchester square/../../Pigots Directory

1839/Justinian Hancock/../../../Pigot's Directory *

1841/Justinian Hancock/../../../Post Office Directory *

1842/W E Connolly/../../../Robsons Directory

1846/W Ed Connolly/../../../Post Office Directory

1848/David Durran/../../../Post Office Directory *

May 1849/David Durran/Outgoing Licensee/../../Era Newspaper

May 1849/George Turnham/Incoming Licensee/../../Era Newspaper

1851/George Turnham/../../../Post Office Directory *

1851/George Turnham/Licensed Victualler/25/Leighton Buzzard, Bedfordshire/Census
1851/Sarah Turnham/Wife/28/Somers Town, Middlesex/Census
1851/James Turnham/Brother/24/Leighton Buzzard, Bedfordshire/Census
1851/Mary Ann Turnham/Sister/16/Leighton Buzzard, Bedfordshire/Census
1851/Elizabeth Sanders/House Servant/50/Tavistock, Devon/Census
1851/George Newton/House Servant/20/hemel Hempstead, Hertfordshire/Census

1852/George Turnham/../../../Watkins Directory ***

1856/George Turnham/../../../Post Office Directory *

May 1862/George Turnham/Licensed Victuallers Association, Trustee/../../Era

November 1862/G Turnham/Outgoing Licensee/../../Era

November 1862/William Knight/Incoming Licensee/../../Era

1862/George Turnham/../../../Post Office Directory

1869/George Turnham/../../../Post Office Directory

1870/George Turnham/../../../Post Office Directory ***

1871/William Knight/Licensed Victualler/53/St Pancras, Middlesex/Census
1871/Thomas Turnham/Barman/20/Whitechapel, Middlesex/Census
1871/Clara Clayton/Barmaid/22/Marylebone, Middlesex/Census
1871/Agnes Turnham/Barmaid/25/Whitechapel, Middlesex/Census
1871/Mary Caudle/Servant/46/Marylebone, Middlesex/Census
1871/James Somes/Potman/19/Margate, Kent/Census
1871/Clara Clayton/Visitor/4/Marylebone, Middlesex/Census

1876/George Turnham/../../../Post Office Directory ***

1881/John Elston/Licensed Victualler/33/Devon/Census
1881/Hannah Elston/Wife/32/Devon/Census
1881/George Laxton/Barman/24/Devon/Census
1881/Annie Lorraine/Barmaid/20/Fulham, Middlesex/Census
1881/Alice Bond/Barmaid/10/London, Middlesex/Census
1881/Jane Radford/Cook/20/Devon/Census

1882/John Elston/../../../Post Office Directory

1884/John Elston/../../../Post Office Directory

1891/Chas Herbert Cates/../../../Post Office Directory

1895/William George Newman/../../../Post Office Directory

1899/Frederick John Elstone/../../../Post Office Directory

1908/Frederick John Elstone/../../../Post Office Directory ***

1910/Frederick John Elstone/../../../Post Office Directory

1915/Frederick John Elstone/../../../Post Office Directory *

1917/Frederick John Elstone/../../../Post Office Directory ***

1921/Frederick J Elstone/../../../Hughes Directory

1938/Mrs Jessie Franks/../../../Post Office Directory



* Provided By Ewan

*** Provided By Stephen Harris