Search London wiki and Pub wiki history sites
All public house, restaurants, bars etc closed for the forseeable future from 20th March 2020, but this is a history site.
Apollo, 28 Paddington Street, London W1
Marylebone index
This pub was established in 1789 and was rebuilt in 1968 in its present form, at the base of a multi-storey car park. ** Demolished in 2013. *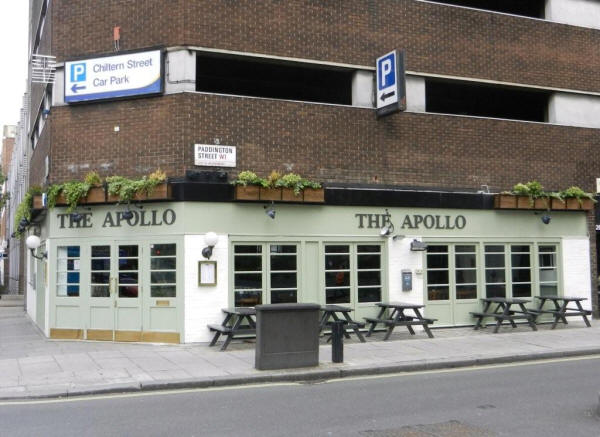 Apollo, 28 Paddington Street, W1 - in May 2011
Kindly provided by Stephen Harris
Historical London public houses, Taverns, Inns, Beer Houses and Hotels.
The following entries are in this format:
Residents at this address.
1795/Mr Wilson/../../../Proceedings of the Old Bailey **

1821/John Kentish / Public House Keeper /../../Proceedings of the Old Bailey **
1821/Thomas Mayo / Cellarman /../../Proceedings of the Old Bailey

1825/Mr & Mrs Kentish/../../../Licensed Victuallers Association
1825/Miss Mary Ann Kentish/../../../Licensed Victuallers Association

1827/John Jenner / Victualler /../../Sun Fire Office records held at Guildhall Library **

1828/John Jenner / Victualler /../../Sun Fire Office records held at Guildhall Library **

1829/John Jenner, Apollo, 28 Paddington Street/../../Robsons Directory

1833-34/Joseph Hodges, Apollo, 28 Paddington Street/../../Pigots Directory

1839/Arthur Gurney/../../../Pigot's Directory *

1841/Mrs Elizabeth Plume/../../../Post Office Directory **

1843/Alfred Gurney/../../../Kellys Directory

1846/Alfred Gurney/../../../Post Office Directory

1848/Alfred Gurney/../../../Post Office Directory

1851/Mrs Emma Gurney/../../../Post Office Directory *

1851/Emma Gurney/Wine & Spirit Merchant, Widow/43/Somers Town, Middlesex/Census **
1851/Louisa Gurney/Daughter/23/Walworth, Surrey/Census
1851/Sarah Gurney/Daughter/21/Commercial Road, Middlesex/Census
1851/James Gurney/Son/17/Commercial Road, Middlesex/Census
1851/Arthur Gurney/Son/6/St Pancras, Middlesex/Census
1851/Thomas Wright/Assistant/29/Margate, Kent/Census
1851/Charles Plummer/Barman/19/Holborn, Middlesex/Census
1851/Mary A Hiscox/General Servant/24/Whitchurch, Somerset/Census

1856/Mrs Emma Gurney/../../../Post Office Directory

1862/Mrs Emma Gurney/../../../Post Office Directory

1869/George Whitting/../../../Post Office Directory

1881/Cornelius Denyer/Licensed Victualler/50/Pulborough, Sussex/Census
1881/Anne Denyer/Wife/44/Colnbrook, Buckingham/Census
1881/Frederick W Denyer/Son/20/Colnbrook, Buckingham/Census
1881/Arthur T Denyer/Son/16/South Mims, Hertford/Census
1881/Henry Denyer/Son/13/Langford, Essex/Census
1881/Alfred Denyer/Son/10/Colnbrook, Buckingham/Census
1881/Maude Denyer/Daughter/8/Colnbrook, Buckingham/Census
1881/Rose Duffield/General Servant/16/Cheltenham/Census

1882/Alfred Sexton/../../../Post Office Directory

1884/Alfred Sexton/../../../Post Office Directory

1891/Edward Peirson/../../../Post Office Directory

1895/Edward Peirson/../../../Post Office Directory

1899/Mrs Emma Elizabeth Allen/../../../Post Office Directory

1899/Frederick William Satchell / Landlord /../../Proceedings of the Old Bailey **
1899/Amy Satchell / Wife /../../Proceedings of the Old Bailey

1910/James O'Donnell/../../../Post Office Directory

1915/James O'Donnell/../../../Post Office Directory

1921/James O'Donnell/../../../Hughes Directory

1921/Herbert George Pullen/../../../Post Office Directory

1938/Regent Catering Co Ltd/../../../Post Office Directory

1944/Regent Catering Co Ltd/../../../Post Office Directory *



* Provided By Ewan

** Provided By Stephen Harris

*** Provided By Dave Bell