Carpenter Arms, 12 Seymour Place, London W1
Marylebone index
This pub was established in 1776 and most recently rebuilt in 1872. ** The earlier address is at 7 Adam Street West.
Historical London public houses, Taverns, Inns, Beer Houses and Hotels.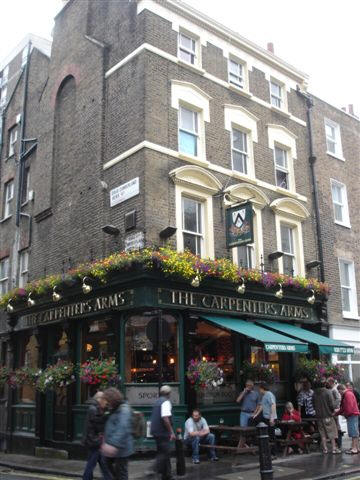 Carpenters Arms, 12 Seymour Place, W1 - in August 2007
Kindly provided by Stephen Harris
Residents at this address.
1808/Walter Tomes, victualler, 7 Adam street West, Portman square/../../Holdens Directory

1832/Thomas Fletcher/../../../Robsons Directory

1833-34/Thomas Fletcher, Carpenters Arms, 7 Adam street West/../../Pigots Directory

1839/Thos Fletcher/7 Adam street/../../Pigots Directory

1841/Th Fletcher/7 Adam street/../../Post Office Directory

1848/John Anderson/7 Adam street west/../../Post Office Directory

1851/John Anderson/7 Adam street west/../../Kellys Directory

1851/John Anderson/Victualler/58/North Britton/Census
1851/Sarah Anderson/Wife/37/Carshalton, Surrey/Census
1851/George Anderson/Son/4/Middlesex/Census
1851/Sarah Anderson/Daughter/2/Middlesex/Census
1851/Jane Anderson/Niece/20/Buckinghamshire/Census
1851/James Fulcher/Coachman/46/Norfolk/Census
1851/George Bellinger/Potman/24/Middlesex/Census
1851/Elizabeth Brock/Servant/26/Devon/Census

1856/Mrs Sarah Anderson/7 Adam street west/../../Post Office Directory

1869/John Ruddock/7 Adam street west/../../Post Office Directory

1881/Henry Little/Licensed Victualler/52/Oakley, Oxford/Census
1881/Mary Little/Wife, Licensed Victualler/50/Oakley, Oxford/Census
1881/William Little/Son, Barman/27/St Giles, Middlesex/Census
1881/Annie Keen/Niece, Barwoman/18/Oakley, Oxford/Census
1881/Caroline Eaton/Lodger, Housekeeper Out Place/39/Hendram, Oxford/Census
1881/Henry Bright/Lodger, Groom/20/Pitchford, Shropshire/Census
1881/William F Matthews/Lodger, Groom/35/Bath, Somerset/Census
1881/James Goodwin/Lodger, Butler/38/Twyford, Hampshire/Census

1882/Henry Little/../../../Post Office Directory

1884/Henry Little/../../../Post Office Directory

1891/Charles Stanford/../../../Post Office Directory

1895/Charles Stanford/../../../Post Office Directory

1899/Charles Stanford/../../../Post Office Directory

1910/Robert Whitcomb Denning/../../../Post Office Directory

1914/George Arthur Halliwell/../../../Post Office Directory

1915/Mrs Rose Emberson/../../../Post Office Directory

1921/James Newbury/../../../Hughes Directory

1934/Allens (Caterers) Ltd/../../../Kellys Directory

1938/Allens (Caterers) Ltd/../../../Post Office Directory *

1944/Allens (Caterers) Ltd/../../../Post Office Directory *

1971/Allens (Caterers) Ltd/../../../BT Telephone Directory *



* Provided By Ewan

** Provided By Stephen Harris