Search London wiki and Pub wiki history sites
All public house, restaurants, bars etc closed for the forseeable future from 20th March 2020, but this is a history site.
Cock & Lion, 62 Wigmore Street, Marylebone W1
Marylebone index
This pub was established in 1784, at 25 Wigmore Street in 1856 & 1869, and most recently rebuilt in 1880. **
Historical London public houses, Taverns, Inns, Beer Houses and Hotels.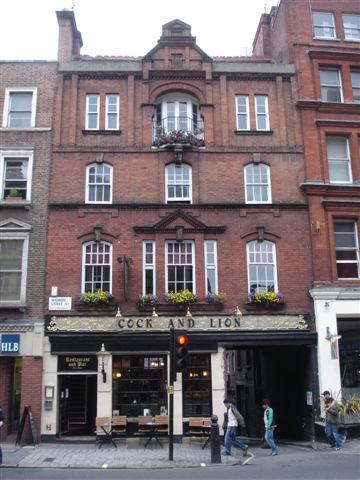 Cock & Lion, 62 Wigmore Street, W1 - in August 2007
Kindly provided by Stephen Harris
The following entries are in this format:
1825/Mr Webb, Cock and Lion, Wigmore street/../../Licensed Victuallers Association

1833-34/John Keep, Cock & Lion, 25 Wigmore Street/../../Pigots Directory

1836/Parkin Fothergill/../../../Pigot's Directory *

1839/Parkin Fothergill/../../../Pigot's Directory *

1841/Parkin Fothergill/../../../Post Office Directory

1842/Parkin Fothergill/../../../Robson's Directory *

1848/Parkin Fothergill/../../../Post Office Directory

1848/Parkin Fothergill/../../../Kellys Directory

1851/Parkin Fothergill/../../../Post Office Directory *

1851/H C Seckington/Licensed Victualler/39/London, Middlesex/Census
1851/Eliz Seckington/Wife/39/Beaconsfield, Buckinghamshire/Census
1851/John Papworth/Lodger, Coachman/38/Cambridge/Census
1851/Rowland Yeowell/Visitor, Lace Maker/26/Ilkeston, Derbyshire/Census
1851/George Ball/Visitor, Smith/25/Ilkeston, Derbyshire/Census
1851/John Young/Porter/35/Cargill, Perthshire/Census
1851/Mary Ryan/General Servant/25/Castletown, Limerick/Census

1856/Jas B Wilcox/../../../Post Office Directory

1869/Alexr Forrest/../../../Post Office Directory

1871/Alexander Forrest/Licensed Victualler/40/Soho, Middlesex/Census
1871/Emma Forrest/Wife/34/Soho, Middlesex/Census
1871/Alexander Forrest/Son, Artist/16/City of London, Middlesex/Census
1871/Albert Forrest/Son/13/Verba, Belguim/Census
1871/Emma Forrest/Daughter/10/Sinburg, Poland/Census
1871/Fanny Forrest/Daughter/7/Marylebone, Middlesex/Census
1871/Augustus Forrest/Son/2/Marylebone, Middlesex/Census
1871/Edith A Forrest/Daughter/2 months/Hanover Square, Long Acre/Census
1871/Emma Sawyer/Visitor/18/Marylebone, Middlesex/Census
1871/Louisa Sewill/Nurse/15/St Georges, Middlesex/Census
1871/Susan Sanson/Cook/22/Finchley, Middlesex/Census
1871/Albert Toombs/Barmaid/18/Marylebone, Middlesex/Census
1871/George Briggs/Potman/21/Marylebone, Middlesex/Census

1881/John Ruddock/Licensed Victualler/49/Camberwell, Surrey/Census
1881/Mary J Ruddock/Wife/48/Hason, Rutland/Census
1881/Charles W Ruddock/Son, Assistant To Veterinary Surgeon/17/Westminster, Middlesex/Census
1881/Alfred J Ruddock/Son, Apprentice To Watch Maker/16/Westminster, Middlesex/Census

1882/John Hogg/../../../Post Office Directory

1884/Alfred Boyer/../../../Post Office Directory

1891/Edgar Tovey/../../../Post Office Directory

1893/Percy Herbert Benoni Twitchin/../../../Baptism of Olive Edith & Harold - see Dobbin family page

1895/Arthur Pearson/../../../Post Office Directory

1899/Mrs Bessie Bidgood/../../../Post Office Directory

1910/Mrs Helen Guttridge/../../../Post Office Directory

1914/Mrs Helen Guttridge/../../../Post Office Directory

1915/Mrs Helen Guttridge/../../../Post Office Directory

1921/Mrs H. M. Guttridge/../../../Hughes Directory *

1934/William Charles Guttridge/../../../Kellys Directory

1938/Mrs Charlotte E. Guttridge/../../../Post Office Directory *

1944/Mrs Rose E J Summerskill/../../../Kellys Directory



* Provided By Ewan

** Provided By Stephen Harris