Duke of Clarence, 8 Frampton Street, Edgware Road, Marylebone NW8
Marylebone index
Very early address is at 3 North street, Lisson grove in 1856 and earlier; Renumbering alters the address to 8 North Street, which becomes 8 Frampton Street by 1936 through street renaming.
Historical London public houses, Taverns, Inns, Beer Houses and Hotels.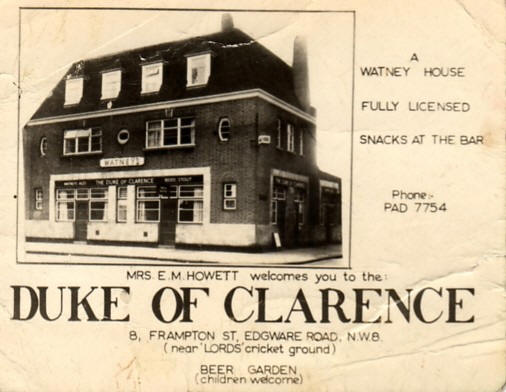 Mrs E M Howett welcomes you to the Duke of Clarence, 8 Frampton Street, Edgware Road NW8 (near Lords Cricket ground)
A Watney House Fully Licensed Snacks at the bar
Kindly provided by Simon Enright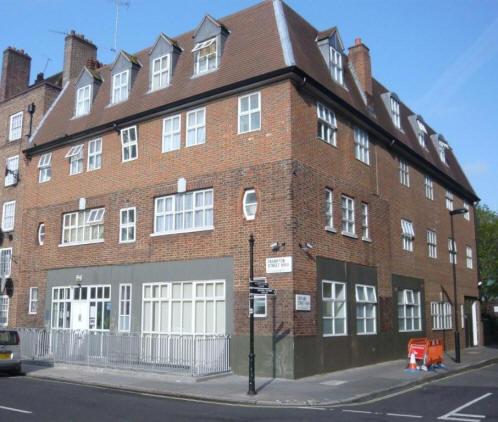 Duke of Clarence, 8 North Street, NW8 - in April 2009
Kindly provided by Stephen Harris
The following entries are in this format:
Residents at this address.
1831/Jeremiah Woollard/../../../Old Bailey online ***
1831/Jane Woollard/../../../Old Bailey online
1831/Robert Caley/Pot Boy, indicted for stealing/../../Old Bailey online

1848/David Milton/../../../Post Office Directory

1851/David Milton/../../../Kellys Directory

1851/David Milton/Licensed Victualler/39/London, Middlesex/Census
1851/Mary Milton/Wife/43/Hampstead, Middlesex/Census
1851/Janette Milton/Daughter/12/Marylebone, Middlesex/Census
1851/Esther Milton/Daughter/10/Marylebone, Middlesex/Census
1851/Clara Milton/Daughter/5/Marylebone, Middlesex/Census
1851/William Ward/Brother in Law/42/Hampstead, Middlesex/Census
1851/Susannah Cundall/Servant/37/Hampstead, Middlesex/Census
1851/Jane Hudson/Servant/20/Ware, Hertfordshire/Census
1851/Thomas Moore/Potman/28/Richmond, Surrey/Census

1856/Mrs Mary Milton/../../../Post Office Directory

July 1863/William North/Outgoing Licensee/../../Era

July 1863/George Green/Incoming Licensee/../../Era

1869/Joshua Green/../../../Post Office Directory

1870/George Bland/../../../P.O. Directory **

1874/G Edwards/../../../Licensed Victualler & Hoteliers Directory

1876/George Edwards/../../../P.O. Directory **

1879/G Edwards/../../../Hutchings & Crowsley's Directory **

1881/George Edwards/Licensed Victualler, Widow/35/St George, Middlesex/Census
1881/Emma Huntsen/Domestic Servant/29/Marylebone, Middlesex/Census
1881/Alfred Gilchrist/Barman/21/Paddington, Middlesex/Census
1881/Charles Desant/Barman/21/Marylebone, Middlesex/Census
1881/Charles Wickham/Potman/23/Brighton, Sussex/Census

1882/George Edwards/../../../Post Office Directory

1884/George Edwards/../../../Post Office Directory

1888:/George Edwards/../../../P.O. Directory **

1891/Robert Joseph Pryer/../../../Post Office Directory

1895/Albert Joseph Pryer/../../../Post Office Directory

1899/Frederick William Bates/../../../Post Office Directory

1910/Albert Sheppard/../../../Post Office Directory

1915/Francis Henry Swainson/../../../Post Office Directory

I found my GG-grandads son Solomon Henry Foster ran the Duke of Clarence, 8 north street, Edgware road.
He was born 1869 and died in1927 *

1921/Solomon Henry Foster/../../../Post Office Directory

1934/Mrs Alice Frances Foster/../../../Kellys Directory

The last owners listed of the Duke of Clarence were the HOWETTs, my grandparents. Cyril Howett died in 1948 and the pub was taken on my his wife Evelyn. She sold the pub in the 1960s and moved to retire in Surbiton. It was certainly still a pub in the 1980s but I'm not sure when it closed for good. *+

1935/Cyril Anthony Howett/8 North street/../../Electoral Register
1935/Evelyn Mary Howett/8 North street/../../Electoral Register
1935/Miss Edith Dorothea Scales/8 North street/../../Electoral Register
1935/Ernest Tinworth/8 North street/../../Electoral Register

1937 - 1938/Cyril Anthony Howett/../../../Electoral Register
1937 - 1938/Evelyn Mary Howett/../../../Electoral Register
1937 - 1938/Harry Meadows/../../../Electoral Register

1938/Cyril Anthony Howett/../../../Post Office Directory

1939/Cyril Anthony Howett/../../../Electoral Register
1939/Evelyn Mary Howett/../../../Electoral Register
1939/Miss May Boyce/../../../Electoral Register
1939/James Harris/../../../Electoral Register

1944/Cyril Anthony Howett/../../../Post Office Directory

1945/Cyril A Howett/../../../Electoral Register
1945/Evelyn M Howett/../../../Electoral Register

1948/Cyril Anthony Howett of 8 Frampton street Paddington London died 9 August 1948 at Camberwell House Peckham London Administration London 28 September to Evelyn Mary Howett widow and James Townsend cloak rook superintendent. Effects £2398 14s 9d/Probate

1949/Evelyn M Howett/8-10 Frampton street/../../Electoral Register
1949/Herbert H Morgan/8-10 Frampton street/../../Electoral Register

1957 - 1958/Evelyn M Howett/8-10 Frampton street/../../Electoral Register
1957 - 1958/Angela M Howett/8-10 Frampton street/../../Electoral Register
1957 - 1958/Leslie Vine/8-10 Frampton street/../../Electoral Register

1959/Evelyn M Howett/8-10 Frampton street/../../Electoral Register


* Provided By Julie Potter

*+ Kindly provided by Simon Enright

** Provided By Stephen Harris

*** Provided By Angela Bird