Search London wiki and Pub wiki history sites
All public house, restaurants, bars etc closed for the forseeable future from 20th March 2020, but this is a history site.
Tottenham / Flying Horse, 6 Oxford Street, London W1D 1AR
Marylebone index
At 6 Oxford Street, as renumbered, in 1882; This pub was rebuilt in 1893 and at that time re-named the Tottenham, that name still being in use today. **
Historical London public houses, Taverns, Inns, Beer Houses and Hotels.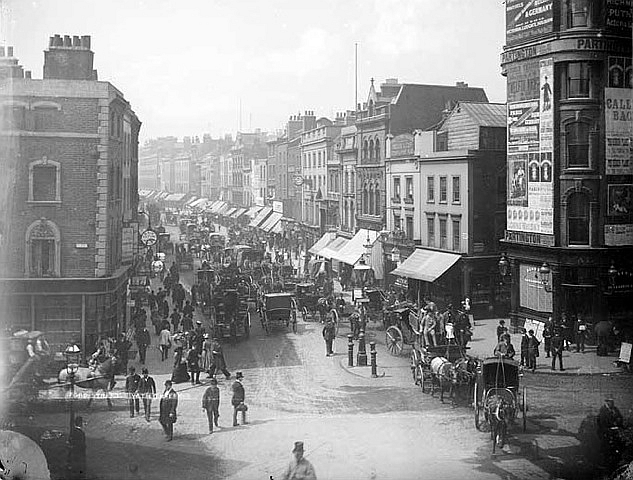 Flying Horse, 2 Oxford Street, Marylebone - prior to being rebuilt as the Tottenham
Kindly provided by Ian Flagg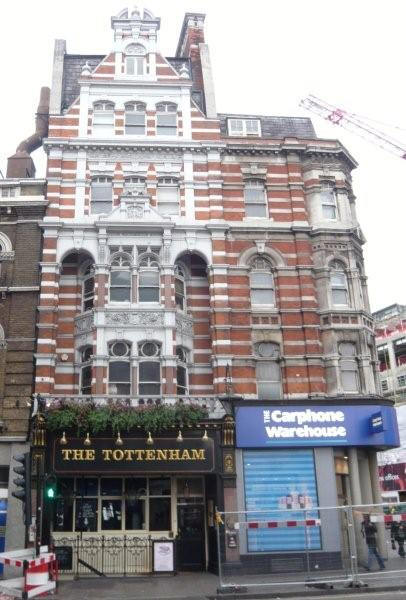 Flying Horse, 6 Oxford Street, W1 - in November 2008
Kindly provided by Stephen Harris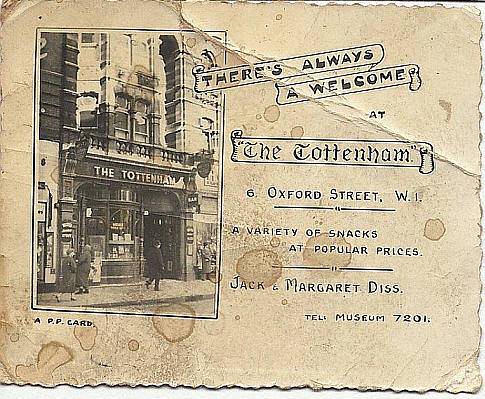 The Tottenham, 6 Oxford Street business card - Landlords Jack & Margaret Diss - circa 1960's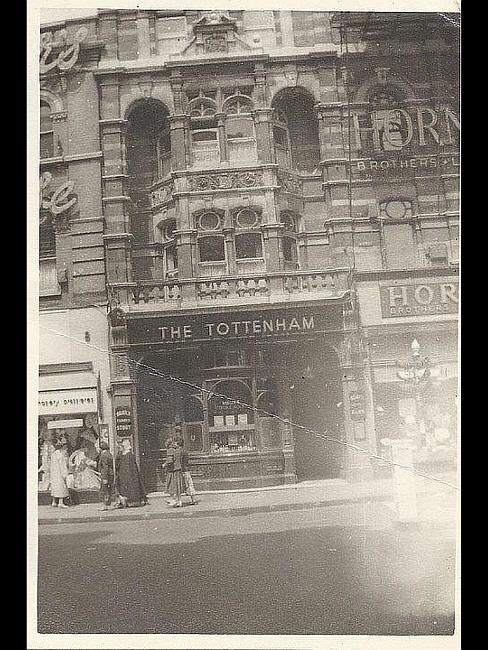 The Tottenham, 6 Alfred Street - circa 1960
Both kindly provided by Darren Diss
Residents at this address.
1791/John Towkey/victualler/../../Sun Fire Office records held at the London Metropolitan Archives *

1794/John Towkey/victualler/../../Sun Fire Office records held at the London Metropolitan Archives *

1804/Mordecai Capua/victualler/../../Sun Fire Office records held at the London Metropolitan Archives *

1809/Mr Godden, Flying Horse, Oxford street/../../Licensed Victuallers Association

1838/Edward Coombs/victualler and spirit dealer/../../Sun Fire Office records held at the London Metropolitan Archives *

1839/Edward Coombs/../../../Pigots Directory

My g g g g uncle (Henry Flagg) ran the Flying Horse around 1841. He also ran other pubs with his brothers through out the mid 1800's ***

1841/Henry Flagg/../../../Post Office Directory

1843/John Thomas Gray/../../../Kellys Directory

1848/John Thomas Gray/../../../Post Office Directory

1851/J T Gray/Licensed Victualler/46/Whitechapel, Middlesex/Census
1851/Mary Ann Gray/Wife/51/Brandon, Suffolk/Census
1851/Mary Ann Gray/Daughter/24/Lambeth, Surrey/Census
1851/Elizabeth Gray/Daughter/21/St Dunstans, City/Census
1851/Alfred Ellis/Nephew/10/Bury St Edmunds, Suffolk/Census
1851/M Robinson/Servant, Widow/63/../Census
1851/William Bury/Servant/25/Bury, Suffolk/Census

1851/John Thomas Gray/../../../Kellys Directory

1856/John Thomas Gray/../../../Post Office Directory

1869/Henry Hill & Co/../../../Post Office Directory

1871/Henry Hill/Licensed Victualler/37/Islington, Middlesex/Census
1871/Sarah A Hill/Wife/39/London/Census
1871/Alice Sharp/Barmaid/24/London/Census
1871/Emily Long/Barmaid/23/Devon/Census
1871/William Bryant/Potman/22/London/Census
1871/Mary Bryant/Servant/16/London/Census

1873/Henry Hill & Co/../../../P.O. Directory **

1881/William Cowley/Publican/38/Buckingham/Censusy
1881/Clare Cowley/Wife/31/Canterbury, Kent/Census
1881/Alice Clifton/Barmaid/19/Deptford, Kent/Census
1881/Nelson W Cowley/Son/9/Brompton, Middlesex/Census
1881/Arthur Cowley/Son/6/Wandsworth, Surrey/Census
1881/Mabel E Cowley/Daughter/3 months/Marylebone, Middlesex/Census
1881/Sarah Barber/Cousin, Housekeeper/32/Canterbury, Kent/Census

1882/William Hy Chapman/../../../Post Office Directory

1884/Charles Best/../../../Post Office Directory

1891/Charles Best/../../../Post Office Directory

1891/Richard J Radford/Licensed Victualler/40/London/Census
1891/S R Radford/Wife/40/London/Census
1891/E J Radford/Son, Licensed Victualler/18/London/Census
1891/L Goodey/Barmaid/18/London/Census
1891/A Spears/Potman/18/Wiltshire/Census
1891/Mary Churchouse/Cook/45/Wiltshire/Census

Tottenham, 6 Oxford Street :

1895/Henry & Richard Baker/../../../Post Office Directory

1900/William James Pettitt/../../../P.O. Directory **

1901/Alfred Pettitt/Independent (Widower)/28/St Giles/Census *
1901/Joseph Eyres/Brother-in-Law, Publican (Manager)/32/Kilburn/Census
1901/Thomas Crocker/Barman/23/Wingfield/Census
1901/Nellie Davis/Barmaid/23/Brixton/Census
1901/Bessie Knight/Barmaid/20/Thirfield, Hertfordshire/Census
1901/Gertrude Gregory/Barmaid/18/Hampstead/Census
1901/Lizzie Sage/Barmaid/27/Charlton/Census
1901/Annie Ledee/Barmaid/26/Mortlake/Census
1901/Emilie Luck/Nurse Sick/30/Mayfield, Sussex/Census
1901/Emily Julian/Cook/25/Driffield, Yorkshire/Census
1901/Amy Edwards/Nurse/25/Richmond/Census
1901/Ellen Pettitt/Niece/11/Hammersmith/Census
1901/May Pettitt/Niece/9/Brighton/Census
1901/Winifred Pettitt/Niece/2/Marylebone/Census

1904/William James Pettitt, Tottenham, 6 Oxford Street/../../Post Office Directory **

1915/William James Pettitt/Tottenham, 6 Oxford Street/../../Post Office Directory **

1921/William J Pettitt/Tottenham, 6 Oxford Street/../../Hughes Directory **

1934/Pioneer Catering Co Ltd/Tottenham, 6 Oxford Street/../../Kellys Directory

1938/Pioneer Catering Co Ltd/../../../Post Office Directory

1944/Pioneer Catering Co Ltd/../../../Post Office Directory

1955/Pioneer Catering Co Ltd/../../../Bt Telephone Directory [MUSeum 7201]

1960/Pioneer Catering Co Ltd/../../../Bt Telephone Directory [MUSeum 7201]
1960/Gordon R Diss/../../../Electoral Roll
1960/Margaret M Diss/../../../Electoral Roll

1965/Pioneer Catering Co Ltd/../../../Bt Telephone Directory [MUSeum 7201]



* Provided By Ewan

** Provided By Stephen Harris

*** Provided By Ian Flagg