Gloucester Arms, 5 Ivor Place, Marylebone NW1
Marylebone index
The address of this pub was formerly given as 5 Upper Park Place. At 5 Ivor Place by 1938 ** Closed in 2005 and now converted to school use (2014).
Historical London public houses, Taverns, Inns, Beer Houses and Hotels.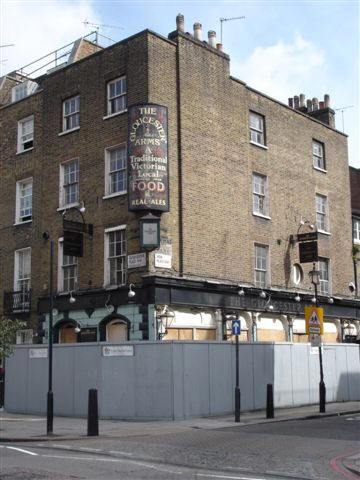 Gloucester Arms, 5 Ivor Place, NW1 - in September 2007
Kindly provided by Stephen Harris
Residents at this address.
1833-34/William Chamberlin/../../../Pigot's Directory *

1839/Israel Faram/../../../../Pigot's Directory *

1841/Israel S. Faram/../../../Post Office Directory *

1843/Israel S Faram/../../../Post Office Directory

I am a member of the Bonsall family who were involved in various pubs in London (in fact in many places it seems!) and have a record of Charles Bonsall 'owning' this pub (at 5 Upper Park Place then) when he married in March 1859. ***

1848/Charles Bonsall/../../../Post Office Directory

1851/Charles Bonsall/../../../Kellys Directory

1856/C Bonsall/../../../Post Office Directory

May 1862/C Bonsall/Licensed Victuallers Association/../../Era

February 1866/Charles Bonsall/Outgoing Licensee/../../Era

February 1866/George Moss/Incoming Licensee/../../Era

1869/Geo Moss/../../../Post Office Directory

1881/Robert Hammond/Licensed Victualler, Widow/50/Searning, Norfolk/Census
1881/Minnie Greenwood/Barmaid/26/Nottingham/Census
1881/Emma Bentley/Barmaid/25/Hythe, Kent/Census
1881/Hannah Smith/Cook/27/Bury St Edmunds/Census

1882/Robert Hammond/../../../Post Office Directory *

1883/Robert Hammond/../../../Post Office Directory **

1884/Robert Hammond/../../../Post Office Directory

1891/Benjamin Goffin/../../../Post Office Directory

1895/Saml Edward Albert Rice/../../../Post Office Directory

1899/Saml Edward Albert Rice/../../../Post Office Directory

1906/Samuel Edward Albert Rice/../../../Post Office Directory *

1910/Samuel Edward Albert Rice/../../../Post Office Directory

1915/Samuel Edward Albert Rice/../../../Post Office Directory

1921/William Henocq/../../../Post Office Directory *

1927/Albert W. Brace/../../../Post Office Directory *

1934/Hubert Hutson Harrison/../../../Kellys Directory

1938/Hubert Hutson Harrison/../../../Post Office Directory

1940/Ernest Frederick Green/../../../Post Office Directory *

1942/Mrs Alice E. Green/../../../Post Office Directory *

1944/Mrs Alice E Green/../../../Post Office Directory



* Provided By Ewan

** Provided By Stephen Harris

*** David Bonsall

Provided By Tris