Hope Arms, 51 Duke Street, Marylebone W1
Marylebone index
The address in 1899 is at 51 Duke Street and 398 Oxford Street. Before street renumbering, around 1881. this would have been 174 Oxford Street and 51 Duke Street. This part of Oxford Street later became part of Selfridges. The pub's name is the King and Queen in 1839 and earlier. **
Historical London public houses, Taverns, Inns, Beer Houses and Hotels.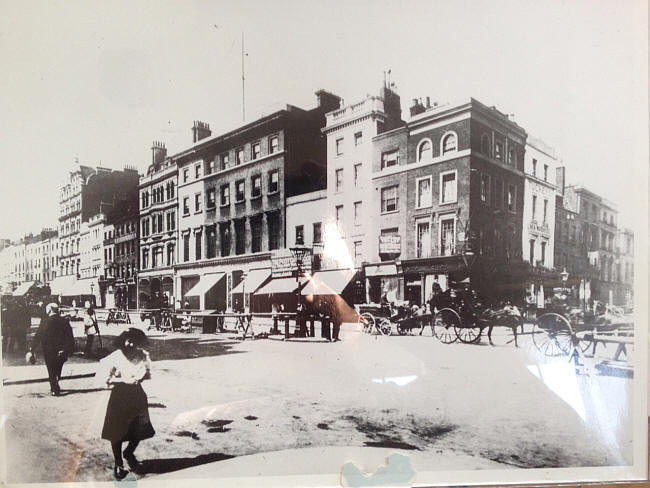 Hope tavern, junction of Duke Street and 398 Oxford Street, Marylebone
The "Hope Arms", kept by Thomas Moon ( 1856 - 1933 ) from 1897 - 1908. Corner of Duke Street and Oxford Street, London. Site acquired by Selfridges C. 1908. - on back of photograph
Kindly provided by Jenny Kirby and Brian Lewis
Residents at this address.
In 1753, the Old Cumberland Lodge, is at the King and Queen, Oxford Street; a Masonic Lodge

1792/Mr Baxter/victualler, King and Queen/../../Sun Fire Office records held at the London Metropolitan Archives **

1797/Nathan Kinsey/victualler, King and Queen/../../Sun Fire Office records held at the London Metropolitan Archives **

1799/Nathan Kinsey/victualler, King and Queen/../../Sun Fire Office records held at the London Metropolitan Archives **

1824/George Stevens/victualler, King and Queen/../../Sun Fire Office records held at the London Metropolitan Archives **

1831/William Edginton/victualler, King and Queen/../../Sun Fire Office records held at the London Metropolitan Archives **

1838/William Edginton/victualler, King and Queen/../../Sun Fire Office records held at the London Metropolitan Archives **

1839/William Edgington/../../../Pigot's Directory **

1841/John Jones/../../../Post Office Directory **

1842/John Jones/../../../Robson's Directory **

1848/John Jones/../../../Post Office Directory

3 July 1848/Thomas Shuwell/../../../Times License Transfer

1851/Thomas Shurvell/Hope Arms/../../Kellys Directory

1856/Robert Mobbs/../../../Post Office Directory **

1869/John Walker/../../../Post Office Directory

May 1872/John Walker/Outgoing Licensee/../../Era

May 1872/William Vincent Hummerston/Incoming Licensee/../../Era

1881/Henry Cook/Barman/24/Stone, Buckingham/Census
1881/Elizabeth Hayward/Barmaid/26/Brompton, Middlesex/Census
1881/Sarah A Wright/Housekeeper/30/St Pancras, Middlesex/Census
1881/George Eggelton/Potman/18/Tring, Hertford/Census
1881/Elizabeth Pink/Servant/35/Kent/Census

1882/George Tomalin/../../../Post Office Directory

1884/George Tomalin/../../../Post Office Directory

1891/Henry Thos Vickress/../../../Post Office Directory

1895/Henry Thos Vickress/../../../Post Office Directory

My Great Grandfather, Thomas Moon, was the licensee at the Hope Arms. I do know that in 1895 and for some years before that, he was at the George & Dragon on Marlow Bridge, in Great Marlow, Buckinghamshire.

1897 - 1908/Thomas Moon/../../../Personal Detail *

1899/Thomas Moon/../../../Post Office Directory

1901/Thomas Moon/Licensed Victualler, Widow/44/Etchingham, Sussex/Census *
1901/Annie Wilson/Sister in Law, Housekeeper/27/Sevenoaks, Kent/Census
1901/Beatrice Weller/Barmaid/24/Poplar, London/Census
1901/Mahala Dawson/Cook/35/Kingstone, Staffordshire/Census
1901/Edward Blisset/Potman/46/Bath, Somerset/Census



* Provided by Jenny Kirby and Brian Lewis

** Provided By Ewan