Search London wiki and Pub wiki history sites
All public house, restaurants, bars etc closed for the forseeable future from 20th March 2020, but this is a history site.
Lamb & Flag, 24 James Street, Marylebone W1
Marylebone index
This pub was first licensed in 1777 and was rebuilt in its current form in 1890. ** The address is 6 James Street in 1871 and earlier, prior to street renumbering. *
Historical London public houses, Taverns, Inns, Beer Houses and Hotels.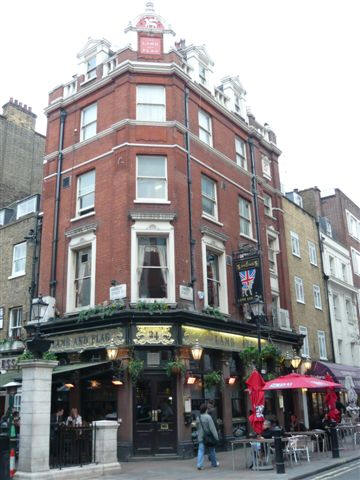 Lamb & Flag, 24 James Street, W1 - in March 2008
Kindly provided by Stephen Harris
Residents at this address.
1825/Mr Evenden/../../../Licensed Victuallers Association

1827/Thomas Evenden/../../../Licensed Victuallers Association

1841/John Saunders/../../../Post Office Directory

1841/John Sanders/Victualler/55/../Census
1841/Mary Sanders/../35/../Census
1841/William Owers/Lodger/Middlesex//Census
1841/John White/Potman/40/Middlesex/Census
1841/William Shannon/../11/../Census
1841/Eliza Brown/Barmaid/15/Middlesex/Census
1841/Elizabeth Hickson/Female Servant/35/Middlesex/Census

1842/John Saunders/../../../Robsons Directory

1848/James Timberlake/../../../Post Office Directory

1851/James Timberlake/../../../Kellys Directory

1851/James Timberlake/Licensed Victualler/42/Lambeth/Census *
1851/Harriett Timberlake/Wife/50/Marylebone/Census
1851/Ellen Dove/Servant (Widow)/38/Ireland/Census
1851/James Whybrow/Servant/21/Essex/Census
1851/John Watson/Grandson, Errand Boy/14/Marylebone/Census

1856/J Schooling/../../../Post Office Directory

1861/William Baker/Publican/26/Kent/Census *
1861/Mary Ann Baker/Wife/25/Middlesex/Census
1861/William Phillips/House Servant/23/Cambridge/Census
1861/Margaret Ambrose/House Servant/21/Ireland/Census

November 1862/W Baker/Outgoing Licensee/../../Era

November 1862/James Woulfe/Incoming Licensee/../../Era

1869/J R Allison/../../../Post Office Directory

1870/John Rd Allison/../../../Post Office Directory **

July 1870/John Richard Allison/Outgoing Licensee/../../Era

July 1870/James Ellam/Incoming Licensee/../../Era

1871/James Ellam/Licensed Victualler/32/Staffordshire/Census *
1871/Elizabeth Ellam/Wife/24/Worcestershire/Census
1871/Margaret Ellam/Sister, Visitor/21/Whitmore, Staffordshire/Census
1871/Emily Connell/General Servant/17/Matson, Gloucestershire/Census

1874/James Ellam/../../../LV Directory **

1876/Thomas Butler/../../../Post Office Directory **

1881/William W Langley/Licensed Victualler/33/Lynn, Norfolk/Census
1881/Clara Langley/Wife/27/Westhorpe, Suffolk/Census
1881/George T Bandell/Manager/29/Badwell, Suffolk/Census

1882/William Wade Langley/../../../Post Office Directory

1884/William Langley/../../../Post Office Directory

1891/Frederick Morgan & Co/../../../Post Office Directory

1891/William Blyth/Licensed Victualler/33/Paddington/Census *
1891/Jane Blyth/Wife/28/Nottingham/Census
1891/Vernon Blyth/Son/3/Norwich, Norfolk/Census
1891/Coralie Blyth/Daughter/10/Mile End/Census
1891/Marjorie Blyth/Daughter/11 months/Yarmouth, Norfolk/Census
1891/Florence Kent/Barmaid/21/Beccles, Suffolk/Census
1891/Adelaide Huggins/General Servant Domestic/27/Dunton, Norfolk/Census
1891/Maud Munder/Nurse Domestic/20/Hoxton/Census
1891/Frank Rogers/Cousin, Barman/24/Nottingham/Census
1891/Frederick Balding/Cousin, Licensed Victualler Manager/26/Clerkenwell/Census

1899/Edward Bower Bisshopp/../../../Post Office Directory

1908/Frederick Young & Co/../../../Post Office Directory **

1910/Frederick Young & Co/../../../Post Office Directory

1915/Frederick Young & Co/../../../Post Office Directory

1917/Frederick Young & Co/../../../Post Office Directory **

1921/Frederick Young & Co/../../../Post Office Directory

1934/Ernest John Crouch/../../../Kellys Directory

1938/Arthur Geo Corser/../../../Post Office Directory

1944/Isaac Jacob Levy/../../../Post Office Directory



* Provided By Ewan

** Provided By Stephen Harris