Olive Branch, 118 & 120 Earl Street, Marylebone NW8
Marylebone index
At 37 Earl Street west, Edgware Road in 1869 and earlier
Historical London public houses, Taverns, Inns, Beer Houses and Hotels.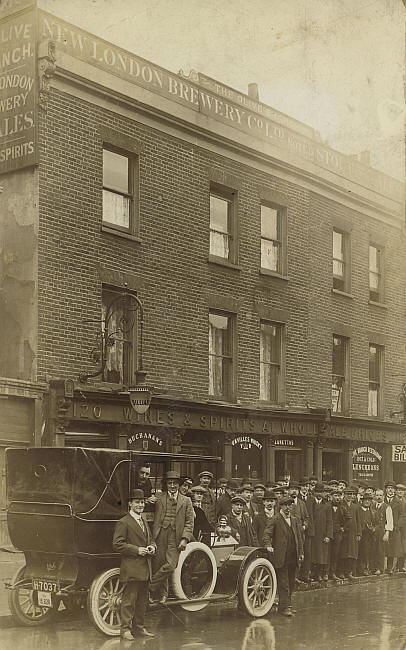 Olive Branch, Earl Street, Edgware Road, Marylebone
In the picture, Jim Ronayne is stood on the running board of the taxi in which his brother Pierce is the driver, in the cab.
Kindly provided by Paul Flatt
Residents at this address.
1839/Charles Haward/../../../Pigots Directory

1842/Richard Sobee/../../../Robsons Directory

1843/Richard Sobee/../../../Kllys Directory

1848/Walter Carter/../../../Post Office Directory

1856/H Watkins/../../../Post Office Directory

October 1859/Richard Sobee/Outgoing Licensee/../../Era

October 1859/James King/Incoming Licensee/../../Era

Marylebone Mercury 12 August 1865 :
Olive Branch, 37 Earl street West, from Charles Hicks to Susan Isabella Hicks

1869/Samuel Headon/../../../Post Office Directory

1874/S Headon/../../../Licensed Victualler & Hoteliers Directory

1881/John Nightangle/Licensed Victuallers Manager/29/Mitcham, Surrey/Census
1881/Emma Nightangle/Wife/30/(City), Middlesex/Census
1881/Walter Nightangle/Son/6/Norwood, Surrey/Census
1881/Florence Nightangle/Daughter/4/Woodgreen, Middlesex/Census
1881/Jane Richards/Barmaid/23/Holborn, Middlesex/Census
1881/Bessie Lane/Barmaid/26/Marylebone, Middlesex/Census
1881/Florence Brown/Barmaid/26/Marylebone, Middlesex/Census
1881/Alice Hill/Barmaid/20/Brompton, Middlesex/Census
1881/Ann Rogers/Cook/48/Walsham Abbey, Essex/Census
1881/Harriett Chambers/Housemaid/19/Suffolk/Census
1881/James Henley/Potman/24/Watford, Hertford/Census

1882/Lewin & Co/../../../Post Office Directory

1884/A Lewen & Co/../../../Post Office Directory

1886/Alfred Lewin/../../../Post Office Directory

1888/Mrs Ellen Lewin/../../../Post Office Directory

1889/Twitchin & Dobbin/../../../Post Office Directory - see Dobbin family page

1891/Twitchin & Dobbin/../../../Post Office Directory

1891/James Dobbin/Licensed Victualler/54/Leytonstone, Essex/Census
1891/Annie Dobbin/Wife/51/Stepney, London/Census
1891/Edith Twitchin/Daughter/21/Stratford, Essex/Census
1891/Percy Twitchin/Son in Law, Licensed Victualler/24/Loughborough, Surrey/Census
1891/Alice Dobbin/Daughter, Barmaid/17/Stratford, Essex/Census
1891/Ernest Dobbin/Son/11/Stratford, Essex/Census
1891/Alice Bannister/Barmaid/28/Marylebone, London/Census
1891/Stanley Twitchin/Grandson/6 months/Paddington, London/Census
1891/Annie Rogers/Cook/56/Waltham Abbey, Essex/Census
1891/Alice Prior/Housemaid/24/Waltham Abbey, Essex/Census
1891/Alice Thackrey/Nurse/18/Bow, London/Census
1891/John Platt/Potman/42/Paddington/Census

1893/Thomas Cox/../../../Post Office Directory

1895/Thomas Cox/../../../Post Office Directory

1899/Cheeseman & Crowson/../../../Post Office Directory

1910/Geo Jukes/../../../Post Office Directory

My grandmother, Emily Sarah May Lewin was a barmaid at the Olive Branch, 118 & 120 Earl Street in the 1911 census. *

1911/Barny Bernhardt/Publican/40/Borders of Germany, Nat 1896/Census *
1911/Lizzie Bernhardt/Wife/30/City, London/Census
1911/Mary Lewin/Barmaid/21/Aldgate, London/Census
1911/Brenda Smith/Barmaid/28/Shepherds Bush/Census
1911/Rose Pitt/Servant/20/Walworth, London/Census
1911/Carry Baker/Cook, widow/50/Islington/Census
1911/William Thorne/Barman/34/Windsor/Census

1915/Albert Bale/../../../Post Office Directory

1921/Albert Bale/../../../Hughes Directory



* Provided By Lynn Buckland