Search London wiki and Pub wiki history sites
All public house, restaurants, bars etc closed for the forseeable future from 20th March 2020, but this is a history site.
Pontefract Castle, 71 Wigmore Street, Marylebone W1
Marylebone index
Earlier address in 1869 and before is at 36 Edwards Street, which later becomes an extension of the numbering in Wigmore Street. Closed 2015. To be demolished behind a retained fašade. ***
Historical London public houses, Taverns, Inns, Beer Houses and Hotels.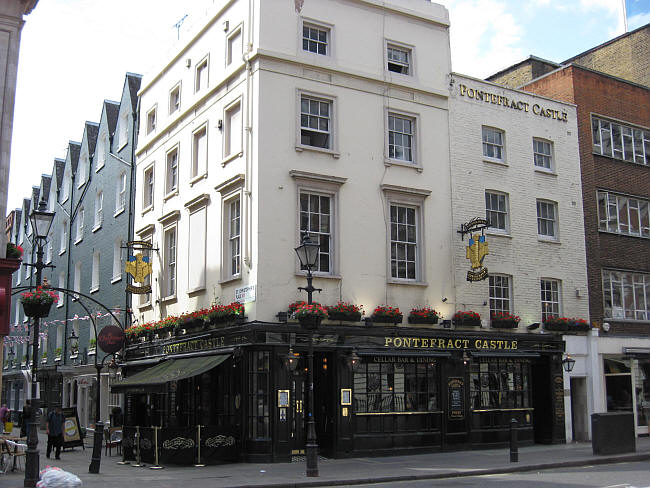 Pontrefact Castle, 71 Wigmore Street, Marylebone - in July 2013
Kindly provided by Dolores Dilley
Residents at this address.
1792/Mr Johnson/victualler/../../Sun Fire Office records held at the London Metropolitan Archives *

1833-34/Catherine Pierpoint, Pontefract Castle, 36 Edward Street, Portman Square/../../Pigot's Directory

1839/Jas Robert Pierpoint/../../../Pigots Directory

1841/Jas Rt Pierpoint/../../../Post Office Directory

1848/Mrs C Pierpoint/../../../Post Office Directory

1851/William Marley/../../../Kellys Directory

1851/William Marley/Licensed Victualler/52/Worthing, Sussex/Census *
1851/Louisa Marley/Wife/44/London/Census
1851/William Marley/Son/18/London/Census
1851/Louisa Marley/Daughter/15/London/Census
1851/Walter Marley/Son/12/London/Census
1851/John Marley/Son/10/London/Census
1851/Alexander Marley/Son/8/London/Census
1851/Charles Marley/Son/5/London/Census
1851/George Digbey/Relation/42/London/Census
1851/Mary Mullins/Visitor/28/London/Census

May 1853/William Marley, deceased/Outgoing Licensee/../../Era

May 1853/Louisa Marley, widow of William Marley/Incoming Licensee/../../Era

1856/Mrs Louisa Marley/../../../Post Office Directory

May 1856/Louisa Marley/Outgoing Licensee/../../Era

May 1856/Alfred Southern/Incoming Licensee/../../Era

October 1857/Alfred Southern/Outgoing Licensee/../../Era

October 1857/Thomas Brand/Incoming Licensee/../../Era

February 1862/W H Shoobert/Outgoing Licensee/../../Era

February 1862/George Titterton/Incoming Licensee/../../Era

1869/William Hammond/../../../Post Office Directory

1881/Allen J Dale/Licensed Victualler/43/Richmond, Surrey/Census
1881/Martha Dale/Wife/42/Twickenham, Surrey/Census
1881/John A Dale/Son, Potman/16/Twickenham, Surrey/Census
1881/Samuel Hicks/Servant/30/Dudley, Worcester/Census
1881/Ellen Rider/Servant/30/Badminton, Gloucester/Census
1881/Dora Hickey/Servant/24/Birkenhead/Census

1882/Allen John Dale/../../../Post Office Directory

1884/Allen J Dale/../../../Post Office Directory

1891/Wm Walter Crisp/../../../Post Office Directory

My G.Grandfather George William Perry was the Licensed Victualler here, and indeed died here in 1899. After his death, my G.Grandmother remarried in 1900. She remained running the pub. Her name was Ada Elizabeth Hamilton. She is listed on the 1901 Census. Her second husband also died on the premises not long after her marriage to him.
Ada remarried in 1903 and is listed as living at 'Baxter Arms', Baxter Road, Essex Road N1. Her new husband William Edward Connor is the Licensed Victuallers Manager. In 1906, it looks like they are running the 'Lugard Tavern' in Peckham. **

[ In 1895, listed as the Ponsonby Arms, 71 Wigmore Street - possibly an error ]

1895/Philip Bramble Robins/../../../Post Office Directory

1899/George William Perry/../../../Post Office Directory

1910/Mrs Julia Alice Tupper/../../../Post Office Directory

1915/Mrs Julia Alice Tupper/../../../Post Office Directory

1934/Mrs Rose Ethel Callaghan/../../../Kellys Directory

1938/Mrs Rose Ethel Callaghan/../../../Post Office Directory

1944/Mrs Rose Ethel Callaghan/../../../Post Office Directory



** Provided by Sarah Cuenca

*** Provided by Tris