Search London wiki and Pub wiki history sites
All public house, restaurants, bars etc closed for the forseeable future from 20th March 2020, but this is a history site.
Stags Head, 102 New Cavendish Street, London W1W 6XW
Marylebone index
The address was 13 New Cavendish Street in 1851 to at least 1871, then at 7 New Cavendish Street, and is now given as 102 New Cavendish Street following renumbering by 1938. This pub was first licensed in 1776 and was rebuilt in its present form in 1940. **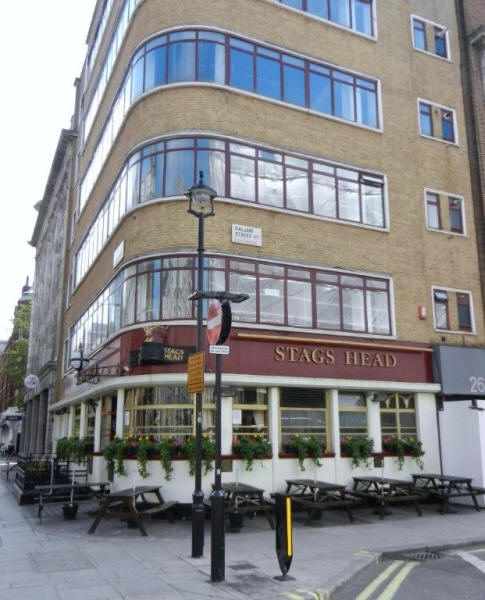 Stag's Head, 102 New Cavendish Street, W1 - in May 2011
Kindly provided by Stephen Harris
Historical London public houses, Taverns, Inns, Beer Houses and Hotels.
Residents at this address.
1834/Mr Luke Samuel Keep/../../../LV Asylum

1839/Thomas Hitchings/../../../Pigots Directory **

1841/Thomas Hitchings/../../../Post Office Directory **

1848/John Bird/../../../Post Office Directory

1851/John Bird/../../../Kellys Directory

1851/Henry May/Victualler/30/St Georges, London/Census
1851/Ellonde May/Wife/33/Empingham, Rutland/Census
1851/Hariet Hose/Barmaid/20/St Giles, London/Census
1851/Margt Crane/Cok/30/St Marylebone/Census
1851/Benj Lewis/Potman/20/St Pancras, London/Census
1851/William Gibbins/Pot Boy/13/South Wales/Census

1856/George Horsley/../../../Post Office Directory

January 1862/G Horsley/Outgoing Licensee/../../Era

January 1862/Thomas Hasebridge/Incoming Licensee/../../Era

1869/George Atkinson/../../../Post Office Directory

1871/Joseph Bagent/Licensed Victualler (Stags Head)/45/../Census
1871/Amelia Bagent/Wife/42/Wallingford, Berkshire/Census
1871/William Bagent/Son, Assistant/27/London/Census
1871/Frances Bagent/Sons Wife/23/London/Census
1871/Thomas Green/Potman/18/../Census
1871/Emily Van Kempton/Domestic Servant/20/../Census

1881/John H Charles/Licensed Victualler/37/Somerly, Lincoln/Census
1881/Elizabeth Charles/Wife/38/Castletown, Caithness/Census
1881/Emily E Hayward/Domestic Servant/21/Woolwich, Kent/Census
1881/Henry F Coles/Lodger, Comml Traveller Foreign Lace/27/Willand, Devon/Census

1882/Wm Henry Newell/../../../Post Office Directory

1884/William H Newell/../../../Post Office Directory

1891/John Matthew Eveson/../../../Post Office Directory

1891/John M Eveson/Licensed Victualler/47/St Lukes, London/Census
1891/Susan Eveson/Wife/46/St Lukes, London/Census
1891/Susan J Eveson/Daughter, Barmaid/25/Kingsland, London/Census
1891/Jane A Eveson/Daughter, Barmaid/21/Haggerston, London/Census
1891/John M Eveson/Son, Barman/25/Haggerston, London/Census
1891/Matilda Eveson/Daughter/17/Hackney, London/Census
1891/Margaret A Eveson/Daughter/12/Hackney, London/Census
1891/Charles Eveson/Son/8/Hackney, London/Census
1891/Robert Eveson/Son/7/Hackney, London/Census
1891/Joseph Eveson/Son/4/Marylebone, London/Census
1891/Sarah Gleson/General Servant/40/Ireland/Census

1895/William John Young/../../../Post Office Directory

1899/Francis Wm Webb/../../../Post Office Directory

1910/Walter Harry Stephens/../../../Post Office Directory

1915/Geo. Arthur Shurey/../../../Post Office Directory **

1921/Geo. Arthur Shurey/../../../Post Office Directory **

1938/Mrs Caroline Shurey/../../../Post Office Directory **



** Provided By Stephen Harris