Search London wiki and Pub wiki history sites
All public house, restaurants, bars etc closed for the forseeable future on 20th March 2020, but this is a history site
Albert Arms, 5 Railway Place, Cambridge Road north, Mile End E2
Mile End Pubs history
At the corner of Railway Place and Entinck Street; The address is at 5 Railway Place in 1899 and earlier, and is at 6 Malcolm Place by 1940, following street renaming. It is also sometimes given as 5 & 6 Malcolm Place, so presumably expanded into both properties as 5 & 6 Railway Place sometime around the turn of the century, as there was no street renumbering. *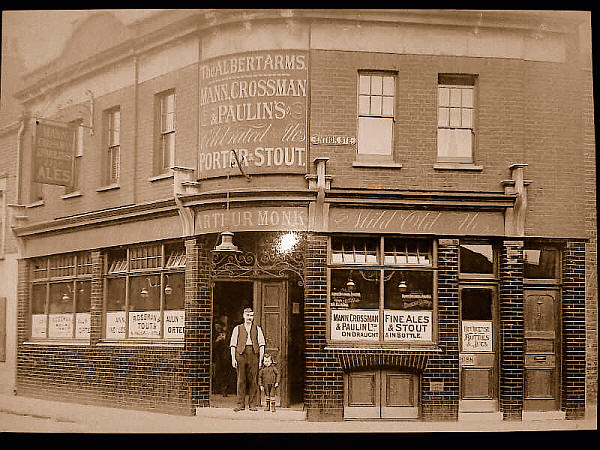 Albert Arms, Railway Place - Arthur Monk is the landlord.
The gentleman in the picture is my great grandfather Arthur Monk with his youngest son and the pub was on the corner of two roads - Railway Place and Entick Street and was, according to my cousin, demolished in the 1960s. ***
Kindly provided by Jennifer
A listing of historical public houses, Taverns, Inns, Beer Houses and Hotels in Mile End, East London.
Residents at this address.
1871/J. W. Bazley/Chandler & Beer Retailer/54/Mile End, Middlesex/Census *
1871/Eliza Bazley/Wife/50/St Georges/Census
1871/W. O. Bazley/Son, French Polisher/28/Shoreditch, Middlesex/Census
1871/T. Bazley/Son, Upholsterer/18/Shoreditch, Middlesex/Census
1871/Emma Bazley/Daughter/10/Shoreditch, Middlesex/Census
1871/Charles Jeffreys/Nephew, French Polisher/17/Shoreditch, Middlesex/Census

1882/William Castle/beer retailer/../../Post Office Directory *

1883/Edward Samuel Bowey/beer retailer/../../Post Office Directory

1885/Alfred Everard/beer retailer/../../Post Office Directory

1886/Charles Cadge/beer retailer/../../Post Office Directory

1887/Charles Cadge/beer retailer/../../Post Office Directory

1889/Charles Cadge/beer retailer/../../Post Office Directory

1891/Benjamin Whessell/beer retailer, 5 Railway place/../../Post Office Directory *

1893/Benjamin Whessell/beer retailer, 5 Railway place/../../Post Office Directory

1895/Donato Arnoldi / Beer Retailer /../../Post Office Directory **

1898/James Pharaoh/beer retailer, 5 Railway place/../../Post Office Directory

1899/Mrs Florence Cutting/beer retailer, 5 Railway place/../../Post Office Directory *

1901/Joseph Hill/Beer Retailer/28/Bethnal Green, London/Census
1901/Matilda Hill/Wife/26/Bethnal Green, London/Census
1901/Matilda Hill/Daughter/6/Mile End, London/Census
1901/Mable Hill/Daughter/4/Mile End, London/Census
1901/Joy Hill/Daughter/1/Mile End, London/Census

1903/Joseph Hudson Johnson Hill/Beer Retailer, 5 Railway place/../../Post Office Directory

1905/Arthur Monk/Beer Retailer, 5 Railway place/../../Post Office Directory

1907/Arthur Monk/Beer Retailer, 5 Railway place/../../Post Office Directory

1910/Arthur Monk/Beer Retailer/../../Post Office Directory

1911/Arthur Monk/Beer Retailer/../../Census ***

1914/Arthur Monk/Beer Retailer, 6 Railway place/../../Post Office Directory

1915/Arthur Monk/Beer Retailer/../../Post Office Directory

1921/Arthur Monk/Beer Retailer, 6 Railway place/../../Post Office Directory

1927/Arthur Monk/Beer Retailer, 6 Railway place/../../Post Office Directory

1928/Arthur Monk/Beer Retailer, 6 Railway place/../../Post Office Directory

1929/Rd William Clifton/Beer Retailer, 6 Railway place/../../Post Office Directory

1930/Mrs Ada Clifton/Beer Retailer, 6 Railway place/../../Post Office Directory

1931/Mrs Lily G Quain/Beer Retailer, 6 Railway place/../../Post Office Directory

1932/Mrs Lily G Quain/Beer Retailer, 6 Railway place/../../Post Office Directory

1934/William Ernest Blake/Beer Retailer, 6 Railway place/../../Kellys Directory

1936/Herbert Gentry/Beer Retailer, 6 Railway place/../../Post Office Directory

1938/Herbert Gentry/Beer Retailer, 6 Railway place/../../Post Office Directory

1940/Herbert Gentry/Beer Retailer, 6 Malcolm place/../../Post Office Directory

1941/Mrs L McKay/Beer Retailer, 6 Malcolm place/../../Post Office Directory

1942/Mrs L. Rosinsky/beer retailer/../../Post Office Directory *

1943/Thomas Alfred Frisby/beer retailer, 6 Malcolm Place/../../Post Office Directory *

1944/Thomas Alfred Frisby/beer retailer, 6 Malcolm Place/../../Post Office Directory *



* Provided By Ewan

*** Provided By Jennifer