Search London wiki and Pub wiki history sites
All public house, restaurants, bars etc closed for the forseeable future from 20th March 2020, but this is a history site.
Alfreds Head, 67 Shandy Street, Mile End E1
Mile End Pubs history
Shandy Street was until at least 1874, previously called Alfred Street and the address of this pub was 33 Alfred Street, or sometimes 33 Alfred terrace. **
A listing of historical public houses, Taverns, Inns, Beer Houses and Hotels in Bethnal Green, Middlesex - now in East London. The Bethnal Green, East London listing uses information from census, Trade Directories and History to add licensees, bar staff, Lodgers and Visitors.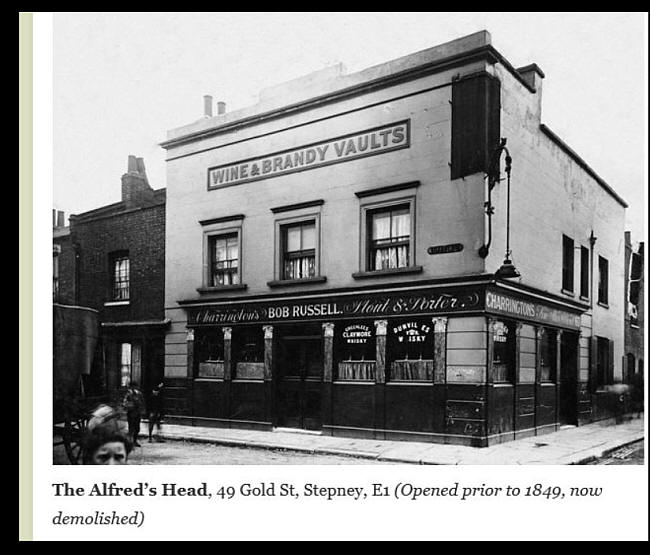 Alfreds Head, 67 Shandy street, Mile End E1 - circa 1920
If the image, well the one I have, is continually maximised, the street sign says 'Shandy street'.
Kindly provided by Charlie Goodwin
The following entries are in this format:
Residents at this address.
1839/Robert Humphreys Barrett/../../../Pigotís Directory **

1842/B Parlour/../../../Robsonís Directory **

1846/H Taunton/../../../Post Office Directory

1848/Henry Taunton/../../../Post Office Directory

1850/H Taunton/../../../P.O. Directory **

1851/Henry Taunton/../../../Kellys Directory

1851/Henry Taunton/Licensed Victualler/33/Brentford, Middlesex/Census
1851/Marian Taunton/Wife/33/London, Middlesex/Census
1851/William Fitch/Victuallers Servant/22/High Ongar, Essex/Census
1851/Fanny Irwin/House Servant/45/Henley on Thames, Oxon/Census

1856/G Lewin/../../../Post Office Directory **

1862/Joshua C Golden/../../../Post Office Directory

March 1863/Joshua C Golden/Outgoing Licensee/../../East London Observer +

March 1863/John W Cathie/Incoming Licensee/../../East London Observer +

July 1863/John Warne Cathie/Outgoing Licensee/../../Era

July 1863/Mawson Atkinson/Incoming Licensee/../../Era

May 1865/Mawson Atkinson/Outgoing Licensee/../../Era

May 1865/William Lawrence/Incoming Licensee/../../Era

16th May 1868/William Lawrence/Outgoing Licensee/../../East London Observer +

16th May 1868/Richard Dipple/Incoming Licensee/../../East London Observer +

1869/Richard Dipple/../../../Post Office Directory

1874/William Pratt/../../../H.D. Miles London & Suburban Licensed Victuallers' Directory **

March 1874/Richard Dipple/Outgoing Licensee/../../East London Observer

March 1874/William Heath/Incoming Licensee/../../East London Observer

1881/Mary Isabella Heath/Publican/47/Stepney, Middlesex/Census
1881/Hannah Kate Heath/Daughter/18/Limehouse, Middlesex/Census
1881/William George Heath/Son/13/Limehouse, Middlesex/Census
1881/James Walker/Potman/19/Limehouse, Middlesex/Census

1884/William Heath/../../../Business Directory of London **

1885/William Heath/../../../P. O. Directory **

1886/Mary J Heath/../../../Business Directory of London **

1889/Mrs Mary Groves/../../../Post Office Directory

1901/Henry Matthew Harrison of the "Alfreds Head" public house Stepney and of the "Horn of Plenty" beerhouse Poplar both in Middlesex licensed victualler died 12 September 1900 at the "Alfreds Head" Administration London 3 June to Arthur Henry Harrison licensed victualler Effects £1083 19s 10d. Former grant October 1900. ***

1901/Adah Harrison of the "Alfreds Head" public house 67 Shandy street Stepney Middlesex widow died 16 March 1901 at the "Horn of Plenty" beerhouse 41 High street Poplar Middlesex Probate London 23 April to Walter Benjamin Groves licensed victualler and Arthur Henry Harrison licensed victuallers manager Effects £807 12s 9d ***

1901/Arthur H Harrison/Licensed Victuallers Manager/30/Poplar, London/Census
1901/Annie L Harrison/Wife/26/Stepney, London/Census
1901/Maud F Harrison/Daughter/4/Stepney, London/Census
1901/Beatrice Harrison/Daughter/2/Stepney, London/Census
1901/Eliza Peters/Servant/31/Bethnal Green, London/Census

1906/Charles W Green/../../../Morrisí Business Directory of London **

1909/William Imrie/../../../Proceedings of the Old Bailey **

1916/Henry Bingley Arnold/Alfreds Head, 67 Shandy street E1/../../Post Office Directory

1918/Bob Russell/Alfreds Head, 67 Shandy street E1/../../Post Office Directory

1920/Bob Russell/Alfreds Head, 67 Shandy street E1/../../Post Office Directory

1921/Robert Russell/../../../Hughes Directory

1922/Bob Russell/Alfreds Head, 67 Shandy street E1/../../Post Office Directory

1923/Harry Goodey/../../../Post Office Directory

1924/Harry Goodey/../../../Post Office Directory

1927/Benjamin Magnus/../../../Post Office Directory

1934/James Walter Wilson/../../../Post Office Directory

1938/James Walter Wilson/../../../Post Office Directory

1940/James Walter Wilson/../../../Post Office Directory



+ Provided by Friends of Tower Hamlets Cemetery Park

** Provided By Stephen Harris

*** Provided By Beryl French