Search London wiki and Pub wiki history sites
All public house, restaurants, bars etc closed for the forseeable future from 20th March 2020, but this is a pub history site.
Rising Sun, 1 Alma road, Bow Common lane, Mile End E3
Mile End Pubs history
This is also classified as the Rising Sun, Burdett road as the pub is at the junction of Alma road and Burdett road. The address is at 1 Portia Road by 1942, following street renaming. The address is given as Bow Common Lane in the 1869 Directory *.
Historical London public houses, Taverns, Inns, Beer Houses and Hotels.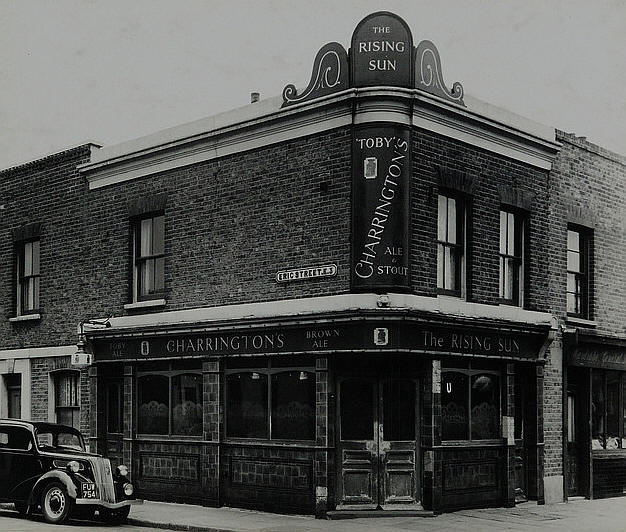 Rising Sun, Burdett road & Eric street
Residents at this address.
1869/Thomas Martin Vince/Beer Retailer/../../Post Office Directory

1871/Thomas M Vince/Beer Retailer/46/Winchester, Hampshire/Census
1871/Elizabeth M Vince/Wife/45/Walthamstow, Essex/Census

1882/John Carter/beer retailer/../../Post Office Directory *

1891/John Carter/beer retailer/../../Post Office Directory *

1895/John Carter/beer retailer/../../Post Office Directory *

1899/John Carter/Beer Retailer/../../Post Office Directory

1901/John Carter/Beer Retailer/50/Broxbourne, Herts/Census
1901/Sarah Carter/Wife/48/Harwich, Essex/Census
1901/Hannah Calver/Mother in Law, Widow/82/Tendring, Essex/Census

1910/Henry Walter Game/Beer Retailer/../../Post Office Directory

1911/Henry Walter Game/Beer House Keeper/47/Bethnal Green/Census
1911/Caroline Adelaide Game/Wife/37/St Georges/Census
1911/Beatrice Grace Game/Daughter, Telephone Operator/17/New Cross/Census
1911/Sarah Elisa Game/Daughter/15/Poplar/Census

1914/Henry Walter Game/Beer Retailer/../../Post Office Directory

1915 - 1938/Pitt/../../../Freehold

1915/Daniel Penfold/beer retailer/../../Post Office Directory *

1921/Charles Pitt/Beer Retailer/../../Post Office Directory

1934/Charles Pitt/Beer Retailer/../../Post Office Directory

1938/Charles Pitt/beer retailer/../../Post Office Directory *

1942/Charles Pitt/beer retailer/../../Post Office Directory *

1944/Charles Pitt/beer retailer/../../Post Office Directory *

1943 - 1951/Mrs Ford/../../../Freehold

1952 - 1953/H Warner/../../../Freehold



* Provided By Ewan

** Provided By Stephen Harris