Search London wiki and Pub wiki history sites
All public house, restaurants, bars etc closed for the forseeable future from 20th March 2020, but this is a history site.
Anchor & Hope, 90 Duckett Street, Mile End E1
Mile End Pubs history
Up to at least 1876, the address was given as 50 Edward Street at the junction with Chambers street. This pub closed in 1995 and is now in use as a grocer's shop(2006). ** Known as Arkwright's for around the last two years of its life, this pub had been demolished by at least the summer of 2012. *+
Historical London public houses, Taverns, Inns, Beer Houses and Hotels.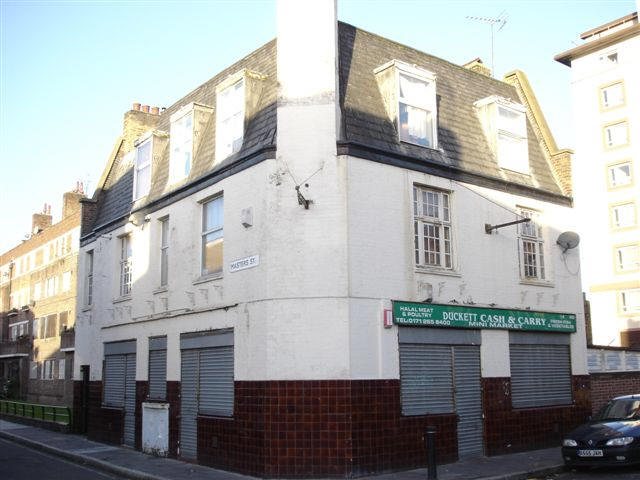 Anchor & Hope, 90 Duckett Street - in November 2006
Kindly provided by Stephen Harris
The following entries are in this format:
Residents at this address.
1825/Mr West, Anchor and Hope, Edward street, Stepney/../../Licensed Victuallers Association

1833-34/Richard West, Anchor and Hope, 52 Edward street, Stepney/../../Pigotís Directory

1836/Richard West, Anchor and Hope, 50 Edward street, Stepney/../../Pigotís Directory

1839/A Thompson/../../../Pigotís Directory **

1842/A Thomson/../../../Robsonís Directory **

1846/A Thompson/../../../Post Office Directory

May 1848/Edward Philip Roper/Outgoing Licensee/../../Era

May 1848/Thomas Chance/Incoming Licensee/../../Era

1851/George Baverstock/../../../Post Office Directory *

1852/George Baverstock/../../../Post Office Directory **

September 1853/George Baverstock/ Outgoing Licensee /../../The Era

September 1853/John Bowers/ Incoming Licensee /../../The Era

1856/James Prevost/../../../Post Office Directory *

August 1860/James Prevost/Outgoing Licensee/../../East London Observer

August 1860/James Wrangham/Incoming Licensee/../../East London Observer

1861/James Wrangham/Licensed Victualler/66/Plymouth/Census *
1861/Sophia Wrangham/Wife/64/St Georges in the East, Middlesex/Census
1861/Sarah Wrangham/Daughter, Barmaid/29/Limehouse, Middlesex/Census
1861/Henry Ellis/Pot Boy/16/Stepney, Middlesex/Census

July 1861/James Wrangham/Outgoing Licensee/../../Era

July 1861/James Pottinger/Incoming Licensee/../../Era

1862/James Pottinger/../../../Post Office Directory

July 1863/James Pottinger/Outgoing Licensee/../../Era

July 1863/Henry Pottinger/Incoming Licensee/../../Era

1869/Hen Pottinger/../../../Post Office Directory

1871/Charles Ward/Licensed Victualler (employing 1 man)/36/Hull, Yorkshire/Census *
1871/Sussanah Ward/Wife/28/Bethnal Green, Middlesex/Census
1871/Charles G. Ward/Son/5/Spitalfields, Middlesex/Census
1871/Henry J. Ward/Son/1 month/Mile End Old Town, Middlesex/Census
1871/Rose Pearce/General Servant/15/Limehouse, Middlesex/Census

January 1872/Charles Borthwick Ward/Outgoing Licensee/../../Era

January 1872/Frederick Wickdenbach Whichelo/Incoming Licensee/../../Era

May 1873/Frederick Weidenbach Whichels/Outgoing Licensee/../../East London Observer

May 1873/George Gaisford/Incoming Licensee/../../East London Observer

23rd May 1874/George Gaisford/Outgoing Licensee/../../East London Observer +

23rd May 1874/George Burnett Boulter/Incoming Licensee/../../East London Observer +

1874/G B Boulter/../../../H.D. Miles London & Suburban Licensed Victuallers' Directory **

1875/George B Boulter/../../../Post Office Directory

1876/William Budd/../../../Post Office Directory

22nd January 1876/William Budd/Outgoing Licensee/../../East London Observer +

22nd January 1876/William Edwin Layborn/Incoming Licensee/../../East London Observer +

1877/William Edwin Layborn/../../../Post Office Directory

March 1877/William Edwin Layborn/Outgoing Licensee/../../East London Observer

March 1877/Edwin Fields Brook/Incoming Licensee/../../East London Observer

1878/Edwin Field Brooks/../../../Post Office Directory

30th March 1878/E F Brooks/Outgoing Licensee/../../East London Observer +

30th March 1878/Thomas Scott/Incoming Licensee/../../East London Observer +

1879/Thomas Scott/../../../Post Office Directory

1880/Thomas Scott/../../../Post Office Directory

1881/Thomas Scott/Licensed Victualler/51/Hitchin, Herts/Census
1881/Mary Scott/Wife/48/Strand, Middlesex/Census
1881/Thomas Scott///St Georges, Middlesex/Census
1881/Mary Ann Burnett/Niece, Barmaid/22/Hampstead, Middlesex/Census
1881/Anne Burnett/Niece, Domestic Servant/20/Lambeth, Surrey/Census
1881/George Bird/Potman/21/Stepney, Middlesex/Census

1883/Thomas Scott/../../../Post Office Directory **

1882/Thomas Scott/../../../Post Office Directory *

1884/Thomas Scott/../../../Business Directory of London **

1886/Thomas Scott/../../../Business Directory of London **

1891/Thomas Scott/../../../Post Office Directory **

1895/Thomas Scott/../../../Post Office Directory *

1899/George Angell/../../../Post Office Directory **

1904/Thomas Boys/../../../Post Office Directory **

1906/George H Rivers/../../../Morrisí Business Directory of London **

1910/George Hy Rivers/../../../Kellys Directory **

1915/Mrs Jane Rivers/../../../Post Office Directory *

1917/Mrs Jane Palmer/../../../Post Office Directory

1921/Mrs Jane Palmer/../../../Post Office Directory

1923/Mrs Jane Palmer/../../../Kellys Directory **

1925/Mrs Jane Palmer/../../../Post Office Directory

1938/Mrs Jane Palmer/../../../Post Office Directory

My father, Anthony Addis was tenant of this pub from January 1978 to January 1987. **+

1983/../Anchor & Hope: 90 Duckett Street E1 : Watneys. /../../Pub Directory

1988/K Braithwaite/../../../Trumans Watney List ***

1990/K Braithwaite/../../../Trumans Watney List ***

1991/../Anchor & Hope: 90 Duckett Street E1 : Grand Met-Watneys. /../../Pub Directory



+ Provided by Friends of Tower Hamlets Cemetery Park

* Provided By Ewan

*+ Provided By Tris

** Provided By Stephen Harris

**+ Provided By Wendy Addis

*** Provided By Alex Wilkinson