Search London wiki and Pub wiki history sites
All public house, restaurants, bars etc closed for the forseeable future from 20th March 2020, but this is a history site.
Artichoke, 143 Jubilee street / 91 Stepney way, Mile End E1
Mile End Pubs history
This pub was demolished as part of the development of the Sidney Estate after World War II. A replacement Artichoke was built nearby and has the address 91 Stepney Way. This later pub, in turn closed down in 2001, and now lies derelict. **
Historical London public houses, Taverns, Inns, Beer Houses and Hotels.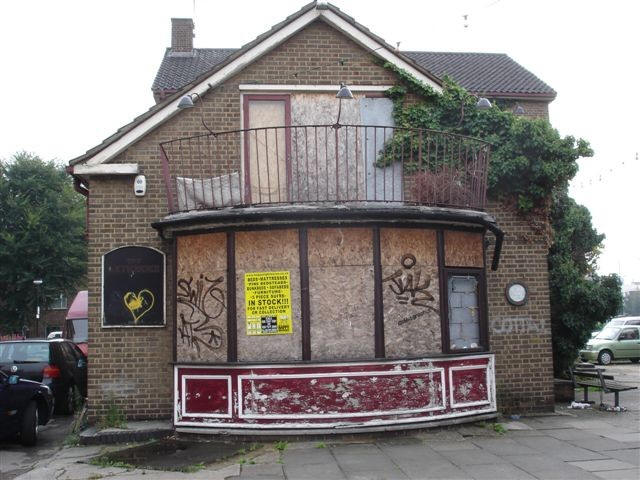 Artichoke, 143 Jubilee Street, E1 / 91 Stepney Way - in September 2006
Kindly provided by Stephen Harris
Residents at this address.
1847/Mary Burns / Beershop Keeper's Daughter /../../Proceedings of the Old Bailey **

1869/Chris Wm Buckpitt/Beer Retailer/../../Post Office Directory

1871/Christopher W. Buckpitt/Beerhouse Keeper/41/Plymouth/Census *+
1871/Ruth Buckpitt/Wife/41/Croydon, Surrey/Census
1871/Louisia Buckpitt/Sister/25/London, Middlesex/Census
1871/William Hooper/Boarder, Shipwright/30/Tunbridge Wells/Census
1871/George Sheer/Boarder, No occupation/23/Bermondsey, Surrey/Census

1874/George Steer / Beer Retailer /../../Post Office Directory **

1877/Henry Brooker/Beer Retailer/../../Post Office Directory **

1881/Mary A Peron/Beer Retailer/34/Bethnal Green, Middlesex/Census
1881/Sophia Gulaver/Niece/6/Poplar, Middlesex/Census
1881/William Alexander/Potman/20/London, Middlesex/Census
1881/Mary A Darnell/General Servant/20/Croydon, Surrey/Census

1882/Geo Hy Mitchelmore/../../../Post Office Directory

1889/Alfred Brown/../../../Post Office Directory **

1891/William Hooton/beer retailer/../../Post Office Directory *+

1891/William Hooton/Beer & Wine Retailer/32/Shoreditch, London/Census
1891/Louie Hooton/Wife/26/Leamington, Warwickshire/Census

1895/Richard Pool/beer retailer/../../Post Office Directory *+

1899/John William Alexander/beer retailer/../../Post Office Directory *+

1901/George Kramer/Publican, Widow/61/Bethnal Green, London/Census
1901/Eleanor Cox/Daughter, Widow/28/Bethnal Green, London/Census
1901/Eliza Kramer/Daughter/18/Bethnal Green, London/Census
1901/James Kramer/Son, Printer Warehouseman/22/Bethnal Green, London/Census

1905/Geo Andrew Kramer/../../../Post Office Directory **

1915/Herbert Henry Guy/beer retailer/../../Post Office Directory *+

1921/Thos R Evenden/Beer Retailer/../../Post Office Directory

My father, Rowland Thomas Evenden, was born in this pub in 1920, as was his brother; their father was Thomas Rowland Evenden who later ran the Clay Hall Tavern at 497 Old Ford Row, Bow. *

1934/Chas. J. Wood/beer retailer/../../Kelly's Directory *+

1947/Chas Wood/../../../Post Office Directory **

1951/Chas Wood/../../../Post Office Directory **

1983/../Artichoke: 91 Stepney Way E1. Watneys. /../../Pub Directory

1988/A Driver/../../../Trumans Watney List ***

1990/A Driver/../../../Trumans Watney List ***

1991/../Artichoke: 91 Stepney Way E1 : Grand Met-Watneys. This was where Peter Piatkov (affectionately known by the locals as Peter the Painter) and two other comrades made a stand against the capitalist system and the authorities, afraid of this act of revolt, sent armed police, troops with machine guns and field artillery against them. Peter Piatkov escaped and later in his life did a sterling job as head of the International Security Service of the first peoples state, the Soviet Union. One of the photos also shows the Home Secretary of the time, a certain Winston Churchill, who later became famous for planning a military adventure, so as to advance his political career, this was at Gallipoli. /../../Pub Directory



* Angie Laing

*+ Provided By Ewan

** Provided By Stephen Harris

*** Provided By Alex Wilkinson