Bell, 40 Brick lane, Mile End E1
Mile End Pubs history
Historical London public houses, Taverns, Inns, Beer Houses and Hotels.
This is also sometimes listed as the Bell, 20 Osborn Place, E1 at times. Address also given at various times as 20 Brick Lane before 1891 and 180 Brick Lane. It is strictly in Whitechapel census listings. **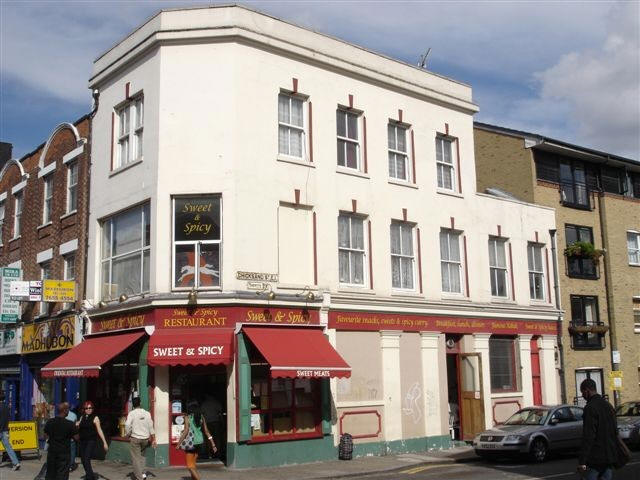 Bell, 40 Brick Lane - in September 2006
Kindly provided by Stephen Harris
Residents at this address.
1805/James Crompton, the Bell, Brick lane, Spitalfields/../../Holdens Directory

1820/William Jones / Victualler /../../Sun Fire Office records held at Guildhall Library **

1821/William Jones / Victualler /../../Sun Fire Office records held at Guildhall Library **

1832/William Jones ..../../../../Robson's Directory

1833-34/William Jones, Bell, 20 Brick lane, Spitalfields/../../Pigots Directory

1835/Christopher & /../../../Robson's Directory **

1839/David Mogge/../../../Pigots Directory

1841/David Mogge/../../../Post Office Directory

1842/David Mogge/../../../Robson's Directory **

1846/David Mogge/../../../P.O. Directory **

1852/Mrs Mary Ann Mogge/../../../Watkins Directory **

1855/Mrs Mary Ann Mogge/../../../P.O. Directory **

1856/Mrs Mary Anne Mogge/../../../Post Office Directory

July 1861/John Evans/Outgoing Licensee/../../Era

July 1861/John Lines/Incoming Licensee/../../Era

1862/John Lines/../../../Post Office Directory

1866/J F Watts/../../../P.O. Directory **

January 1866/Joseph Francis Watts, deceased/Outgoing Licensee/../../Era

January 1866/Margaret Stanley Watts, widow and executrix of Joseph Francis Watts, late occupier/Incoming Licensee/../../Era

1869/Mrs M S Watts/../../../Post Office Directory

1870/Mrs Margt. Stanley Watts/../../../P.O. Directory **

1873/Mrs Margt. Stanley Watts/../../../P.O. Directory **

1874/Mgt. S Watts/../../../H.D. Miles London & Suburban Licensed Victuallers' Directory **

1875/Mrs Margt. Stanley Watts/../../../P.O. Directory **

1877/Mrs Margt. Stanley Watts/../../../P.O. Directory **

September 1878/Margaret Stanley Watts/Outgoing Licensee/../../East London Observer

September 1878/James Mann/Incoming Licensee/../../East London Observer

1881/John Mann/Publican/30/Tollington Square W C/Census
1881/Elizabeth Mann/Wife/25/Finsbury, Middlesex/Census
1881/Thomas Mann/Brother, Barman/28/Tollington Sqre W C/Census
1881/Clara Learner/General Servant/16/Camden Town, Middlesex/Census
1881/James Mann/Son, Infant/3 months/Whitechapel/Census
1881/John Zimmel/Barman/26/Whitechapel/Census

1882/Johnson Fulcher/../../../Post Office Directory

1884/Augustus Haywood/../../../Business Directory of London **

1885/Charles Brooks/../../../P.O. Directory **

1887/William Thomas Crofts/../../../www.blacksheepindex.co.uk **

1891/Wm Thos Crofts/../../../Post Office Directory

1895/Samuel Bass/../../../Post Office Directory

1896/Samuel Bass/../../../www.blacksheepindex.co.uk **

1899/Samuel Bass/../../../Post Office Directory

1906/Samuel Bass/../../../Morris' Business Directory of London **

1915/Samuel Bass/../../../Post Office Directory

1921/Samuel Bass/../../../Post Office Directory

1927/Goodman King/../../../Post Office Directory



** Provided By Stephen Harris