Search London wiki and Pub wiki history sites
All public house, restaurants, bars etc closed for the forseeable future from 20th March 2020, but this is a history site.
121 Commercial road, Mile End E1
Mile End Pubs history
It is long-closed as a beer house, with the premises now in use as a clothes shop. The address is listed as 37 Langley Place, Commercial Road East in the 1871 census (and 38 Langley Place in the 1856 directory), prior to street renumbering. *
Historical London public houses, Taverns, Inns, Beer Houses and Hotels.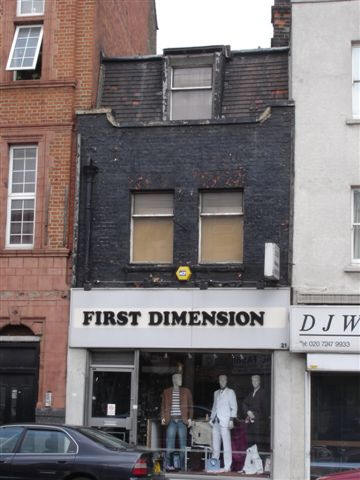 Beer House, 121 Commercial Road, E1 - in May 2007
Kindly provided by Stephen Harris
Residents at this address.
1856/William Towler/beer retailer/../../Post Office Directory *

1869/John Marney/beer retailer/../../Post Office Directory

1871/Julius Marney/Beer Retailer/43/Middlesex/Census *
1871/Harriet Marney/Wife/43/Norfolk/Census
1871/Kate A. Marney/Daughter/4/Middlesex/Census
1871/Harriett M. Marney/Daughter/3/Middlesex/Census
1871/Alice Rose Marney/Daughter/2/Middlesex/Census
1871/Susan Lowther/General Servant/12/Middlesex/Census

1877/John Marney/Beer Retailer/../../Post Office Directory **

1881/George M Wall/Beer House Keeper/37/Uxbridge, Middlesex/Census
1881/Frances Wall/Wife/37/Sutton, Cambs/Census

1882/George Wall/Beer Retailer/../../Post Office Directory

1891/George Wall/Beer Retailer/../../Post Office Directory **

1891/George M Wall/Beer House Keeper/48/Hillingdon, Middlesex/Census
1891/Frances A Wall/Wife/48/Windsor, Berkshire/Census
1891/Charles Green/Hair Barber & Potman/19/St George, Middlesex/Census

1895/Henry Attree / Beer Retailer /../../Post Office Directory **

1899/Frank Banyard/beer retailer/../../Post Office Directory *

1901/John H. Holmes/Beer House Keeper/29/St Helens, Jersey, C.I./Census *
1901/Sidney O. Renouf/Visitor, Beer House Keeper/30/St Helens, Jersey, C.I./Census

1903/John Holmes/Beer Retailer/../../Post Office Directory

1910/John Henry Adams/Beer Retailer/../../Post Office Directory **

1911/John Henry Adams/Licensed Victualler/50/Willand, Devon/Census *
1911/Lucy Adams/Wife, Assisting in Business/50/Bermondsey/Census

1914/John Henry Adams/Beer Retailer/../../Post Office Directory

1915/Solomon DeWolff/beer retailer/../../Post Office Directory *

1917/Solomon DeWolff/beer retailer/../../Post Office Directory

1921/Solomon De Wolff/Beer Retailer/../../Post Office Directory

1923/Samuel Shapira/Beer Retailer/../../Post Office Directory **




* Provided By Ewan

** Provided By Stephen Harris