Search London wiki and Pub wiki history sites
All public house, restaurants, bars etc closed for the forseeable future from 20th March 2020, but this is a history site.
Brewers Hall, 414 Commercial road, Mile End E1
Mile End Pubs history
The pub is long-closed and the premises in use as a betting shop. ** The address is listed as 19 Commercial Place, Commercial Road East in the 1871 census and earlier, prior to street renumbering. *
Historical London public houses, Taverns, Inns, Beer Houses and Hotels.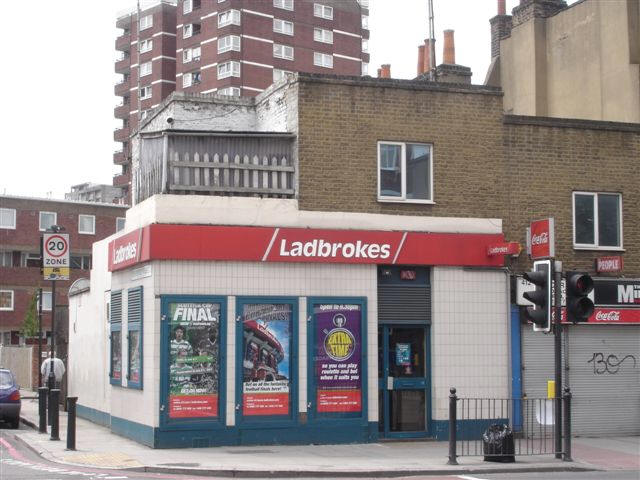 Brewers Hall, 414 Commercial Road, E1 - in May 2007
Kindly provided by Stephen Harris
Residents at this address.
1856/Richard Fender/beer retailer/../../Post Office Directory *

1861/Harry Nethersole/Beer Seller/33/Margate/Census *
1861/Ellen Nethersole/Wife/34/Ramsgate/Census
1861/Henry Nethersole/Son/5/London/Census
1861/Fredk. Nethersole/Son/18 months/London/Census
1861/Charles Sweasey/Servant/16/London/Census
1861/Mary Watson/Servant/20/London/Census

1869/Stephen Hen Atkins/beer retailer/../../Post Office Directory *

1871/Susannah Atkins/Beer & Wine Retailer (Widow)/45/Deal, Kent/Census *
1871/Susannah R. Chubb/Daughter, Bankers Clerks Wife/20/Deal, Kent/Census
1871/Emily L. Atkins/Daughter/15/Deal, Kent/Census
1871/Jane C. Atkins/Daughter/13/Deal, Kent/Census
1871/George G. Chubb/Son-in-Law, Bankers Clerk/23/Salisbury, Wiltshire/Census
1871/Charlotte S. Chubb/Granddaughter/2 months/Mile End Old Town, Middlesex/Census

1877/Mrs Helen Glover/../../../Post Office Directory **

1881/Hellen Glover/Beer & Wine Retailer, Widow/58/Stanford, Lincolnshire/Census
1881/Hellen Cole/Niece, Companion/19/Little Casterton, Rutland/Census

1882/Mrs Helen Glover/Beer Retailer/../../Post Office Directory

1891/Robert Shaw/Beer Retailer/../../Post Office Directory **

1891/Robert Shaw/Beer & Wine Retailer/54/Boston, Lincoln/Census
1891/Charlotte Shaw/Wife/50/Boston, Lincoln/Census
1891/Wm Townsend/Grandson/7/Stratford, Essex/Census

1891/Edwin Light/Beer Retailer/../../Post Office Directory

1895/Edwin Light / Beer Retailer /../../Post Office Directory **

1899/Edwin Light/beer retailer/../../Post Office Directory *

1901/Edwin Light/Beer Retailer/50/Gillingham, Dorsetshire/Census
1901/Clara Light/Wife/49/Chelmsford, Essex/Census
1901/Edith C Light/Daughter/17/Stepney, London/Census
1901/Albert E Light/Son/16/Stepney, London/Census
1901/George Callow/Barman/25/Halstead, Essex/Census

1903/Fras Field/Beer & Wine Retailer/../../Post Office Directory **

1910/Samuel Watts/Beer Retailer/../../Post Office Directory **

1914/Philip Heuser/Beer Retailer/../../Post Office Directory **

1915/Mrs Maria Phoebe Frost/beer retailer/../../Post Office Directory *

1917/Mrs Maria Phoebe Frost/Beer Retailer/../../Post Office Directory

1921/Mrs Maria Phoebe Frost/Beer Retailer/../../Post Office Directory

1923/Ernest William West/Beer Retailer/../../Post Office Directory **

1944/Frederick. M. Daniel/beer retailer/../../Post Office Directory *

1948/Frederick M Daniel/Beer Retailer/../../Post Office Directory **



* Provided By Ewan

** Provided By Stephen Harris